CITIES UNLOCKED
Candyce Dryburgh, Yosuke Ushigome, Elvira Grob, Tobias Revell
Claire Mookerjee, Tim Brooke, Jennie Cook
Cities Unlocked is a project commissioned by the Future Cities Catapult in partnership with Microsoft and The Guide Dogs for the Blind Association. Our engagement with the partners sought to work with partially sighted and blind people to help identify the characteristics of future cities that will enrich their experience of it, and collaboratively develop potential cityscapes that would inspire them to make journeys into cities and around them. For the project we used a combination of strategic foresight, ethnography and speculative design methods to engage multiple stakeholders in creating their visions of compelling near-future worlds, which led to the design of visual cityscapes with insights and opportunities for tehnological, as well as systemic innovation.
Horizon Scanning Report
We started by developing a horizon scan study, which revealed the key drivers and weak signals that have a significant impact on the way partially sighted people and their families navigate the city. A series of interviews with experts from the city planning, urban design and assistive technology sectors highlighted potential areas for innovation so that the city could provide a more empowering experience.
Sara Hendren, whose interview is published here, advocated the use of sensorial experiences whilst designing future cities.
"I think the olfactory sense is woefully underexamined as both a useful tool for wayfinding and a potentially rich alternate experience of the city for everyone. I can imagine a wayfinding tour of London that's indexed completely by scents, and all the socio-cultural geography that would result."
A smell-map developed by Kate Mclean.
We were also fortunate to also speak to Lisa Ann Pasquale, Director at Six Cylinder Limited, who was involved in the development of the fantastic Perkins School for the Blind which has been designed so it can be navigated without a cane, without braille, without anything else, using novel sensory elements and a constant variation of space size. Jessica Bland from Nesta was keen to see how assistive technologies can move beyond the home and out into the city, and hoped that these sort of projects would lead to associated innovations in materials and smart surfaces in the urban environment.
DESIGN-LED ETHNOGRAPHY
These insights helped us design our ethnographic work with blind and partially sighted people. Framing a set of questions, alongwith a method for observation and a series of probes, we spent time understanding their current functional challenges as they interact with the city, as well as their aspirations for a more inclusive and sensory urban experience. Over the course of our meetings and journeys with them, we learnt that experiences which went beyond the normal understanding of 'assistive and accessible', to something much more evocative were prefered, and there seemed to be a desire for interactions and encounters that included smell, tactility and sound. This led to a much more inspirational way of framing our work, as we began to explore how a city can be revealed instead of it just being retro-fitted with assistive technology for specific groups.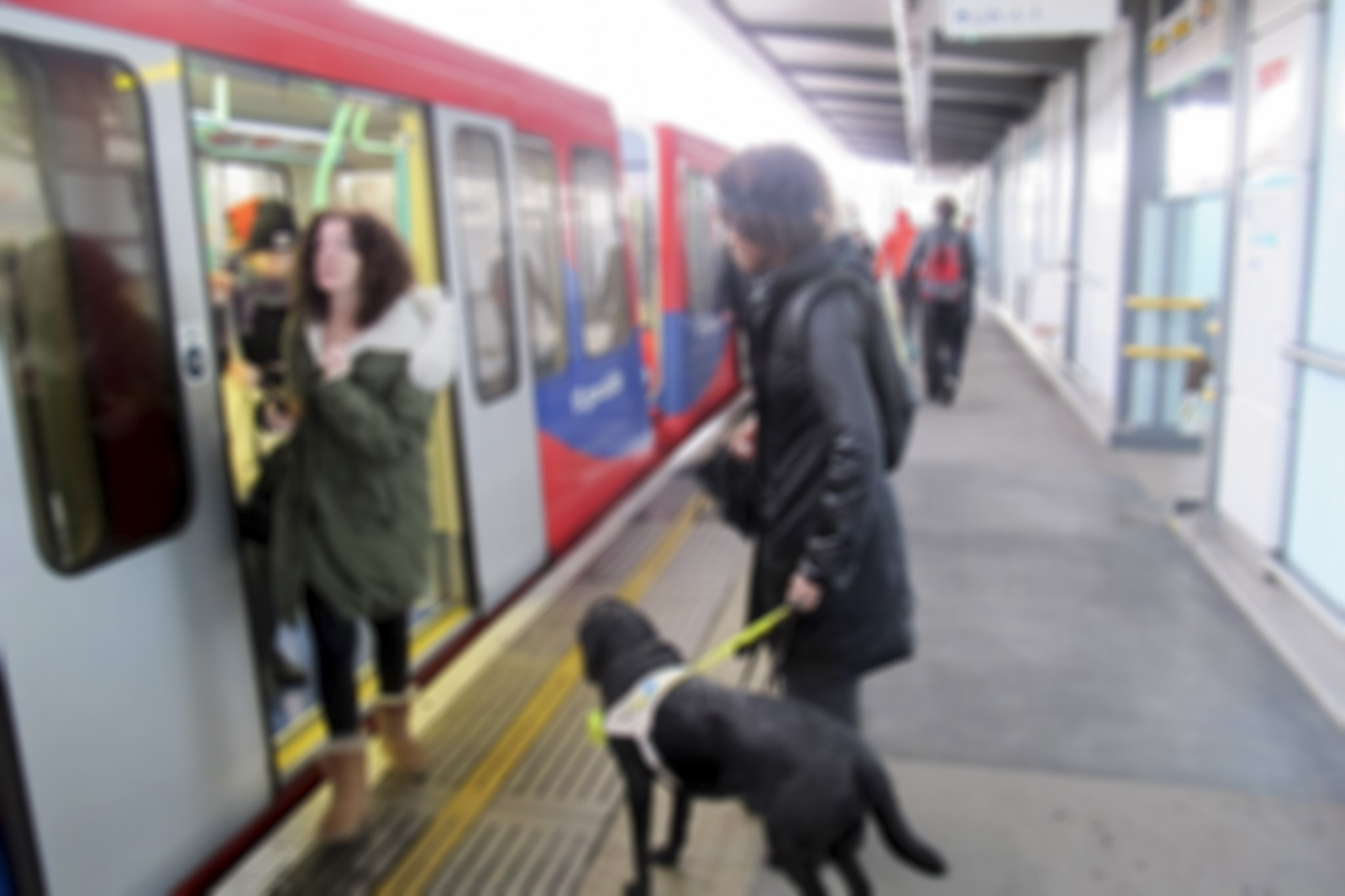 "A sound trail or a scent trail in a woodland park… you can lead your friends and family… because so often you're being led."
— Amiee
As part of our interviews we asked our participants if and how they used their smell or hearing, not as a replacement, but as an enhancement of their navigation skills. We wanted to understand whether they had considered the possibility of using augmented sight, or if they would want to rely on any form of body modification if that helped them feel empowered. We carried out experiments with smell probes and textures to help grasp their reliance on their other senses, and to do early tests with the idea of a sensory city.
"I think we have all be conditioned to perceive things in a particular way, we all have the ability to do things, which is why I believe we are all the creators of our own reality and its just about how we see things."
— Mary
In the final part of the interview, we were interested in seeing their point-of-view as they navigated the city. One of the team members suggested the use of a GoPro, which was surprisingly well received by our participants. The recordings gave us a fascinating insight as to how they navigated the busy city It helped us understand the importance of boundaries and barriers, the high-contrast black and yellow markers along stairs, strong markers at pedestrian crossings and at Tube station platforms, and how dangerous it was if any of these had been overlooked. Tactility in the city is crucial for understanding where you are and what lies ahead.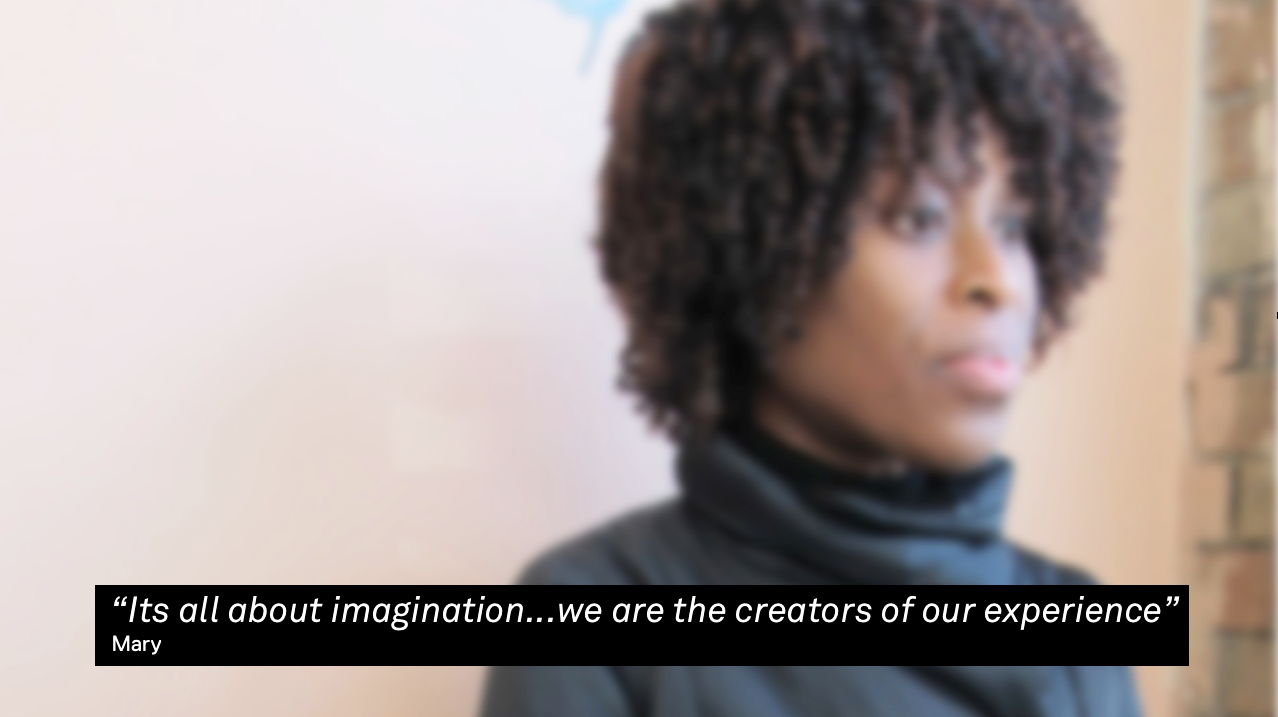 "
You have to plot everything, like when you wake up in the morning and you sit in bed and have a cup of tea, planning your day out, almost like a role play, a dress rehearsal." 
— Arnold
We learnt about the different ways in which blind and partially sighted people made use of their own highly adaptive and embodied sensing systems – skills that tend to get overlooked in technological development. We also learnt about their extraordinary use of memory to construct mental maps for navigating the city, and the difficulties they experience in the city's 'dead zones' (non-pedestrian friendly spaces). This engagement made us realise that there is a great deal more thinking to be done at the systems level, rather than at the product level.
FUTURE VISIONING WORKSHOP
Channelling insights from the horizon scanning, stakeholder engagement and user research we led a futurescaping workshop around the key emerging themes. The workshop brought 22 participants together, including blind and partially sighted people, urbanists, designers, researchers, managers and technologists, for a great day of scenario making and futurescaping. 
Due to the nature of the participants and the desired outcomes of the workshop we decided to use more tactile tools which could help the participants create tangible instantiations of various future visions. We also created a series of 'Mission cards' which encouraged the participants to choose a particular theme and develop scenarios around it. Among other things, we produced a series of laser cut icons that represented various aspects of a city, technology cards to help expand the concepts and wild cards which were used if any group felt stuck.
Over the course of a few hours, the participants began to create tangible instantiations of their missions and stories, inspired by their own experiences, whilst also giving a glimpse of their hopes and anxieties. These culminated in a series of early-stage future cityscapes that are inclusive and empathetic – visions that include the voices, challenges and aspirations of a large group. The workshop also led to insights about how such cities could be appealing and liberating for all users, not just the partially sighted and blind.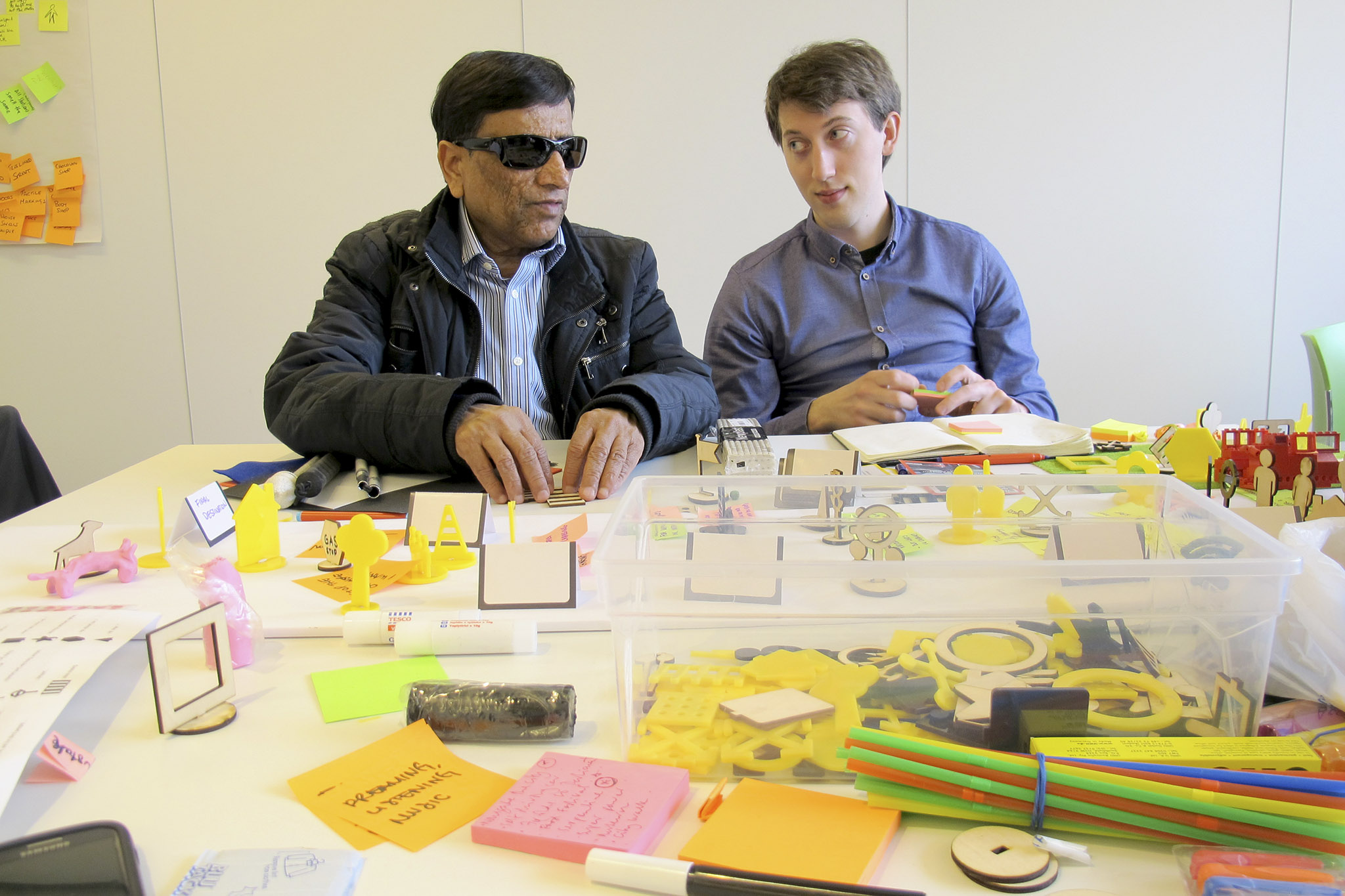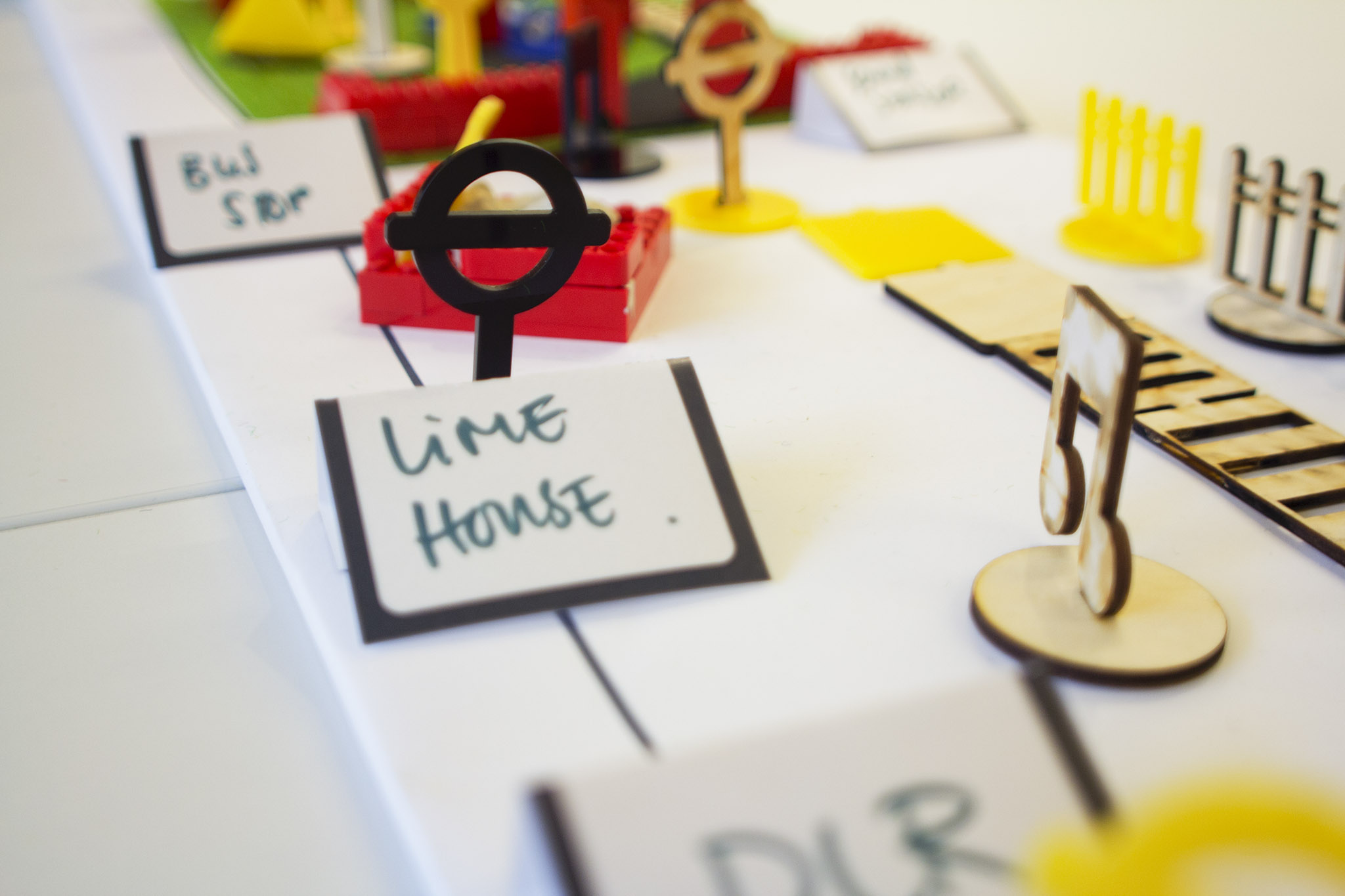 EMERGING SCENARIOS
GROUP ONE: You have been given a self-driving car for a day (ENGLAND 2022)
"It would be nice to have some personal time with my wife, who is also blind, in the privacy of a vehicle that has the comforts of a room at home. This driverless car would be elegant and make me feel empowered, in that I have the ability to travel and navigate unaided"
— Arnold
This journey was about how one could use a self-driving car to get out of the city. How would these systems change the city's infrastructure and how would you control the vehicle? The group explored how users would become reliable on this service and how that could open up further opportunities towards socializing and traveling. What are the systems set up at the destination to ensure you have arrived? Some of the participants who had heard about Google Tango suggested that they might use it to navigate their way around an area where they were dropped off. 
GROUP TWO:  NAVIGATE THE CITY WITHOUT ANY AIDS. (LONDON 2019)
"I'm shopping in Canary Wharf on a Saturday and get the news that there has been a bomb scare in Victoria park. Who better to do it then me, with my high skilled bomb detonation training?"
— Mary
This group explored the possibilities of a smell-led sensory city and sensory maps. The group navigated its way from Canary Wharf to London Fields to detonate a bomb, using senses rather then relying on any traditional devices, such as the cane or a guide dog. In the station there would be scent marks and different textures or gradients on the floor which, with the use of a device, directs or informs you of where you are, or need to go. The aim is that you will only need the use of this device once or twice until you familiarize yourself with what the smells and gradients mean. The adventurer would be wearing shoes with sensors that give haptic feedback based on uneven surfaces and planes. To navigate inside the park one would rely on auditory senses to figure out if they are on the right path to finding the bomb.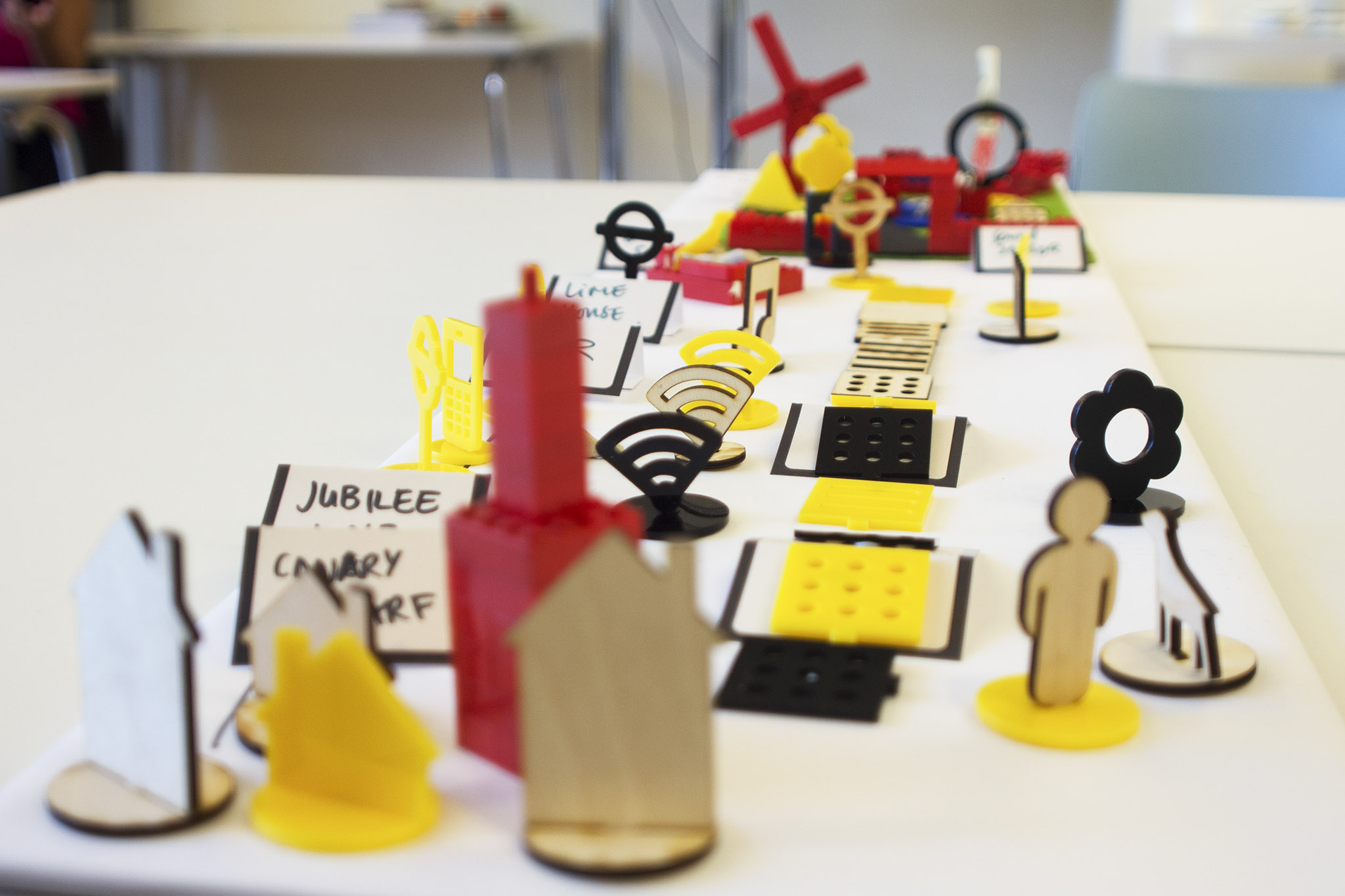 GROUP THREE: CREATE A NEW SUPPORT NETWORK FOR YOUR COMMUNITY THAT EXTENDS A CROSS THE CITY (LONDON 2015)
This group worked with the specific context of personal mobility, and public transit and explored a scenario centered around a robust, low cost and already existing technology. They took an actor network approach to analyze the challenge of public transport, not only in its technical aspects but also what sorts of networks are involved and mobilised. They proposed the idea of a mobility advocate whose job would be to help people navigate the environment, not only visually impaired but also tourists, elderly or people who are unfamiliar with the system. The mobility advocate does not take the person by the hand and guide them, which many have found disempowering, but they are there to give users the confidence that is needed in various public transit situations.
GROUP FOUR: CREATE AND RUN A POPULAR CITY WALK (LONDON 2020)
"If I could take friends and family on a walk through the city where would I take them? And what would be the most useful aids for this?… I'd like to rethink public space too"
— Aimee
This group chose to create an entirely new experience, divorced from the streets, using other forms of infrastructure. London as a test bed as a way to navigate the city and creating a experience which would enable you to learn about something new about the city that you wouldn't already necessarily experience. The group chose water as the back bone of their ideas. Learning about the city and navigating around it on water, and re-living history and the connections people had with the water as well as its future potential. Ultimately it was the group's ambition to connect with the water in a tactile manner, in order to experience the city in a completely different way, using augmented vision.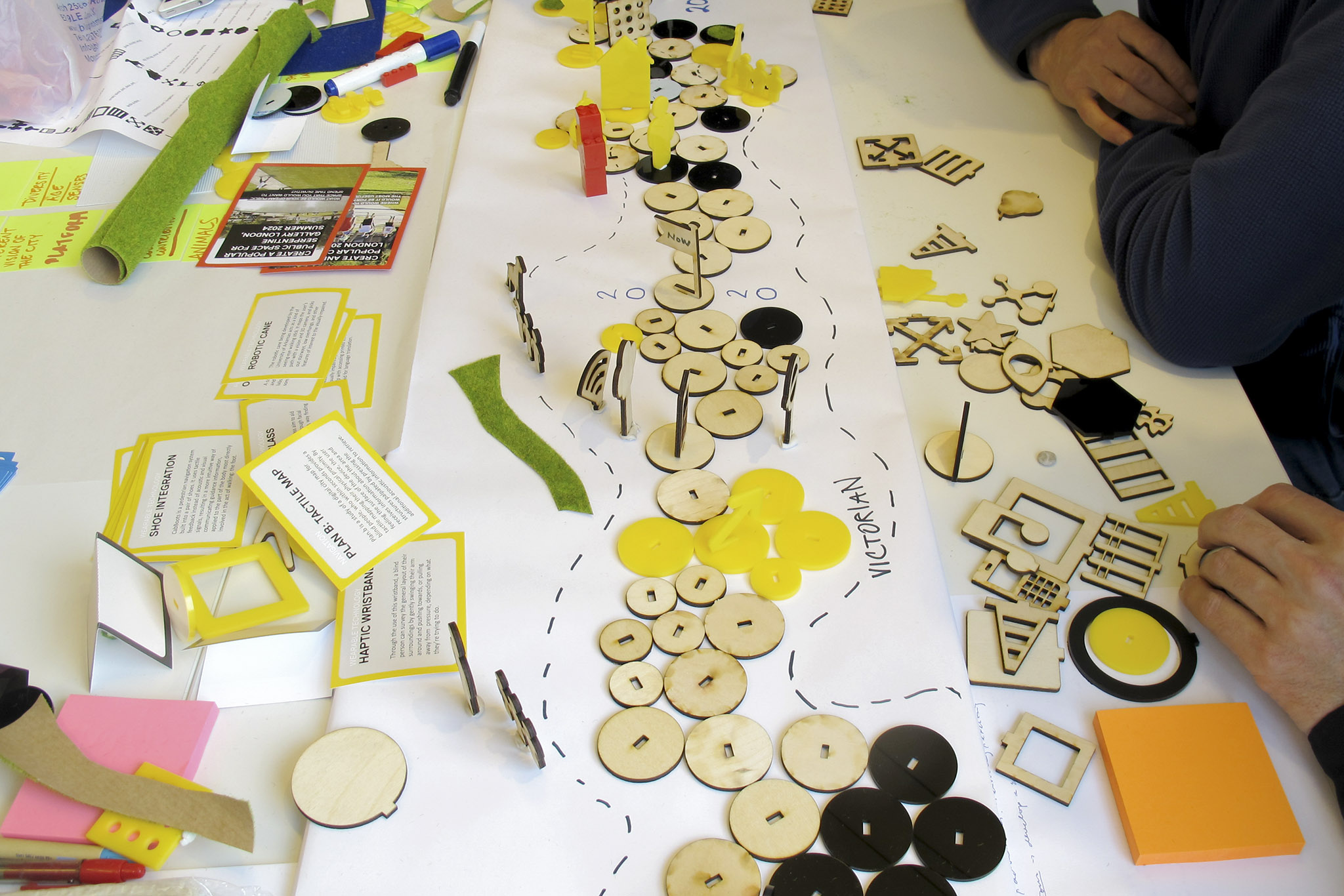 VISUALISING INCLUSIVE CITYSCAPES
These ideas culminated in a series of early-stage future cityscapes that are inclusive and empathetic and will become catalysts in shaping the Cities Unlocked programme. They are represented as icons across a panaromic cityscapes, leaving room for further ideas and suggestions as the project evolves.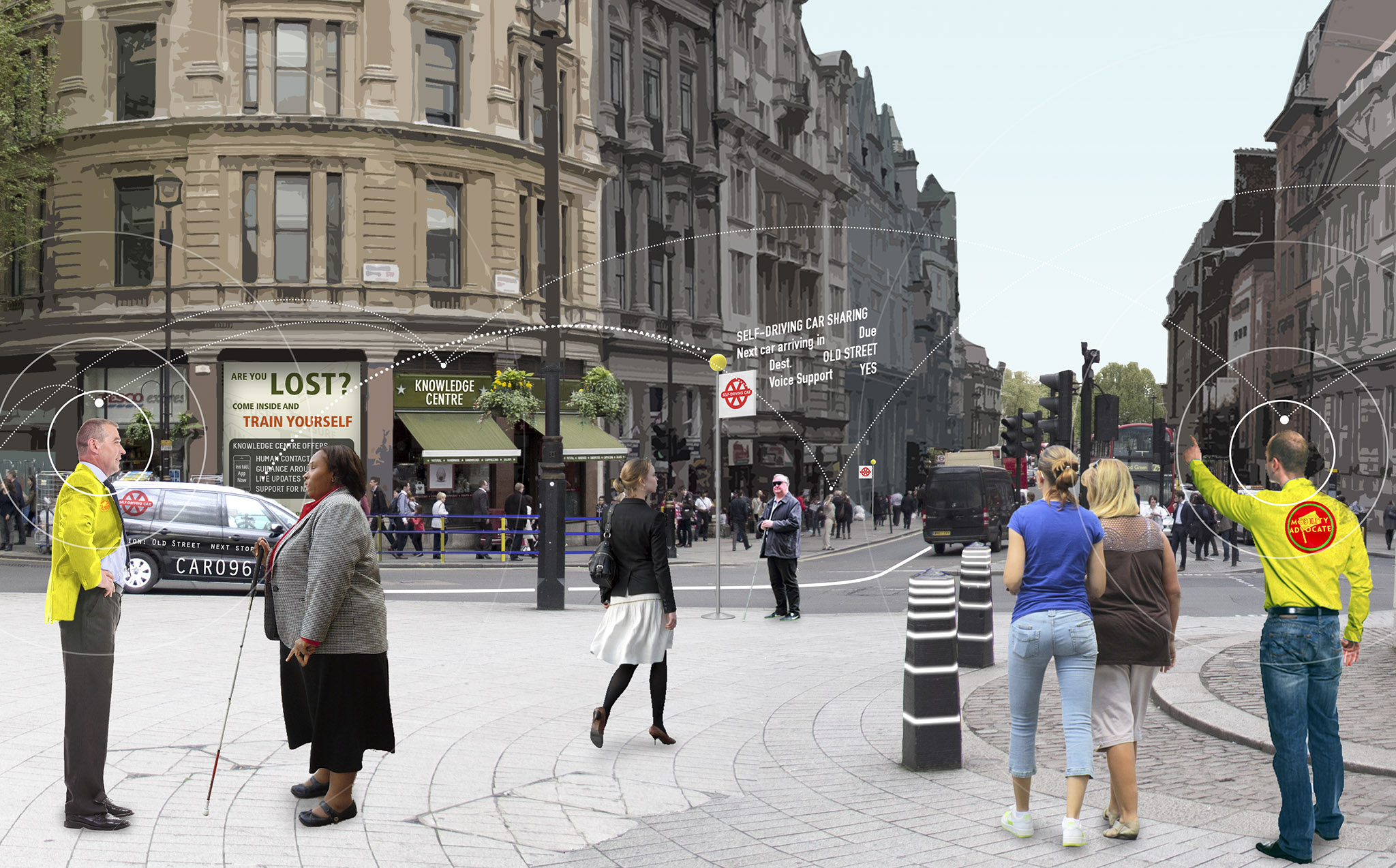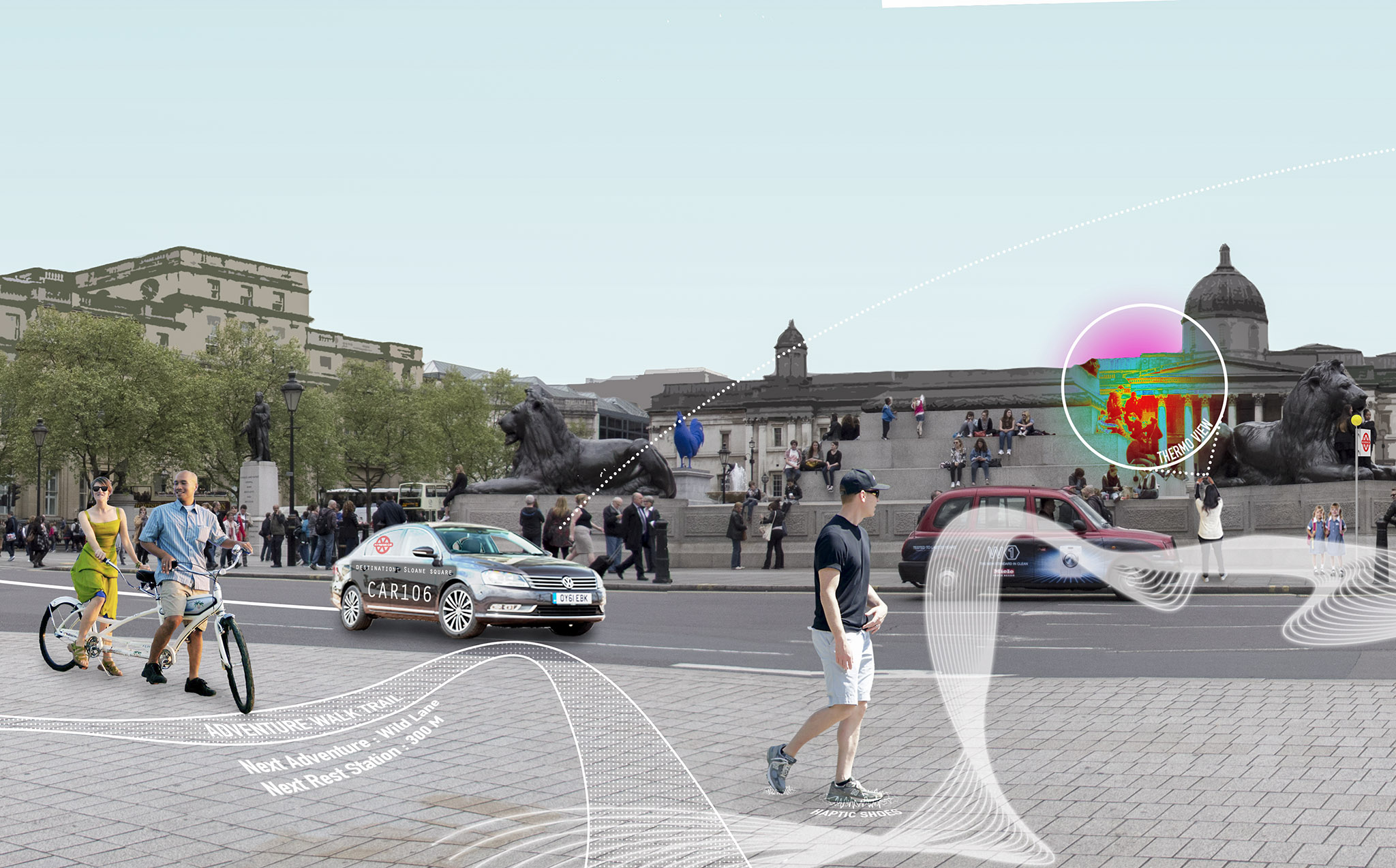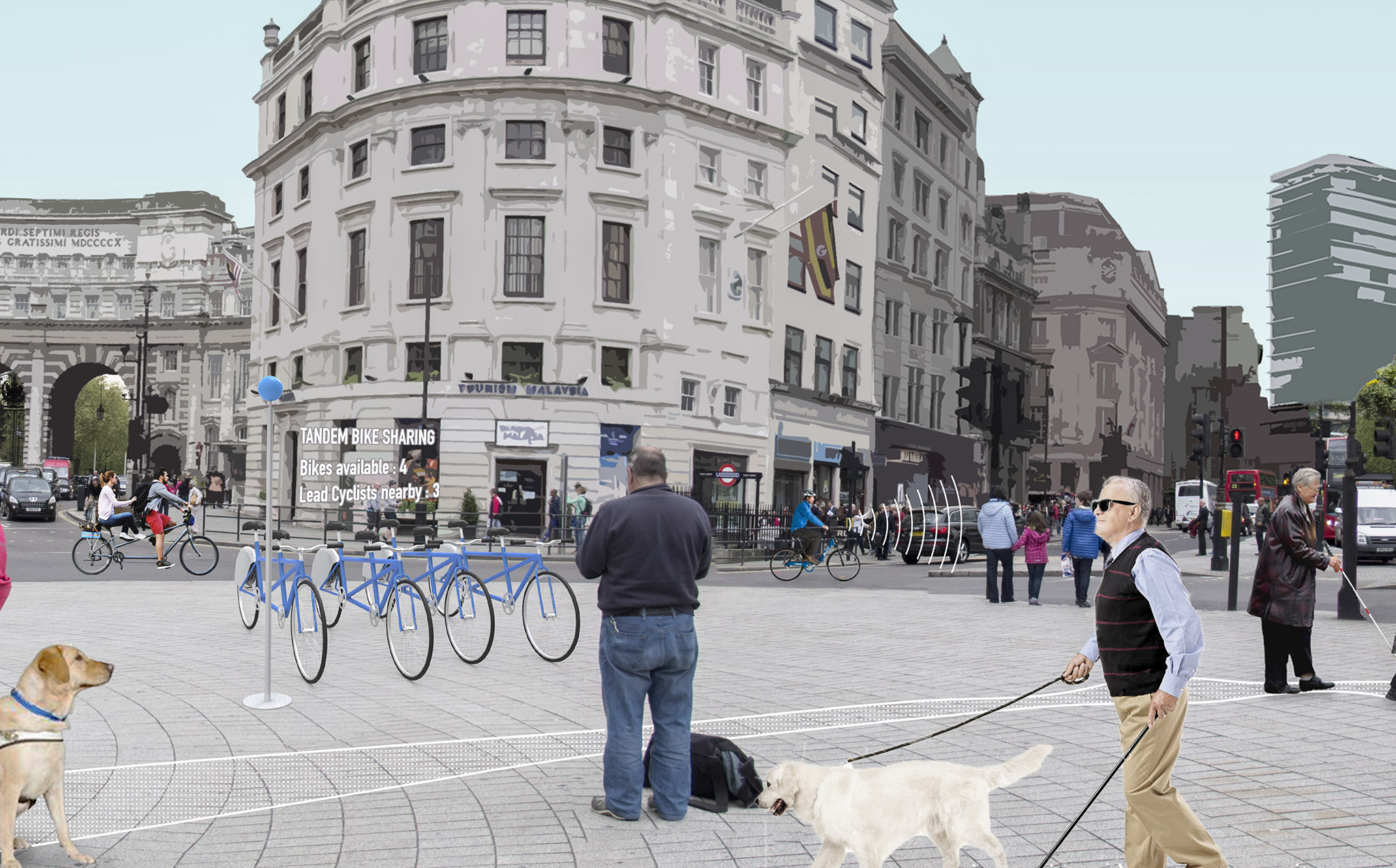 OBSERVATIONS AND INSIGHTS
Through this design-led futures process we observed, learnt and discovered several insights and stories that became the foundation for further design. One of the key insights we gathered is that single and easy-use technologies are preferred, rather then having to rely on multiple gadgets to understand and navigate the unknown. Relying on too many devices to aid guidance tends to result in a sensory overload and ends up taking away from the journey's experience. It creates an absence of opportunities to prove one's independence and can even discourage adventure. 
This insight should help move urban design towards more playful and sensory cities which promote adventure and use increased tactility, sound streets, smell trails and augmented walks. The sensory city concept should include every person who moves through the city, whether they be a group of tourists or a locals seeking adventure. This can be designed through layered maps or sensory navigation points. Inclusive public spaces with appropriate seating and easy routes make for a more simple and enjoyable journey, as well as offering places for public interaction for both the able-sighted and partially sighted.

Tactile city-wide signage is another way in which an urban explorer can determine the space they are in or what is around them without having to rely on their visual senses. Looking at city infrastructure and surfaces designed for increased self-awareness will create empowerment rather then re-adjustment, and will hopefully result in inclusive city services such as bike-sharing or crowdsourced local information. There should be more points of contact throughout the city to enable anyone to know if there is a disruption on their route.

There also seems to be a great need for education when it comes to supporting and guiding visually impaired people, as many feel that the help they receive now makes them feel incapable and disempowered. Community support groups for the ageing blind as well as for the people suffering from degenerating sight would help achieve consistent services and in turn benefit the future city as a whole. 
Overall, the need for better systems that empower individuals was one of the most important insight. As part of this, we need to think about the gradations of sightedness that tend to get overlooked in technology for vision impairments. The blind and partially sighted are often assumed to be a small minority. They are plagued by incorrect stereotypes and unsympathetic media portrayals, and constrained by their own inability to access spaces that would allow them to socialise more widely. And policy and business decisions are rarely made with the visually impaired as a consideration.
Technological development and recent innovations have opened the possibility of cheaper and more efficient forms of prosthesis, help, and aid, but the largest and hardest barriers are frustratingly unresponsive to these purely technological solutions. Better integration and communication require thoughtful, person-centered design, building on existing successes in this area. One of the biggest barrier to this freedom is anxiety and fear of vulnerability in a world designed for the sighted. If fear and anxiety can be overcome, people will feel a greater sense of freedom to experiment with their experiences of, and in the city.

Future Cities Catapult launched Cities Unlocked on November 6th 2014, with demonstrator of how wearables and 3D soundscapes could improve mobility and wayfinding in a beacon-enabled city in the first phase. There are some great press articles and an indepth piece on the project by Dan Hill.
ACKNOWLEDGEMENTS
We would like to thank Claire Mookerjee and Tim Brooke from the Future Cities Catapult, and Jennie Cook from The Guide Dogs for the Blind Association for all their support during the project. (All personal data has been anonymised in compliance with the Data Protection Act 1998). We are indebted to the participants who shared deep insights about their hopes and anxieties as they navigated dense urban spaces, and the experts who willingly gave their time for interviews and the workshop.