INTERNET OF THINGS ACADEMY
Forum for the Future, Technology Will Save Us
Jon Ardern, Anab Jain, Tobias Revell, Minsung Wang, Raphaël Pluvinage
Hugh Knowles, Louise Armstrong
Bethany Koby, Daniel Hirschman, Emilie Gilies
In early 2012 we developed an initial concept for the Internet of Things Academy (IoTA), as part of Sony's Futurescapes project in collaboration with Forum for the Future.
At that time we proposed an online platform to address key issues around technological literacy, education and empowerment, and the interoperability of various competing standards. We also explored several scenarios of how users would initiate, participate and help build internet-of-things projects on the platform. After a few months, we were invited again by Sony to explore the potential of actually building such a platform, not just technically, but in its wider social context. In collaboration with our fantastic partners from the Forum for the Future and Technology Will Save Us, we developed the idea further. This film documents our approach, and key ideas, and further details about our entire process follow below the film.
This post is divided into the following sections:
1. Our Approach
2. The Context
3. Key Concepts
4. Interviews with experts
5. Key Design Features
6. Pilot Workshop
7. The Report
8. Next Steps
9. Acknowledgements
1. Our Approach
Building upon our experience from the first phase of the project, we wanted to develop IoTA further, exploring the reality of creating such an online collaborative platform. We were interested in understanding how any such platform can move beyond technological literacy towards a collective consideration of the social and political contexts within which this technological endeavour might exist. We had conversations with several practitioners and experts in the field, attended various meetups and workshops and also conducted a pilot workshop with a group secondary school students in Manchester. As this project continues to develop, our understanding of the technology and its cultural contexts is also growing, and so is the interest from potential partners and collaborators. Our approach has been to develop these conversations further and pull the feedback into the design and vision of the site.
2. The Context:
Already within the first decade of this century we have witnessed crisis in everything from security, climate, food and water to energy and finance. At the same time we are witnessing an acceleration in digital technologies resulting in a huge growth in connected devices and open data. In fact, according to Cisco and many others, by 2020 there will be around 50 Billion 'things' connected to the Internet worldwide. We are already creating 2.5 quintillion bytes of data through various social media networks every day, but as more and more 'things' are connected to the Internet there is going to be an explosion in the amount of data produced. Such abundance in the internet-of-things means greater connectivity, vast amounts of data sets, and improved data analysis on a scale that was inconceivable merely twenty years ago. As these embedded devices establish complex networks of human and non-human actors in our public and private spaces, they have the potential to create new relationships between people and their environments.
What does this rising tide of data and connectivity mean to us? Is it possible to consider different ways that we might use the growing power of connectivity to empower people and build resilience in tackling the difficult challenges of the 21st century at a systemic level?
Today, thanks to a growing number of community orientated hardware and software platforms, we are already seeing a huge opportunity for people to make sense of this potentially overwhelming amount of data, and to use it in order to build various experiments and improve their lives. There are already hundreds of maker spaces, hackathons, IoT meetups and IoT kickstarter projects around the world. People are creating various commercialised or open-source projects such as Bitponics, Ecoduino or HarvestGeek to monitor and automate small scale agriculture in both urban and rural environments. And we have seen people successfully crowdsource environmental data and raise awareness to various issues through projects such as Safecast Geiger Counters, AirCasting and DontFlushMe. Whilst its heartening to see the potential of IoT through these activities, quite often they remain on the fringe. IoTA's ambition is to move this world into a space that is open and accessible to more and more people.
3. Key Concepts:
"The children of today are born digital natives and should not be taught to be simply slaves to a user interface, bored out of their minds." 
– Ian Livingstone
The internet-of-things has a huge potential to empower users, but could easily end up widening the divide between more technologically literate users and those intimidated or outpaced by new technology. We are looking to address this issue by building a platform that fosters a real sense of community with active moderators, project curation and rolling community challenges. A comprehensive set of tutorials provides a gentle point of entry, allowing potential users to quickly prototype test projects that could actually do something fun or useful. Ultimately, our aim is to augment a relatively neutral learning platform with people, encouraging an active and community-minded user base to give a human face to projects with real technical complexity. We hope that through IoTA we can focus the on the idea of 'smart citizens', rather then focusing on 'smart cities' where agency and decision-making are handed over to machine intelligence. Individual IoTA projects can take many forms, from the simplest of environmental sensors to complex artworks, games, or science projects.
Fundamentally, IoTA will work with increasing technological literacy as a driver of social change and has the following aims:
• To provide an accessible platform for users of different levels and abilities to join by encouraging a dynamic community inspired by the likes of github and arduino.
• To turn passive observers into active users of the community.
• To democratise technology and data away from big companies and into the hands of users.
• To help in raising a generation of people able to create innovative and customised solutionsto their problems.
• To encourage further sustainability as an ideology in technology.
• To encourage an open-data community that can pool its information to solve problems.
• To allow people of different expertise and interests from around the world to meet and work together to construct innovative solutions.
• To encourage transparency and a creative-commons style attribution for work.
• To interconnect existing resources by pulling together numerous online repositories, hardware vendors, and database services providing people with the required hardware, software and connectivity required to build a complete IoT project.
• To provoke inspiring applications through a gallery of initial projects.
The focus of the platform is to encourage and enable people with diverse skills and backgrounds to join. Whether you are someone who has never done any coding or soldering or you are a tinkerer or an expert hacker, you have the opportunity to come together to actively engage in making projects at the intersection of the digital and physical. Much as different plug sockets or memory cards can make life difficult, a wide range of proprietary 'makes' of hardware and software are often an obstacle to creativity. Though some groups, particularly those involved in the open source or 'maker' movements, have sought to challenge a 'locked down' system by creating open access alternatives. These alternatives have relatively low levels of penetration, remaining the preserve of experts and the technologically literate.
We envisage IoTA as an updating of the 20th-century telephone switchboard, enabling end-users to link different products and components, creating systems that better suit their needs. We believe a platform that encourages more and more people to experiment with the technology and data in inventive, playful and ingenious ways is critical in order to build resilient strategies for a complex world.
4. Interviews with experts:
We interviewed a diverse group of people who are either heavily invested in the field, or are thinking, writing and reflecting about for a long time now, and we are very grateful to them for their time and input. We hope to continue the conversations and speak to many more as the project progresses.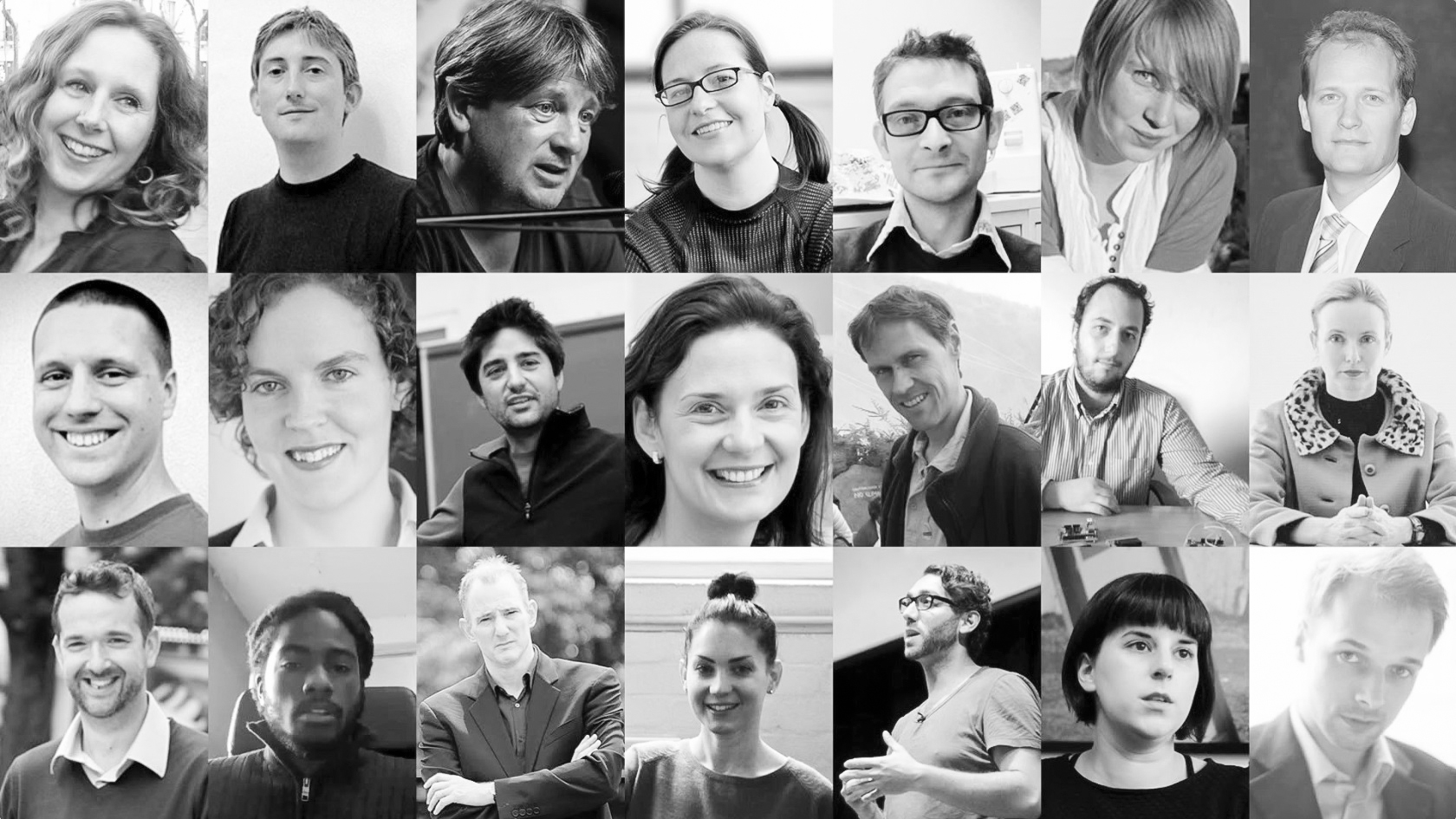 5. Key Design Features:
Crucial to IoTA's success will be the principles behind the design of the platform. Connecting new users with the internet-of-things will require a friendly and accessible design that can get people excited about becoming active in the projects available. As well as new users the platform needs to be designed with sufficiently accessible levels of detail and complexity to challenge and encourage more experienced hackers and makers. IoTA also needs to be adaptable so it can easily grow with the large body of user-generated content and well connected with collaborating spaces and companies outside of the Academy. It is early days for interaction and experience design of the project, and a dedicated design and experience prototyping phase will be the first thing we tackle next. 
1. Design incentives for different people.
Different users will want different things from IoTA. Some people will want to improve their lives, some people will want to work with their community and some people want to learn new skills. It's important to design for all these aspirations.
2. Design a sliding level of entry.
A sliding level of entry for different skill groups will be simple and easy to understand. Users will be able to get started right away on projects at their own skill level. Recipe difficulty will be defined by both the creator and people who use it.
3. Create easy-to-use virtual breadboards.
The virtual breadboard concept allows experienced makers to craft their own components and parts for a project on the platform and then source them easily including the potential to order them through IoTA.
4. Build clear profiles.
Users will have clear profiles with their strengths, weaknesses and interests outlined so that you can find people who can help you easily and quickly.
5. Curate visionary projects.
Members of the community must curate and control the content that is used to inspire and drive users.
6. Maintain an editorial team.
The editorial team works with users to curate and standardise the recipes, making sure that user-created content is suitable and properly databased.
7. Build links to kits and components.
The most popular and useful kits will have prepared kits that can be bought through the site. Components for recipes will be able to be bought with one click.

8. Highlight connections with local make spaces.
There will be easy ways to link with make spaces and physical meetups. Workshops and groups especially those started by users are vital to IoTA and would be encouraged as part of the design.
6. Pilot Workshop: Oasis Academy in Manchester
To test some of our ideas, Technology Will Save Us created an internet-of-things kit and we went up to Salford to conduct a pilot workshop with students of the Oasis Academy in Manchester. The workshop was to demonstrate tangible examples and introduce hands-on experiences in the internet-of-things and how it can be inspiring and relate to their everyday lives. During the workshop the students learned basic programming, worked with Arduinos and some sensors, shared their thoughts, and came up with some great ideas for ho the technology could be used in the future.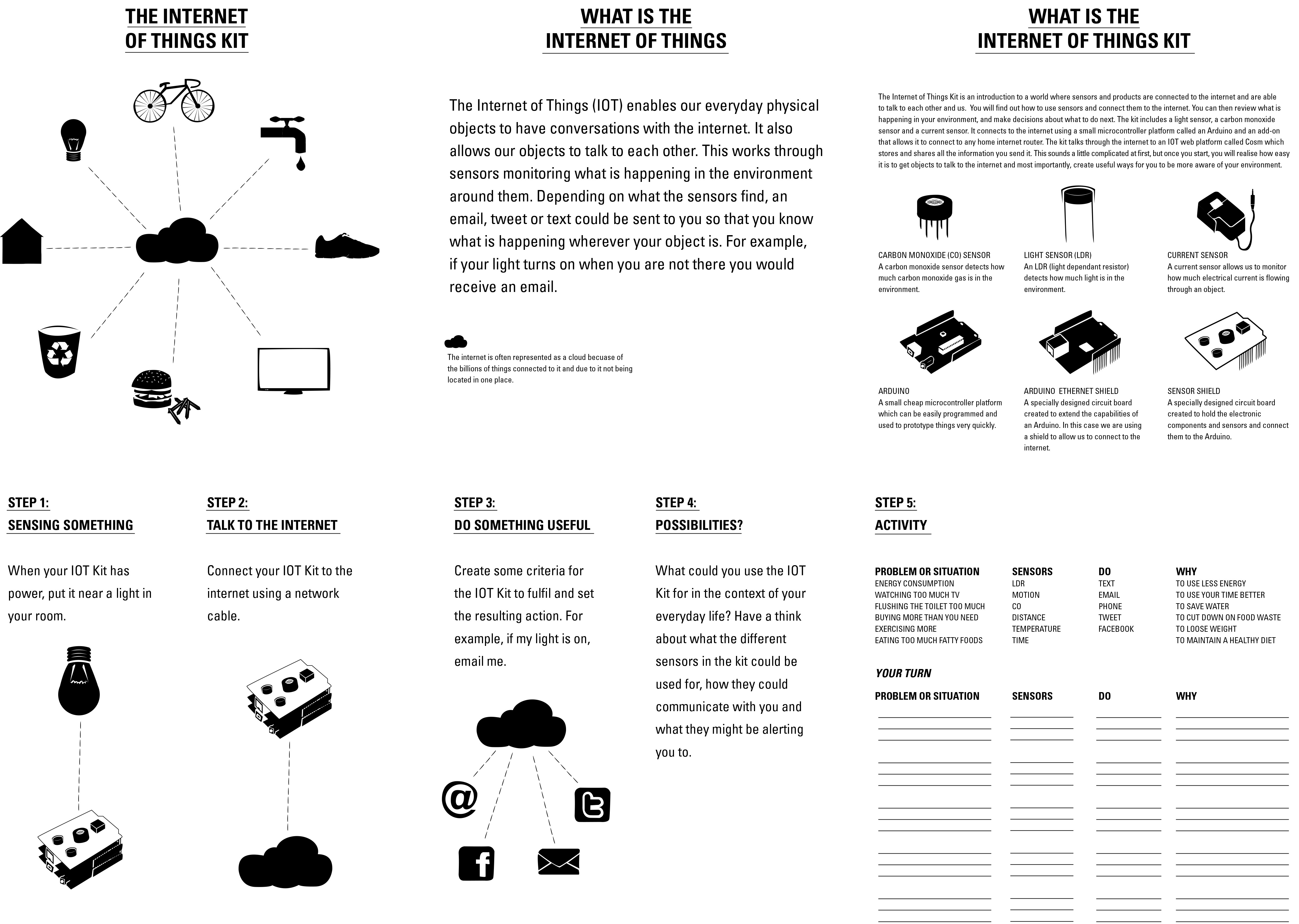 7. The report
A report document our research and findings can be downloaded here.
8. Next steps
IoTA is a concept that we'd like to make real, but it is also an investigation of the ways in which this Internet of Things might manifest itself culturally and socially. Over and above a technically literate population, can IoTA help engage a wider set of participants with the conceptual tools and knowledge to investigate and explore the social, economic and political implications of the things they make and produce? Will the design, forums, projects and discussions effectively reflect our intention to evoke a conscious and active engagement with technology? These are some of the over-arching questions the project will continue to raise.
In terms of the build, we are keen to start work on experience prototypes for the Beta, and are following up on several interested partners. But we are always interested in talking to more people, so if you happen to be reading this and are interested to know more do get in touch. Or follow the progress on twitter.
Acknowledgements

Huge thanks to Emily Nicoll, Chris Clifton Esther Maughan Mclachlan at Sony and Patrick Ottley-O'Connor at the Oasis Academy in Salford for their continued support and enthusiasm. Also special Thanks to James Duggan, Helen Manchester, Rob Van Kranenburg, Gavin Starks, Tim Maly, Dan Sutch, Usman Haque, Carla Diana, Andy Hobsbawn, Natalie Jeremijenko, Martin Spindler, Alexandra Deschamps-Sonsino. Charalampos Doukas and David Asabina for sharing their expertise and expressing their support for this project.