LILORANN
Faculty of Climate Change Studies, CEPT Art, Architecture, Design India Centre, India Gujarat Institute for Desert Ecology
Prof. Shravan Acharya, Ferdinand Ludwig, Christina Agapakis, Candy Chang, Mark Selby, Noah Raford, Geoff Lawton.
Can we reverse ecosystem degradation by growing organic structures from unruly, invasive plants?
Project LiloRann ('Green Desert') blends environmentalism, design research, and architecture in the deserts of North Gujurat, hunting for the most effective 'tipping points' with which to combat environmental degradation.
The desertification of agricultural land is a burgeoning problem. Today, 3.6 billion of the world's 5.2 billion hectares of agriculture land has fallen victim to erosion and soil degradation. According to Nick Nuttal of the UN Environmental program, if current trends continue, by 2050, we will see a cumulative loss of land-based natural capital equivent to $120 trillion dollars.
These issues are particularly visible in India's northwestern province of Gujarat, where, according to the Desertification and Land Degradation Atlas of India (2007), as much as 68% of the entire state is under threat from land degradation.
Map of Kutch, showing the worst effected regions, from the GIS data mapping software at GUIDE.
These environmental changes are destroying a landscape rich in biodiversity, and, with it, the livelihoods of the people who live there, leaving them struggling to produce food or fuel.
Responding to these changes, at the Superflux Lab, we have initiated 'LiloRann' (Green Desert) – a test-bed for experimentation and collaboration between a unique, interdisciplinary team and local citizens. By tackling these global issues from the ground up, communities can become more resilient to these locally specific effects. Through this, we intend to create a space where ideas and solutions can be tested without risk to those who rely on the land for their livelihoods.
Working with our team to explore the spaces for intervention within the desert, we will explore the potentialities of hybrid spaces between the rural and the urban, seeking to mitigate migration and set up new local incentives. Ultimately, it is our hope that by sharing knowledge, those most at risk from climate change can be better equipped to counter its impact.
Current collaborators on the project are: Prof. Shravan Acharya, Ferdinand Ludwig, Christina Agapakis, Candy Chang, Mark Selby, Noah Raford and Geoff Lawton. You can find out more about them here.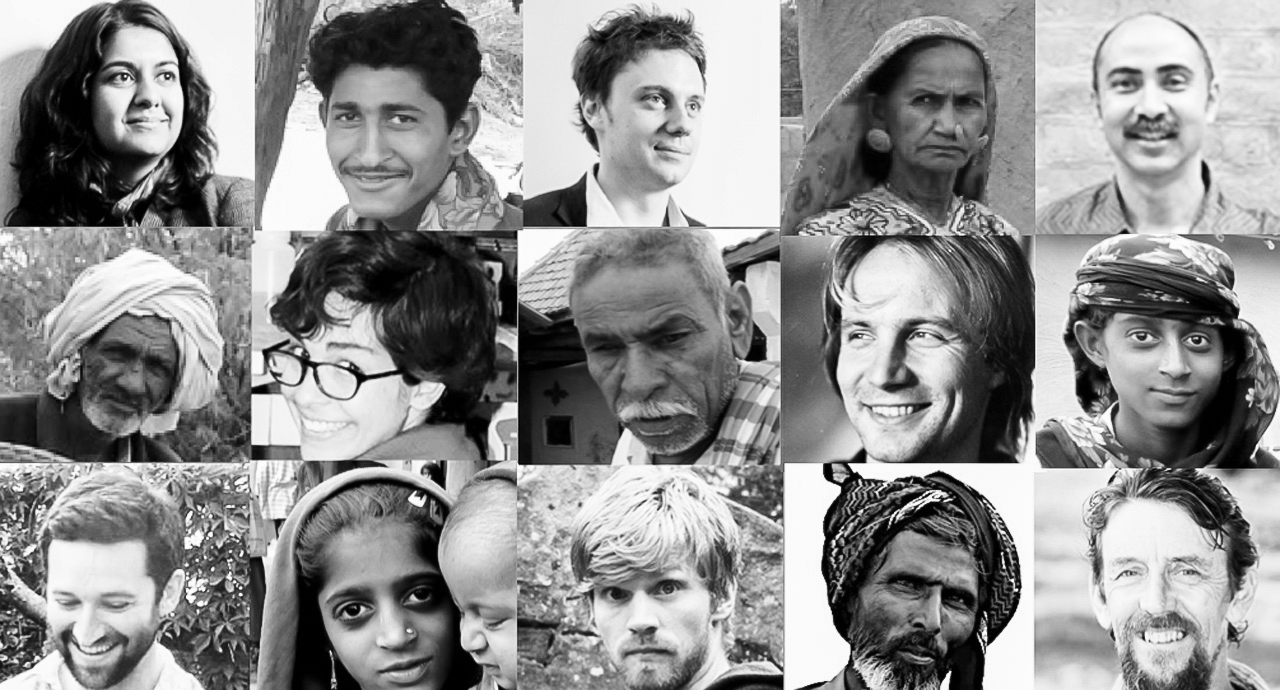 Earlier this year, an initial field visit presented new possibilities, highlighting some of the political conflicts that exist within the local communities. Currently, we are exploring several possible directions for the project – striving to avoid the constraints of local clashes, struggles and conflict. To ensure the widest possible impact for our work, the task of developing an underlying theory of change has had to take priority.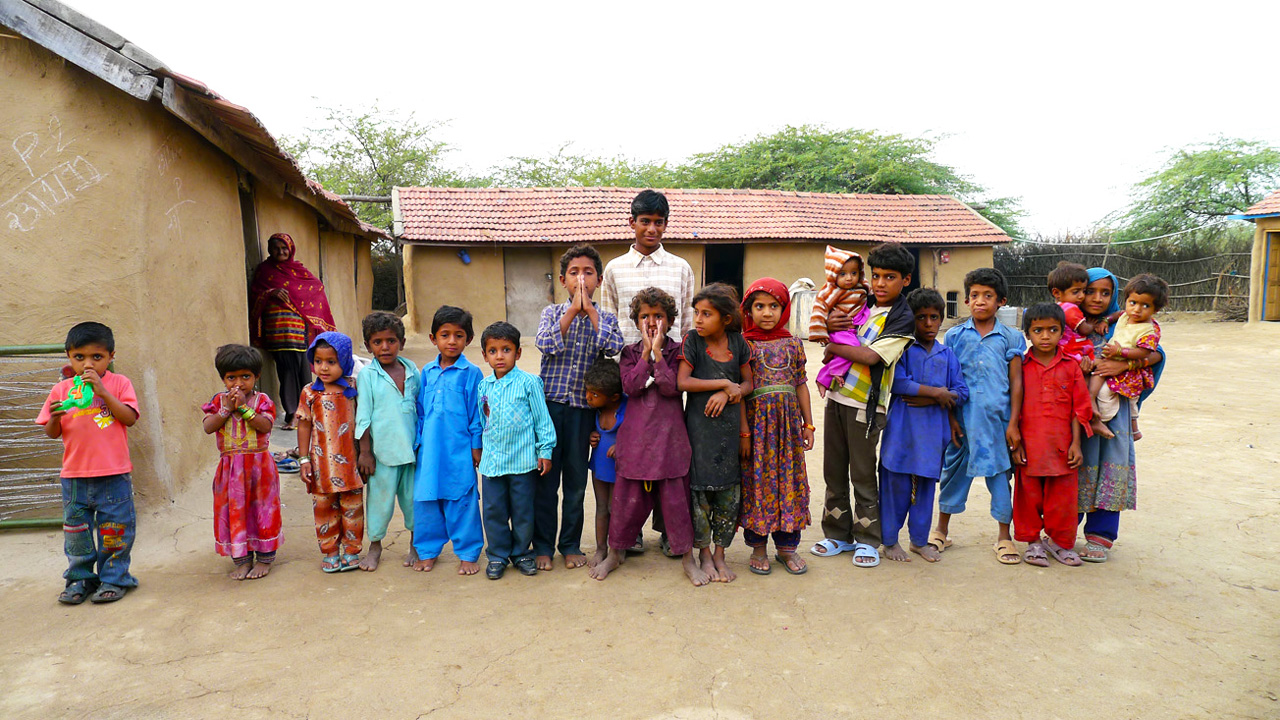 The villagers of Sadai refused to let us go until we took photographs of the interiors of every house.
At its broadest, Project Lilorann will focus on two key themes:
1. Identifying elements of the project that can be expanded to establish a framework, or a 'tool box' for effective future collaboration between teams of experts and local communities.
2. Creating platforms (micro-institutions) with the capacity to reconcile disparate approaches to ecological problems.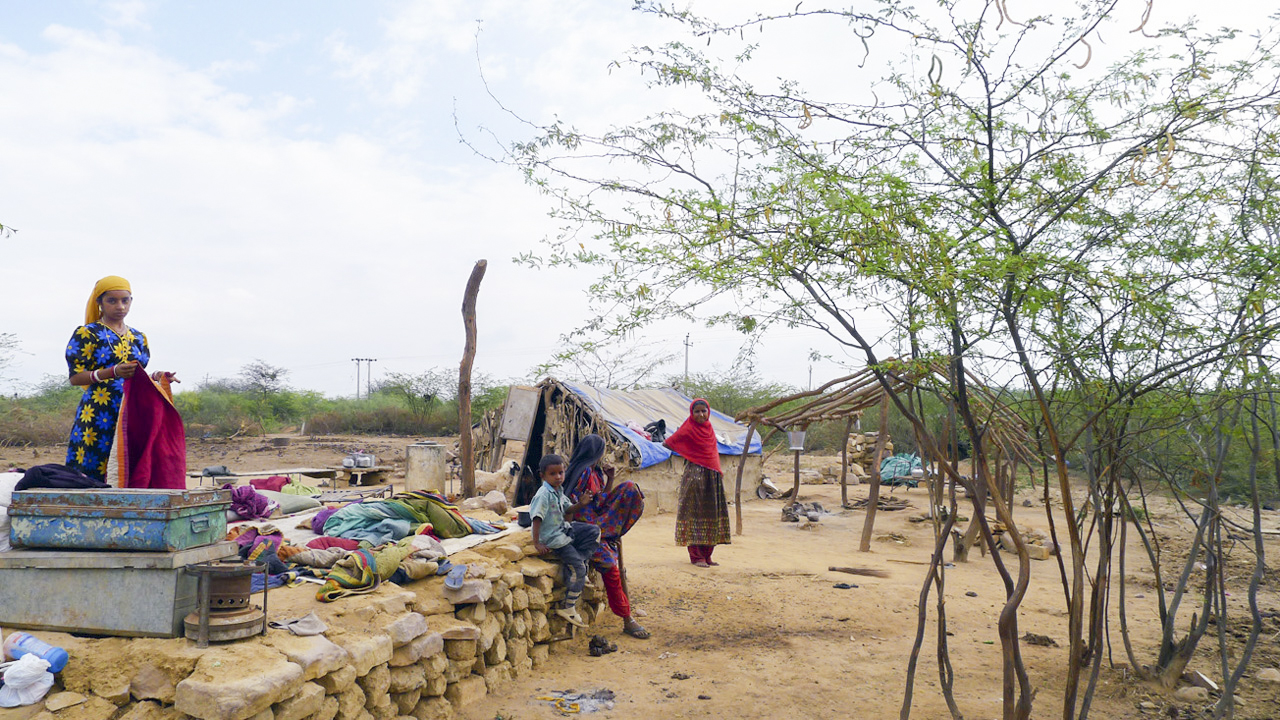 Design Possibility 1: Taming Invasive Species
Locally called 'gando bawal' or 'the mad tree', Prosopis Juliflora is an invasive species introduced to the Rann of Kutch region in the 1950s and 1960s, when it was targeted to halt the spread of salt marshes.
Initially, the tree was seen as a valuable resource for people in arid regions, offering the possibility of charcoal, food, and a material for making furniture. After a ban preventing its harvest in the 1980s, the species spread rapidly, until a point where it covered 40% of the region's grasslands.
Now widely percieved as a pest by landowners and commune farmers, the aggreesive spread of the tree has damaged biodiversity, impinging on farmland, and suppressing crop growth. Nevertheless, there are fears that a wholesale eradication of this 'mad tree' might trigger significant damage, allowing top soil to escape, and leaving land vulnerable to flooding.
Though there are already plans in Gujarat to manage the tree's proliferation through selective deforestation and soil preservation schemes, we believe that this tree may yet be of benefit to the communities for whom it is an agressive inteloper. Could it, for example, be possible to genetically engin sub-strains of the plant that are less aggressive, for use in building controllable organic-structures, new architectures and habitats? Could such structures encourage biodiversity?
Design Possibility 2: Biochar as a Pollutant Filter
Biochar is a 2000 year-old practice in which agricultural waste is used to sequester carbon in soil, boosting its fertility. Though this region of Gujurat has a long history of charcoal production for fuel, the use of Biochar is relatively low. In addition to the 'traditional' form of Biochar, could we – perhaps – embed it into structures as a filter for pollutants from the state's many chemical plants?
Design Possibility 3: Creating Swale Landscapes
Swales are often used in landscaping to collect water run-off. One major factor contributing to land degradation is that loose, arid soil is easily washed away by rainfall. This is a landscape full of empty pits which were previously used for rain water harvesting. Can we build bio-swale landscapes that collect water and filter it for human and agricultural use, while also preventing soil erosion?
Design Possibility 4: Designing Self-Pollinating Vegetation  
Scientists at GUIDE separate colours from sea-bacteria to be used as natural dyes by the local craftspeople.
Charcoal production has vastly reduced the available habit of the local honey bee, leading to a decline in its population. This in turn is increasing stress on biodiversity by decreasing plant pollination in the area. Could we reverse this cycle by designing self-pollinating plants to increase bee, and other pollinating insect habitats, thereby increasing general biodiversity?
Project LiloRann is still very much a work-in-progress. At the time of writing, we are exploring a wider range of challenges around the rural/urban context, which will enable us to develop a more suitable theory of change for the project. In the meantime, if you have any thoughts of comments, do get in touch. 🙂