SKETCH-A-MOVE
Mattel Hotwheels Design Competition, RCA
Anab Jain, in partnership with Louise Klinker
'Seriously. Sketch-a-move toys cars are nuts. We're crazy jealous of the kids who might play with them. We totally wish we could be in Big, except, like, reverse.'
— Engadget
Sketch-a-Move was a collaboration between Anab and Louise Klinker, responding to an open project brief set by Mattel to 'design a smart toy car for children aged 4-11' for their Hot Wheels brand line.
With limited time and resources, we wanted to rapidly nail down some of our toy's key defining features. Following toy store visits and a series of conversations with children, we realised that most of the scenarios for existing toys were predetermined, offering few opportunities for flexible play.
Moving away from the importance of the car, we began to explore the new play possibilities raised through track design. Children often create invisible movements by 'driving' their cars, tracing routes around the house, on various different surfaces. Here, we explored the idea of creating invisible tracks. As it is driven, the toy car would lay down memories of its path, and afforded the capacity to repeat that movement later.
Slowly, we focused in on a final concept: Sketch-a-Move, a toy car that allows the user to explore and manipulate the relationship between small surface doodles and physical movements.
If you were to draw a circle on the top of the toy car, it would move in a circle. If you drew a complicated spiral, the car would move in a spiral. This idea opened a space for new and interesting play possibilities, appealing to adults and children alike.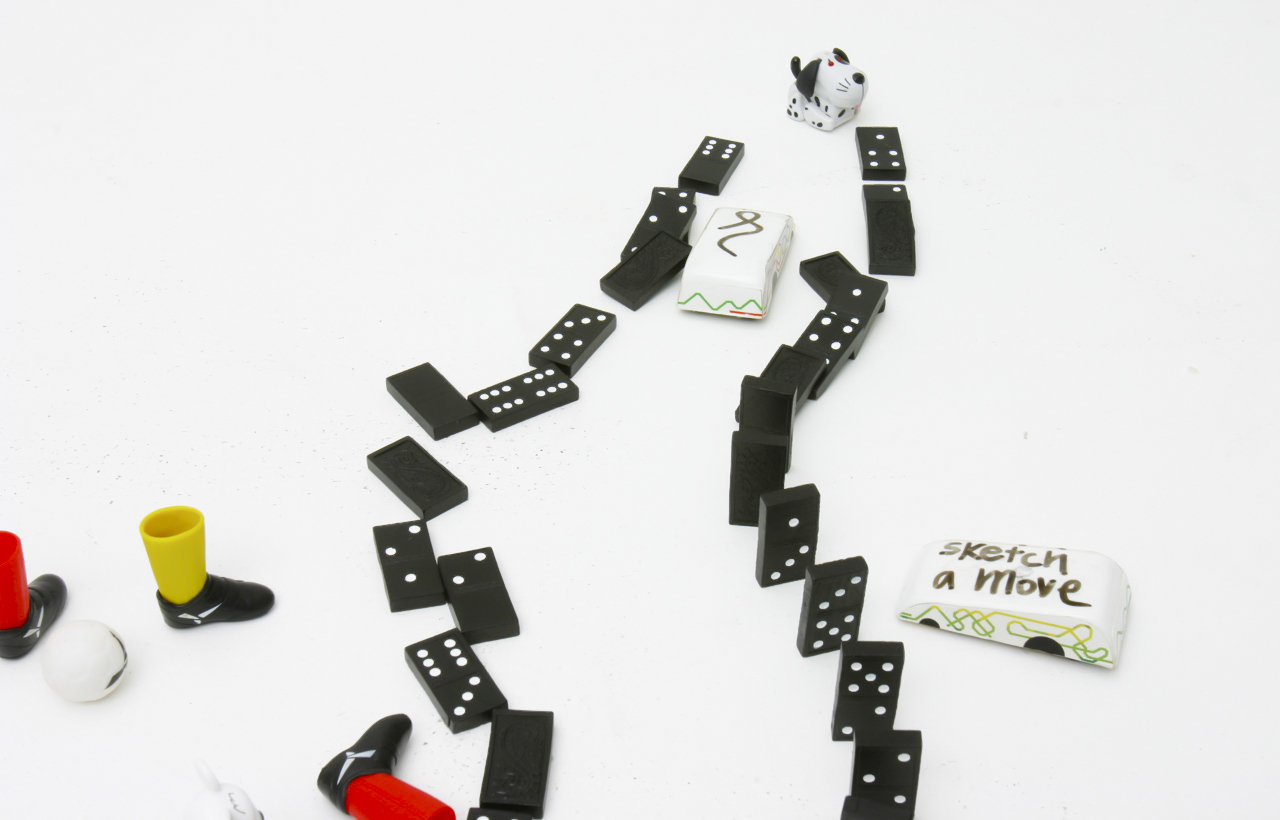 Focusing on the conceptual development of the toy and an exploration of play scenarios, we worked to refine a final concept video, which was presented by Louise Klinker at the Mattel headquarters in Los Angeles.
Bill Buxton, a pioneer in the field of human-computer engineering, siezed on this project as an example of experience prototyping, something he explored in the book, Sketching User Experiences:
1. Contrast to a commercially available toy car as seen in shops which is clearly a product, the one in the video is just as clearly rendered in the visual vocabulary of a sketch, which was not an accident but a conscious and explicit decision.

 
2. Sketches have a distinct vocabulary that differentiates them from finished renderings, and leaving them without a degree of refinement suggests the actual state of development, or thinking, of the concept.

 
3. The video could have presented the idea and left it at that, which might have remained passive. But by presenting a series of examples of the concept, the video cannot be watched without having a real sense of the experience.

 
4. Toys are not about toys. Toys are about play and the experience of fun that they help foster, which video sketching communicates.

 
5. Adding 'toy-like spectators' and such other details in the video adds that extra flourish to experience prototyping and differentiates it from documenting.