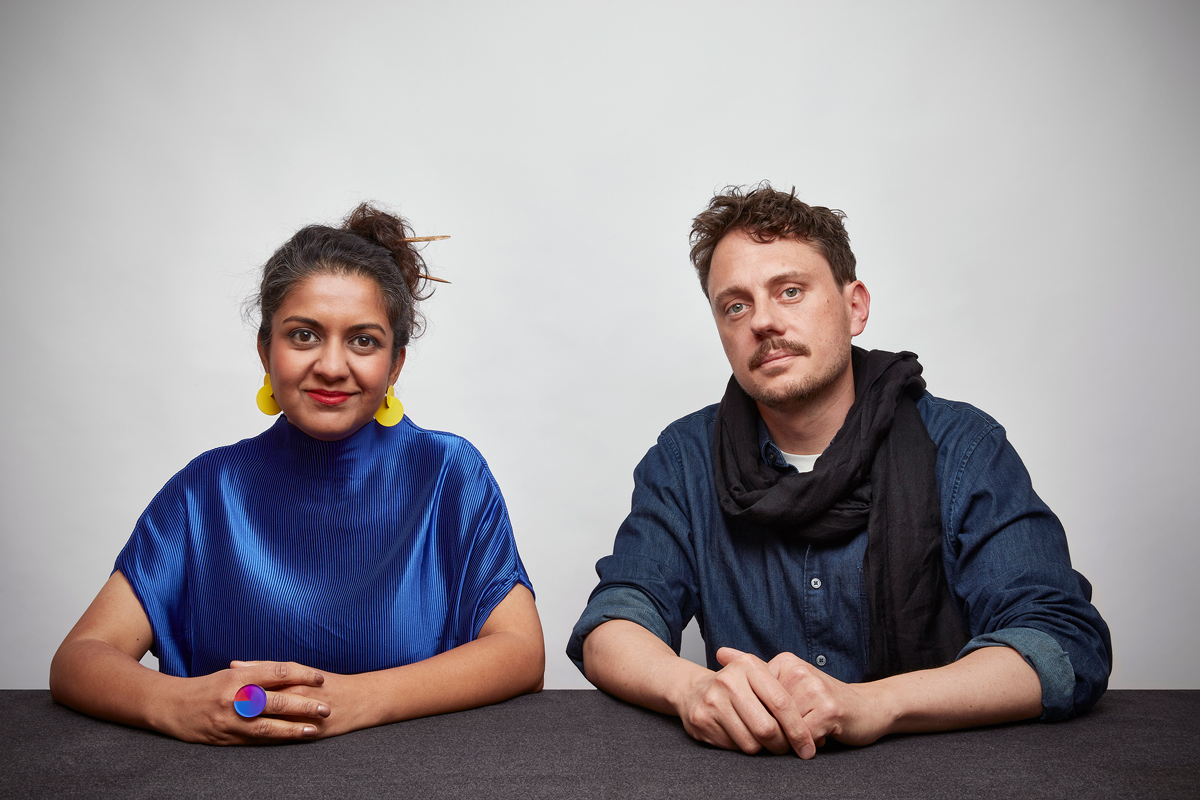 Founded by Anab Jain and Jon Ardern in 2009, Superflux is a boundary-defying, award-winning design and experiential futures company, as well as a research and art practice. From climate change to algorithmic autonomy, future of work to more-than-human politics, our work aims to confront diverse audiences with the complex and deeply interconnected nature of the challenges we face today. We invite clients, collaborators, communities and wider participants to remain open to multiple possibilities and navigate precarity with active hope. For our 10+ years of contribution to the fields of speculative and futures design with a committed social mission, Superflux received the Design Studio of the Year Award in 2021. 
Using design to imagine hypothetical worlds as a critical strategy for businesses, whilst expanding public imagination was not prevalent thirteen years ago. In this space of possibility, Superflux willed itself into existence. Superflux is one of the first studios to pioneer the practices of speculative design, critical foresight, design fiction and experiential futures in business; producing impactful futures work for clients like Google AI, Cabinet Office UK, Anthemis, Suncorp, Sony, Samsung, Gov. of UAE, IKEA, UNDP and DeepMind. Parsing uncertainties, weak signals and wide ranging trends, we work with clients to imagine and build future worlds they could experience in the present moment. Such visceral engagement with multiple possibilities not only opens up undiscovered opportunities and helps identify blindspots, more significantly such imagination-led futures work enables strategic, informed and long term decision-making.
More recently, we introduced the idea of More-than-human Centred Design at the Interaction Design Conference at Lyon, France in February 2018. You can watch Anab Jain's IXDA Keynote here. This concept of thinking beyond human-centred design has since gained traction with designers, businesses and cultural organisations.
Our business practice remains prescient and innovative because of our active, self-initiated experimental research and art lab; a space where Anab and Jon, with colleagues, have an opportunity to test new ideas and themes. Sometimes these experiments find home in client projects, at other times they take the form of cautionary tales, superfictions, future archaeologies and immersive simulations which have been exhibited at the National Museum of China, MoMA New York, V&A Museum, La Biennale di Venezia, MAK Vienna, Vitra Design Museum, Science Gallery, KUNSTHAUS Graz and more.
Recent Interviews:
Financial Times, ICON, Wallpaper, Offscreen Magazine, STIRworld, Business Insider, NPR Radio
OUR TEAM
The Superflux team includes its Directors and a core group of designers, researchers and technologists, alongside a growing network of multidisciplinary collaborators. Our agile, networked structure offers resilience and diversity, allowing us to produce work that consistently exceeds expectations.
Collaborators
YUEBAI LIU
Ethnography
AARATHI KRISHNAN
Foresight Practice
CREAM PROJECTS
3D Visualisation & Animation
DIMITRI PAPADIMITRIOU
Rotoscoping & Animation
SAM CONRAN
Sound Design
DAVID THOMAS
Cinematography
JAMES PALLISTER
Copy Writing
TIM MAUGHAN
Author
ALEX DESCHAMPS-SONSINO
Project Management
Alumni
LEANNE FISCHLER
GEORGINA BOURKE
SAM CONRAN
LIZZIE CROUCH
MARIANNA CZWOJDRAK
ADIT DHANUSHKODI
MIKHAELA DIETCH
CANDYCE DRYBURGH
LUISA FABRIZI
JON FLINT
DILLON FROEHLICH
ALEXANDRA FRUHSTORFER
GEJIN GAO
SARAH GOLD
ELVIRA GROB
SABRINA HAAS
MAËL HENAFF
NATASHA HICKEN
KRITIKA HORA
VYTAUTAS JANKAUSKAS
MARISA JENSON
DANIELLE KNIGHT
FRANCESCA MAZZUCCHI
ALIX MCCABE
KATARINA MEDIC
JUSTIN PICKARD
RAPHAËL PLUVINAGE
ANURADHA REDDY
JAKE CHARLES REES
TOBIAS REVELL
MEGAN RODGER
MARK SELBY
PATRICK STEVENSON-KEATING
ZAHRA SHAHABI
RAMIN SHAMBAYATI
FRANCESCO TACCHINI
CLEO TSW
YOSUKE USHIGOME
CAROLINA VALLEJO
MINSUNG WANG
EWA WINIARCZYK
AWARDS
Design Studio of the Year
Winner. Dezeen, UK.
Location : UNITED KINGDOM
Date : 2021
Horizon 2020
Grant Winner. Horizon 2020, EU.
Location : EU
Date : 2020
IoT Launchpad Competition.
Winner. Superflux, IoTA, Sciencescope and Virtual Technologies. Innovate UK.
Location : UNITED KINGDOM
Date : 2014
Social Tech Social Change Competition
Winner. Nominee Trust, UK.
Location : UNITED KINGDOM
Date : 2014
Grants for the Arts Awards
Winner. Arts Council England. UK.
Location : UNITED KINGDOM
Date : 2013
TED Conferences
Ted Fellow. Anab Jain. New York. USA. 
Location : NEW YORK, US
Date : 2009
UNESCO Digital Arts Award
2nd Prize. Project 'Yellow Chair Stories'.
Location : UNITED KINGDOM
Date : 2005
Michael Moore Award
Best Documentary. Film 'Journeys' (Producer). 42nd Ann Arbor International Film Festival.
Location : US
Date : 2005
Geneva International Film Festival for Human Rights
Grand Prix. OMCT Film 'Journeys' (Producer).
Location : GENEVA, SWITZERLAND
Date : 2005
Design for our Future Selves Awards
First Prize. Helen Hamlyn Centre, Royal College of Art. 
Location : LONDON, UNITED KINGDOM
Date : 2005
INNOVATION AWARD
Film 'Journeys', Chicago International Documentary Festival.
Location : CHICAGO, US
Date : 2005
Award of Excellence
Project 'Mandala' World Design Congress, International Council of Societies of  Industrial Design (ICSID) and DuPont Inc.
Location : TORONTO, CANADA
Date : 1999
International Design Competition
Highly Recommended. Project 'Mandala' (National Institute of Design, India),  Apple Computers Inc.
Location : CUPERTINO, US
Date : 1998