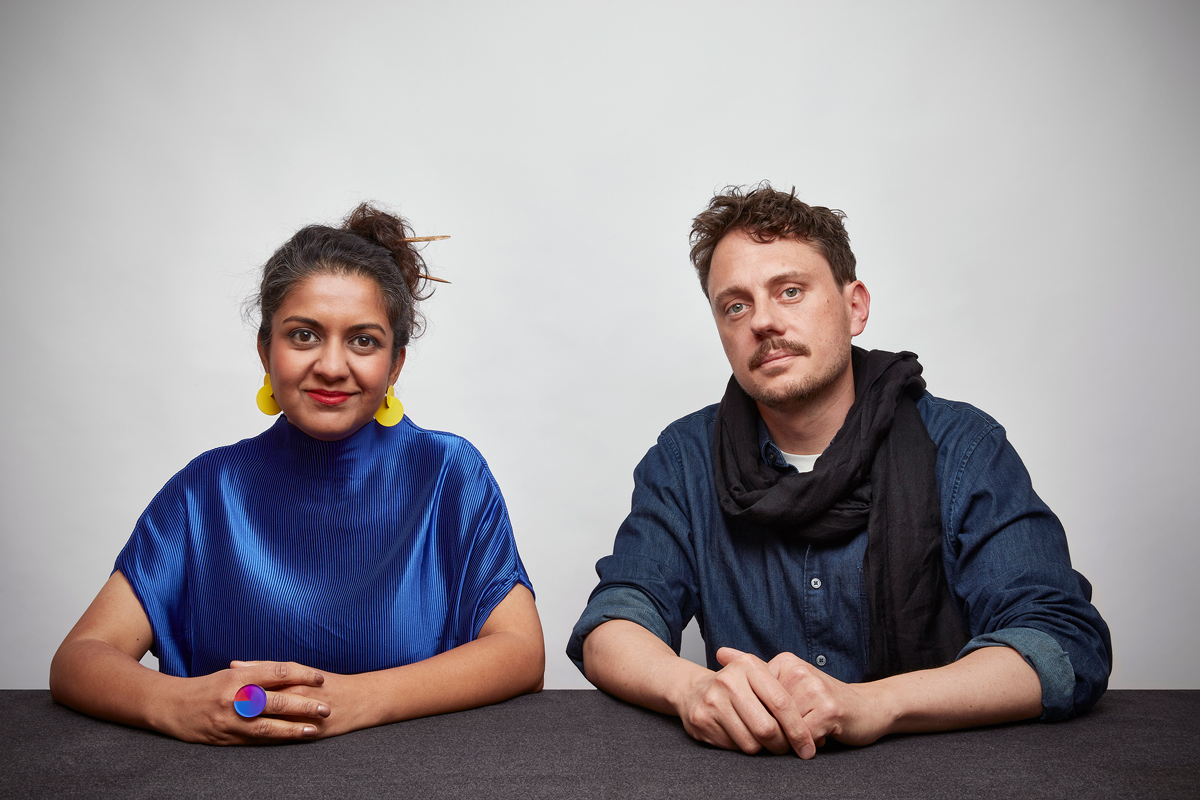 Superflux create worlds, stories, and tools that provoke and inspire us to engage with the precarity of our rapidly changing world.
Founded by Anab Jain and Jon Ardern in 2009, the Anglo-Indian studio's early work brought speculative design approaches to new audiences, working for some of the world's biggest like Microsoft Research, Sony, Samsung and Nokia, and exhibiting work at MoMA New York, the National Museum of China, and the V&A in London.  
Over the years, the studio has gained critical acclaim for producing work that navigates the entangled wilderness of our technology, politics, culture, and environment to imagine new ways of seeing, being, and acting. The studio's partners and clients continue to grow, and include Government of UAE, Innovate UK, Cabinet Office UK, UNDP, Future Cities Catapult, and Forum for the Future.
The Superflux team includes its Directors and a core group of designers, researchers and technologists, alongside a growing network of multidisciplinary collaborators. Our agile, networked structure offers resilience and diversity, allowing us to produce work that consistently exceeds expectations.
Alumni
GEORGINA BOURKE
SAM CONRAN
LIZZIE CROUCH
MARIANNA CZWOJDRAK
ADIT DHANUSHKODI
MIKHAELA DIETCH
CANDYCE DRYBURGH
LUISA FABRIZI
JON FLINT
DILLON FROEHLICH
ALEXANDRA FRUHSTORFER
GEJIN GAO
SARAH GOLD
ELVIRA GROB
SABRINA HAAS
MAËL HENAFF
NATASHA HICKEN
KRITIKA HORA
VYTAUTAS JANKAUSKAS
MARISA JENSON
DANIELLE KNIGHT
FRANCESCA MAZZUCCHI
ALIX MCCABE
KATARINA MEDIC
JUSTIN PICKARD
RAPHAËL PLUVINAGE
ANURADHA REDDY
JAKE CHARLES REES
TOBIAS REVELL
MEGAN RODGER
MARK SELBY
PATRICK STEVENSON-KEATING
ZAHRA SHAHABI
RAMIN SHAMBAYATI
FRANCESCO TACCHINI
EVA TAUSIG
CLEO TSW
YOSUKE USHIGOME
CAROLINA VALLEJO
MINSUNG WANG
EWA WINIARCZYK
AWARDS
Design Studio of the Year
Winner. Dezeen, UK.
Location : UNITED KINGDOM
Date : 2021
Horizon 2020
Grant Winner. Horizon 2020, EU.
Location : EU
Date : 2020
IoT Launchpad Competition.
Winner. Superflux, IoTA, Sciencescope and Virtual Technologies. Innovate UK.
Location : UNITED KINGDOM
Date : 2014
Social Tech Social Change Competition
Winner. Nominee Trust, UK.
Location : UNITED KINGDOM
Date : 2014
Grants for the Arts Awards
Winner. Arts Council England. UK.
Location : UNITED KINGDOM
Date : 2013
TED Conferences
Ted Fellow. Anab Jain. New York. USA. 
Location : NEW YORK, US
Date : 2009
UNESCO Digital Arts Award
2nd Prize. Project 'Yellow Chair Stories'.
Location : UNITED KINGDOM
Date : 2005
Michael Moore Award
Best Documentary. Film 'Journeys' (Producer). 42nd Ann Arbor International Film Festival.
Location : US
Date : 2005
Geneva International Film Festival for Human Rights
Grand Prix. OMCT Film 'Journeys' (Producer).
Location : GENEVA, SWITZERLAND
Date : 2005
Design for our Future Selves Awards
First Prize. Helen Hamlyn Centre, Royal College of Art. 
Location : LONDON, UNITED KINGDOM
Date : 2005
INNOVATION AWARD
Film 'Journeys', Chicago International Documentary Festival.
Location : CHICAGO, US
Date : 2005
Award of Excellence
Project 'Mandala' World Design Congress, International Council of Societies of  Industrial Design (ICSID) and DuPont Inc.
Location : TORONTO, CANADA
Date : 1999
International Design Competition
Highly Recommended. Project 'Mandala' (National Institute of Design, India),  Apple Computers Inc.
Location : CUPERTINO, US
Date : 1998