SAFE: A Collection of Works Exploring Safer Futures
Lloyd's Register Foundation
Somerset House, 21st Oct - 1st Nov 2022
In October 2022, SAFE opened at Somerset House, London. The public exhibition featured 10 speculative futures' projects envisioned, curated, designed and produced by Superflux, commissioned by Lloyd's Register Foundation.
These 10 projects, created in response to 10 LRF supported research projects, are rooted in real-world test cases and near-future trends. With a particular focus on how we can make the world a safer place, these research projects – and their speculative counterpart – travel across land and sea, addressing topics from food scarcity and water infrastructure, to big data and the future of automation.
Within the format of a public-facing exhibition, Superflux capture, challenge and re-imagine how the future is unfolding in the present, to offer an imaginative and artistic view of what our shared futures could look like.
An Introduction from Superflux's directors Anab Jain and Jon Ardern
Constant news of extreme flooding, extreme heat, extreme violence feed a growing sense of a world adrift. But, hidden from the public eye, groups of people are coming together to innovate ways in which we can steer toward a safer world for future generations.
SAFE immerses you in the poetics of 10 multidisciplinary research projects exploring safer futures. From the synergetic harvesting of rainwater in Mexico City; abundant seaweed farms thriving beneath the water surface; choreographed explosions and cryogenic testing of sea-based architectures in South Korea; and shadow dances between physical worlds and their digital twins. Elementary materials together with ingenious technologies and regenerative practice can salve present-day anxieties.
Traversing the real and imagined, these 10 works foreground the positive tangible opportunities granted by such research initiatives, and simultaneously extend the reach of their potential. Can technologies and infrastructures, systems and temperaments shape a world absent of needless grief and suffering? This is the social, technological and ecological commitment that safer futures must enfold and uphold.

Ten Works Across Five Rooms
To help evoke the curatorial flow of the exhibition we've arranged detailed project descriptions according to their thematic groupings.
Room 1: Interdependence
The works in this room explore the unseen poetics of data and automation. Dissolving charges of cold logic they revel in the glimmering potential of technology as provider of both care and beauty.
Keywords: Technology, Data, AI
Room 2: Materiality
Sometimes to reach a position of guaranteed safety there must be a period of experimentation, uncertainty and destruction. In this room we immerse you in that unpredictable state, where maritime safety is born of cacophonous explosions.
Keywords: Infrastructure, Sea-based architecture, Material innovation
Room 3: Precarity
Many are living in extreme precarity born of systemic injustice, consequently leaving the most vulnerable at the mercy of preventable catastrophes. Education is a necessary precursor to safety. In this room we encounter two works that draw on education programmes in Bangladesh and South Africa respectively, both of which are using education to tackle avoidable deaths.
Keywords: Education, Social Justice, Equitable Futures

Room 4: Trust
This room invites you into the midst of a seemingly routine voyage at sea. Whilst the crew go about their daily business, beyond the horizon (and beyond your control), things don't look entirely favourable. Can the autonomous monitoring system onboard steer you to safety?
Keywords: AI, Foresight, Human-AI Partnerships
Room 5: Imagination
Spanning regenerative innovations already in action, to the fantastical imaginings of school children, the works in this room advance visions that sow the seeds for a future where all are healthy and safe.
Keywords: Material innovation, Infrastructure, Reciprocal Futures
Room 1: Interdependence
Attunement
A clip from the film Attunement
Imagine a future where robots work in a greater variety of roles, and in greater numbers alongside humans. A future where autonomous systems gain our complete trust, and perform tasks without human fear or apprehension.
This short CGI film investigates the potential of safer collaborative human-robot working relationships, inspired by research conducted by the Assuring Autonomy International Programme (AAIP), a collaboration between Lloyd's Register Foundation and the University of York. AAIP provides cross-domain guidance and verification to assure the safe manufacture and use of autonomous systems. The research produced by the AAIP supports developers, safety engineers, and assessors to design safety into systems.
This precisely choreographed animation, tested and represented through simultaneous game engine and green screen footage, explores media-driven contemporary concerns surrounding automation. At its narrative crescendo, the film inverts to pursue an alternative speculative thread; assuring viewers of a safer future where robot-human relationships, built on mutual trust and care, positively thrive.
Produced in conversation with Assuring Autonomy International Programme (AAIP), University of York by Camille Dunlop, Matthew Edgson, Jon Ardern and Ed Lewis (Superflux) in collaboration with Sam Conran and David Vélez
Materials / Length: Film / 4 minutes 8 seconds
Illuminating Data
Illuminating Data exhibited at Somerset House as part of SAFE
An anglepoise lamp and its digital double; move the lamp's head, turn it on and off, and encounter a haunting duet between the physical and digital world.
'Illuminating Data' is inspired by research from The Lloyd's Register Foundation Data-Centric Engineering programme at The Alan Turing Institute. Their digital twin allows for real-time correspondence between the physical engineering system and its digital equivalent. The digital twin can undergo testing before, during and after physical alterations are made, lending increased efficiency and economy in testing and decision making processes.
This live simulation, created and tested through simultaneous game engine and electronic experimentation, exposes the way that the parallel systems operate. The familiar and familial visual poetry between the lamp and its double, begs the question; what are the potential uses of digital twins in everyday life and in what kind of futures will these systems operate?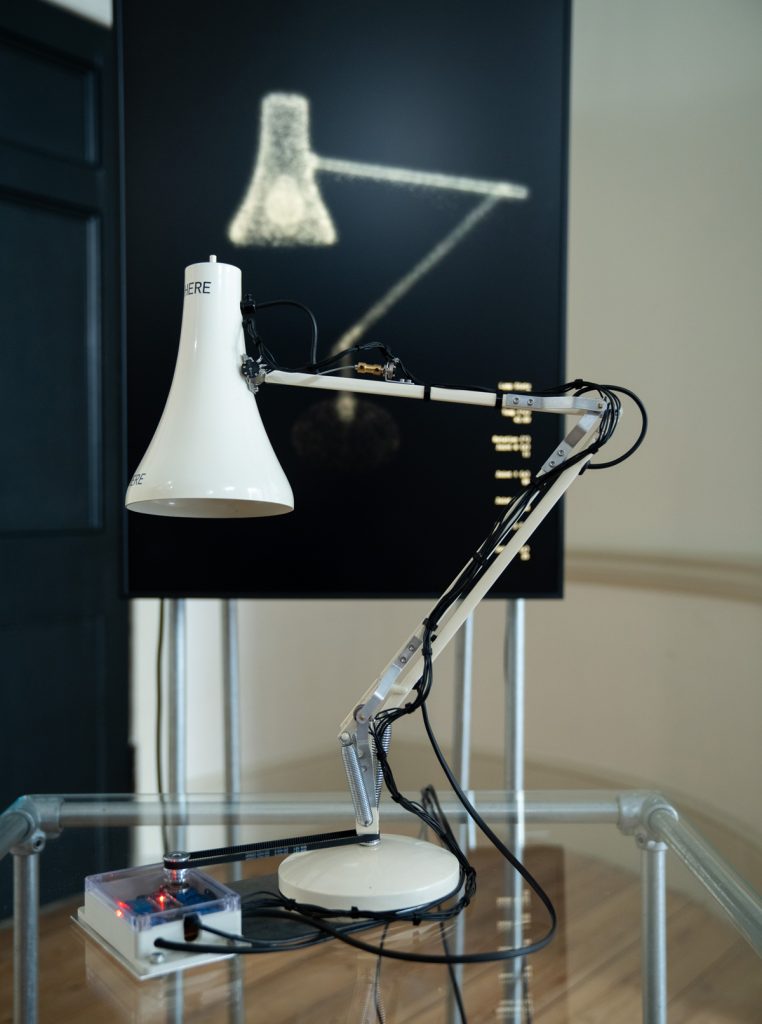 Produced in conversation with The Lloyd's Register Foundation Data-Centric Engineering programme at The Alan Turing Institute by Camille Dunlop, Ed Lewis and Jon Ardern (Superflux)
Materials: Unity Simulation, Anglepoise Lamp, Aluminium, Electronic Components
The Elucidation Engine
The Elucidation Engine exhibited at Somerset House as part of SAFE
Complex risk data generated by an AI tool transforms into a luminous sculpture. The tool, currently tested on historical construction site safety data, is capable of calculating risk scores from hand-written health and safety observations, and has been shown to predict incidents before they occur. The mass of everyday data collected by the robot is here transformed into a visceral exploration of risk through time, evoking felt moments of conflict, danger, anticipation and calm.
Powered by the latest digital technology, Discovering Safety – a partnership between Lloyd's Register Foundation and the Health and Safety Executive (HSE), draws together workplace safety data on an unprecedented scale. A global knowledge resource, everything from small incidents to industrial catastrophes (reaching back over the last 40 years) is compiled and logged. Expert analysis of the data subsequently produces bespoke solutions for local contexts to prevent future accidents.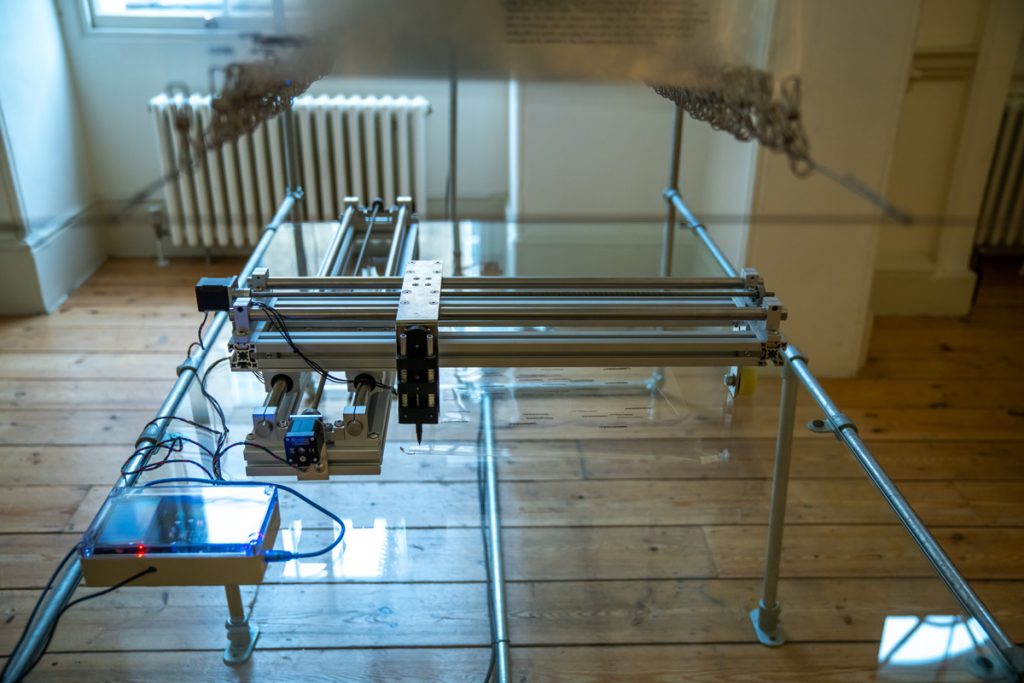 Produced in conversation with Discovering Safety, the Health and Safety Executive (HSE) by Ed Lewis and Jon Ardern (Superflux)
Materials: Aluminium, Steel, Nylon, PLA, Electrical Components, Marker Pen, Cellulose Film
Room 2: Materiality
재앙의 요소 (Elements Of Catastrophe)
A preview of Elements Of Catastrophe, accompanied by footage of the tests recorded for the piece
A long-term collaboration between Pusan National University and Lloyd's Register Foundation, The Korea Ship and Offshore Research Institute (KOSORI) is helping the global maritime industry to better understand catastrophic incidents at sea. A research and development centre for studying safety in ships, boats and sea based architectures, they work to eliminate uncertainty from a plethora of potential accidents through large-scale physical model testing. Subjecting materials to various intense and accidental conditions including fires, explosions, collisions, cryogenic temperatures and extreme pressure.
This work evokes the cacophonic conditions that KOSORI grapples with during their test procedures, whilst foregrounding the incidental sculptural forms produced by those processes. Extreme temperatures and sonic forces collide in an immersive soundscape which surrounds the sculptural forms, frozen at the moment of demolition. Within this ruinous yet fertile space, objective scientific processes are translated into a poetic meditation on the emergence of safety from destruction.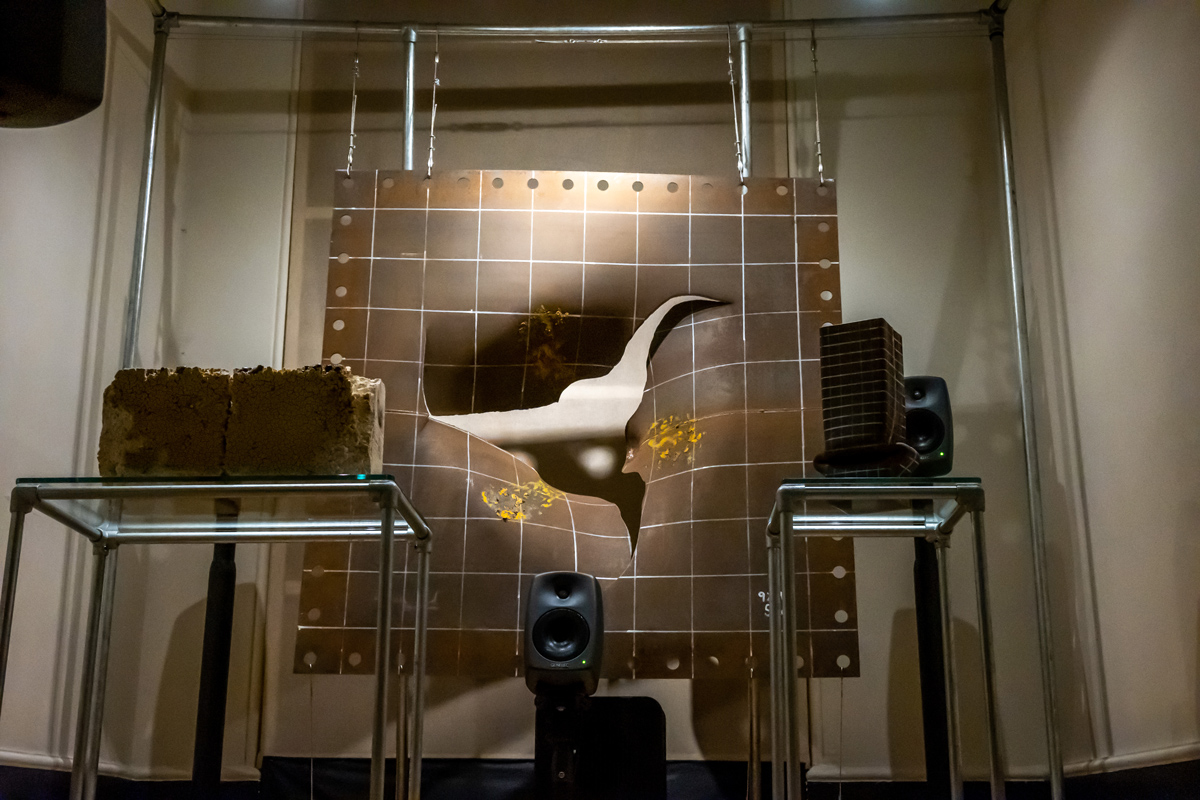 Produced in conversation with The Korea Ship and Offshore Research Institute (KOSORI), Pusan National University by David Vélez in collaboration with Matthew Edgson, Jon Ardern and Charlotte Hukin (Superflux)
Materials / Length: 5.1 surround sound installation / 6 minutes 54 seconds
Room 3: Precarity
fishSAFE 2025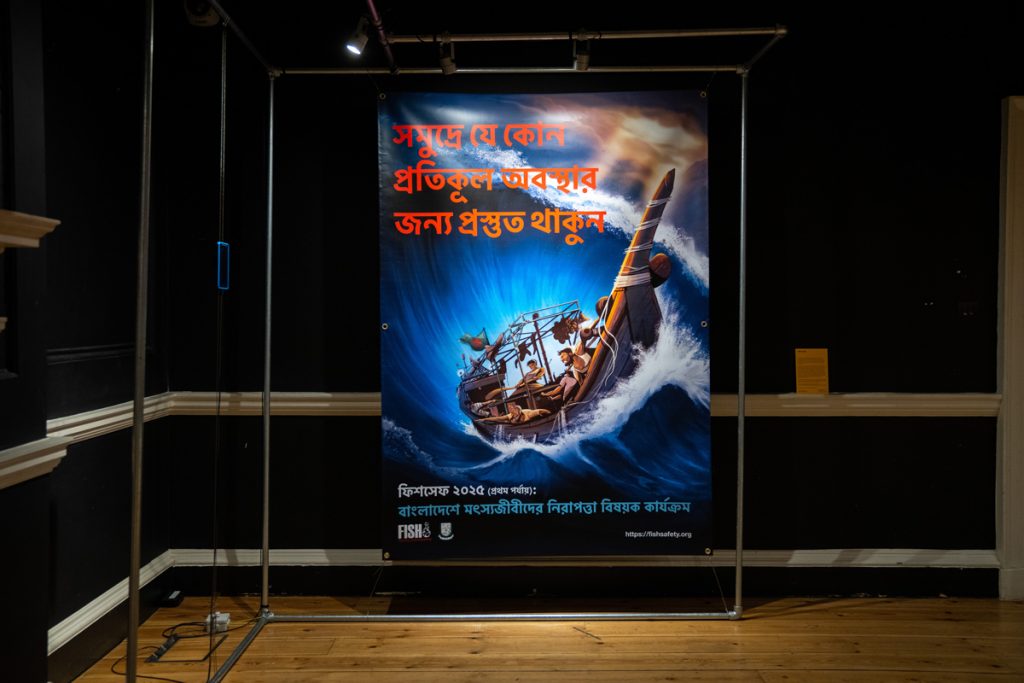 In Bangladesh, over 1,350 fishermen die at sea annually. These avoidable deaths are primarily attributable to unsafe practice and ill-equipped boats (which are often without the most basic safety features). What's more, when a fisherman dies, their family does not only lose a father, a husband, a son, but often their only source of financial income.
In response, The FISH Safety Foundation have developed a safety intervention programme. The initiative, fishSAFE 2025, was supported by Lloyd's Register Foundation funding and has produced a rigorous communications and training program to inform fishermen around critical equipment failures, legalities, methods of good seamanship and ways to mitigate risks. This training programme spearheads a self-sustainable culture change, where fishermen will carry forth this safe-practice to eventually become the educators. A sibling initiative, the Re-Fish Campaign, is now working to tackle resource shortages; supplying fishermen with lifejackets, first-aid supplies and communication devices.
fishSAFE 2025's educational posters are accompanied by raw footage, shared by fishermen in Bangladesh, lending contextual insight into their perilous daily reality aboard precarious fishing vessels.
Poster translation:
BE PREPARED FOR ANYTHING AT SEA
The fishSAFE 2025, (Phase 1):
Bangladesh Fishing Safety Intervention Program
Produced in conversation with The FISH Safety Foundation by Ed Lewis, Jon Ardern and Matthew Edgson (Superflux)
Materials / Length: Polyester Printed Poster and Film / 3 minutes 18 seconds
Imizamo Yethu 2017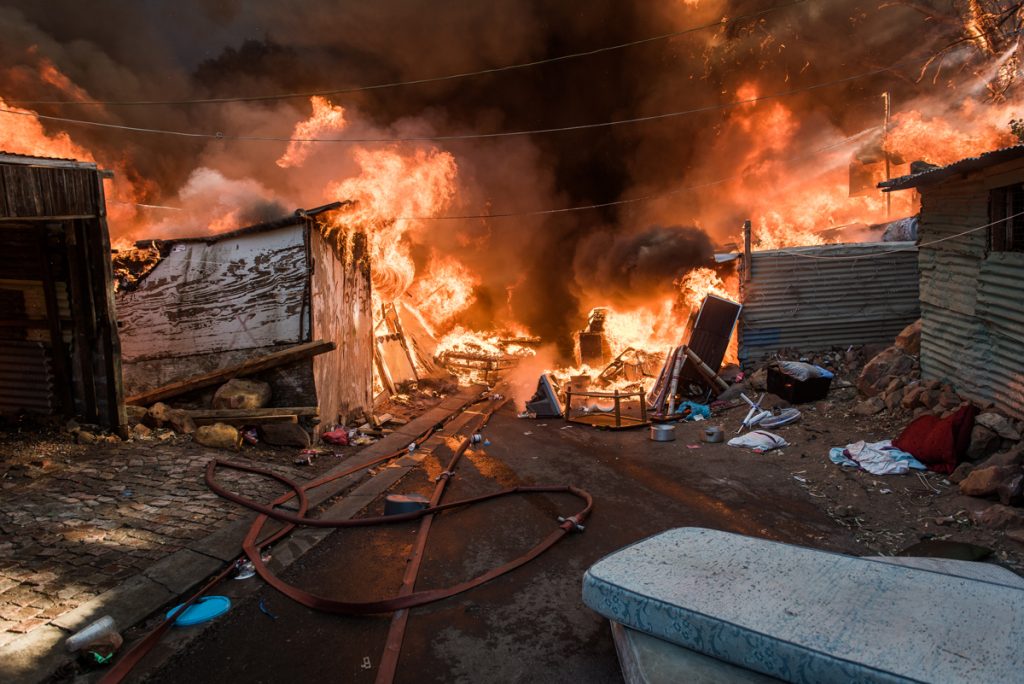 On 11 March 2017, one of the largest fires to have happened in a South African informal settlement ravaged through Imizamo Yethu, Cape Town. Photographer Justin Sullivan documented the mass of firefighters (some 170) who struggled to control the wildfire, and the irreparable damage caused to the 15,000 displaced peoples and their property.
In 2018, Lloyd's Register Foundation announced their funding of The Fire Engineering Education for Africa (FEEFA) programme at Stellenbosch University; the first-ever university postgraduate programme in fire safety in Africa. Addressing the lack of expertise in local fire engineering, which has resulted in regular large informal settlement (slum) fires, FEEFA develops both fire safety specialists and acts as a central hub of expertise that emanates across the continent.
The work pursued by the FEEFA programme only adds to the poignancy of Sullivan's images; Safety measures could, indeed should, have been available and implemented.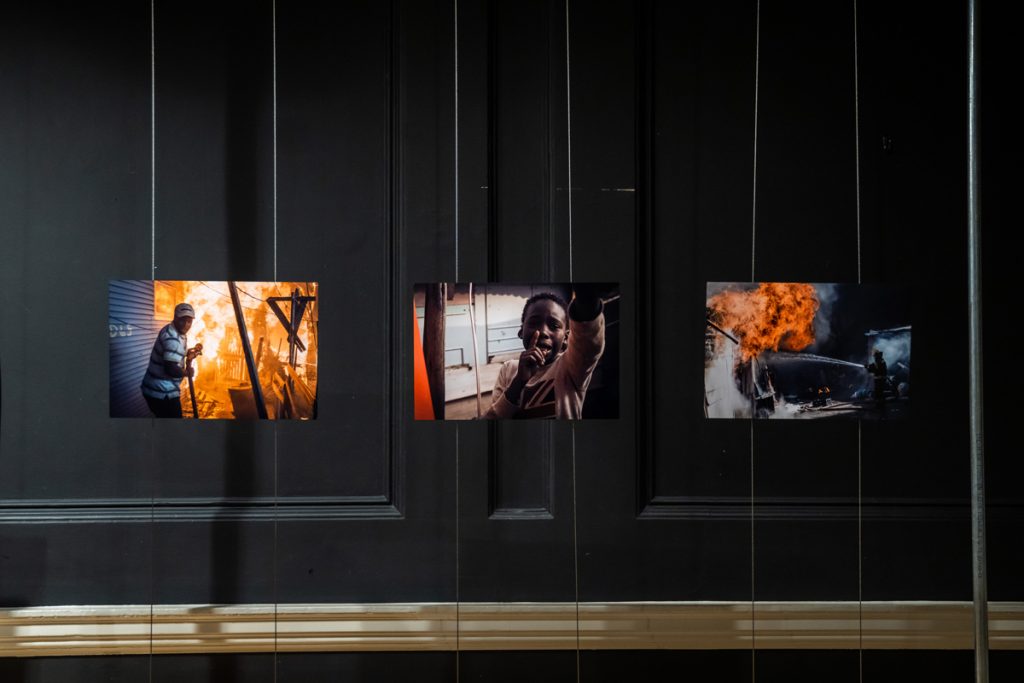 Produced in conversation with Stellenbosch University; Fire Engineering Education for Africa (FEEFA)
Photographs by Justin Sullivan
Materials: ChromaLuxe Aluminium Photographic Prints
Room 4: Trust
Shipping Forecast
A clip from the film Shipping Forecast
High impact, low frequency (HiLo) incidents at sea are notoriously difficult to predict, their consequences disastrous for ships, crews, economies and ecosystems.
HiLo Maritime Risk Management started as a joint initiative between Shell Shipping and Maritime, Maersk Tankers A/S and Lloyd's Register Foundation, bringing key players in the maritime and offshore industry together to nurture an alternative approach to safety that can prevent the loss of lives, and ships, at sea. Combining vast datasets with predictive modelling, HiLo interlinks past, present and future accidents, leading events with undesired events, to calculate and rank probability of risk. Adopting this proactive – opposed to reactive – perspective ensures impending disasters are identified in advance and minimised in the future.
Imagining a ship's voyage as it navigates the volatile and uncertain conditions of the ocean, this work juxtaposes the daily routines of the crew alongside a holistic monitoring system that continually surveys potential risk on-board. The predictive dashboard model utilises information from the various departments of the ship to anticipate, and notify crew, when potential disaster may strike.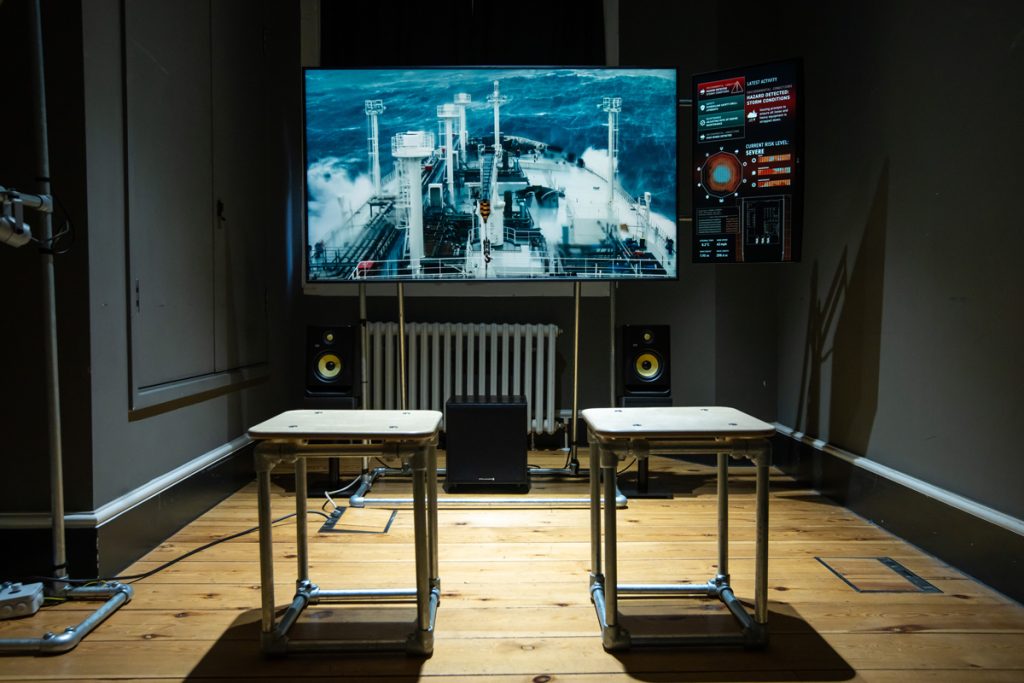 Produced in conversation with HiLo Maritime Risk Management by Matthew Edgson, Anab Jain and Jon Ardern (Superflux) in collaboration with Dimitris Papadimitriou + Michele Vannoni (Pentaprism) and Sam Conran
Materials / Length: Film / 4 minutes 28 seconds
Room 5: Imagination
The Seas are No Longer Dying
A clip from The Seas Are No Longer Dying
Seaweed is a valuable, under acknowledged and (presently) underused resource. It is easy to grow, it's highly versatile, highly nutritious and extremely beneficial to ocean ecosystems.
The Safe Seaweed Coalition is a global partnership between the United Nations Global Compact (UNGC), CNRS Biologique de Roscoff and Lloyd's Register Foundation, working to oversee the safe and successful scaling up of the growing seaweed industry. Empowering members to work together to build an industry for the future, the Safe Seaweed Coalition supports consumer, operational and environmental safety.
This speculative work imagines a seaweed farm approximately 30 years from now, where the implementation of new regulations, protocols and technologies have created a flourishing seaweed industry. Beginning high above sea-level to survey a vast community of seaweed growers, technologists and innovators, we then plunge beneath the water surface where spiralling ribbons of kelp proliferate as far as the eye can see. In this future world where seaweed is carefully nurtured and creatively applied, all manner of architectural, technological, cultural, culinary and occupational opportunities emerge.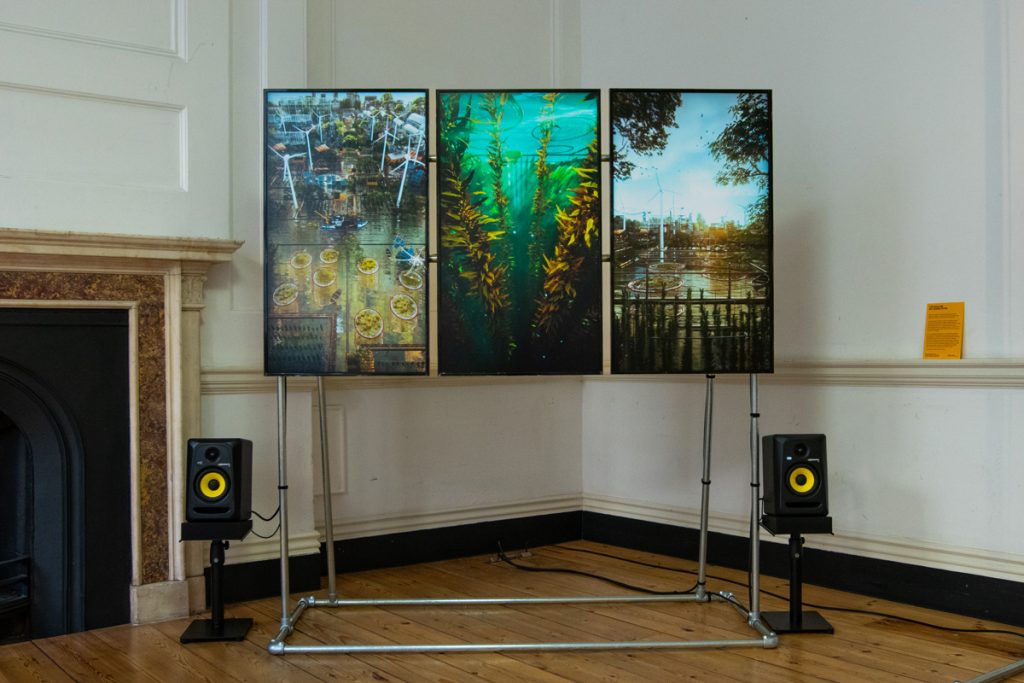 Produced in conversation with Safe Seaweed Coalition by Matthew Edgson, Anab Jain and Jon Ardern (Superflux) in collaboration with Cream Projects and David Vélez
Materials / Length: Film / 2 minutes 49 seconds
The Resilient City
A clip from the film The Resilient City
The Resilience Shift – a Lloyd's Register Foundation programme in partnership with Arup – has catalysed a global movement toward safe and sustainable infrastructure through design.
Vulnerable to shocks and stresses including natural disasters, shortfall of critical infrastructure, inadequate governance, extreme weather and groundwater over exploitation, Mexico City has, for some 500 years, long endured an unstable water infrastructure. Consequently, it was identified as the largest global consumer of bottled water. Communicating with stakeholders and local NGOs, The Resilience Shift conducted a system-wide analysis for the most yield-effective solutions to the city's water infrastructure, these include leakage repair in the city's aged plumbing systems, recharging the city's natural aquifer, and the harvesting of rainwater.
Here, the interconnectedness of solutions and systems are woven together in a dynamic animation, demonstrating how all solutions should be pursued and monitored simultaneously to stabilise the troubled water infrastructure. This animation visualises how, with the help of innovative design, Mexico City can maintain watertight resilience.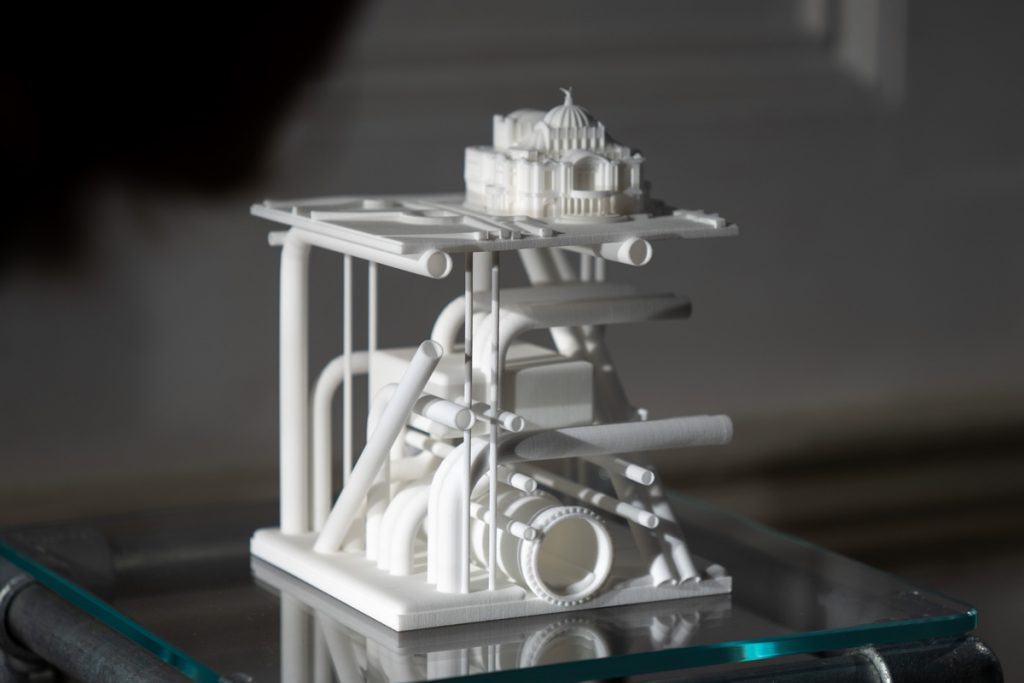 Produced in conversation with The Resilience Shift, Arup by Alfred Cassels and Jon Ardern (Superflux) in collaboration with David Vélez
Materials / Length: Film / 2 minutes 39 seconds
Young Hope
Young Hope exhibited at Somerset House as part of SAFE
In 2021, 34% of people across the world felt less safe than they did five years previously. 13% of people across the world viewed road crashes as the highest perceived risk to personal safety. 27% of people globally experienced harm from severe weather.
The Lloyd's Register Foundation World Risk Poll, powered by Gallup, creates a comprehensive overview of a spectrum of issues and their perceived risks. From online safety and workplace injury to the safety of food and climate change, the poll generates striking and often surprising insights about how safe people feel, what risks they experience everyday and how such experience of risk differs across the world.
Mirroring the process and methodology of the World Risk Poll, this work gathers responses from an international selection of children aged 8-12, using their insights to build a picture of the biggest problems our world currently faces and what a safer future might look like. The project seeks not only to learn from children's personal experiences and concerns, but crucially place value on those experiences and concerns, giving young people a platform to express how they would build a safer, more optimistic future. It is, after all, the future that they will inherit.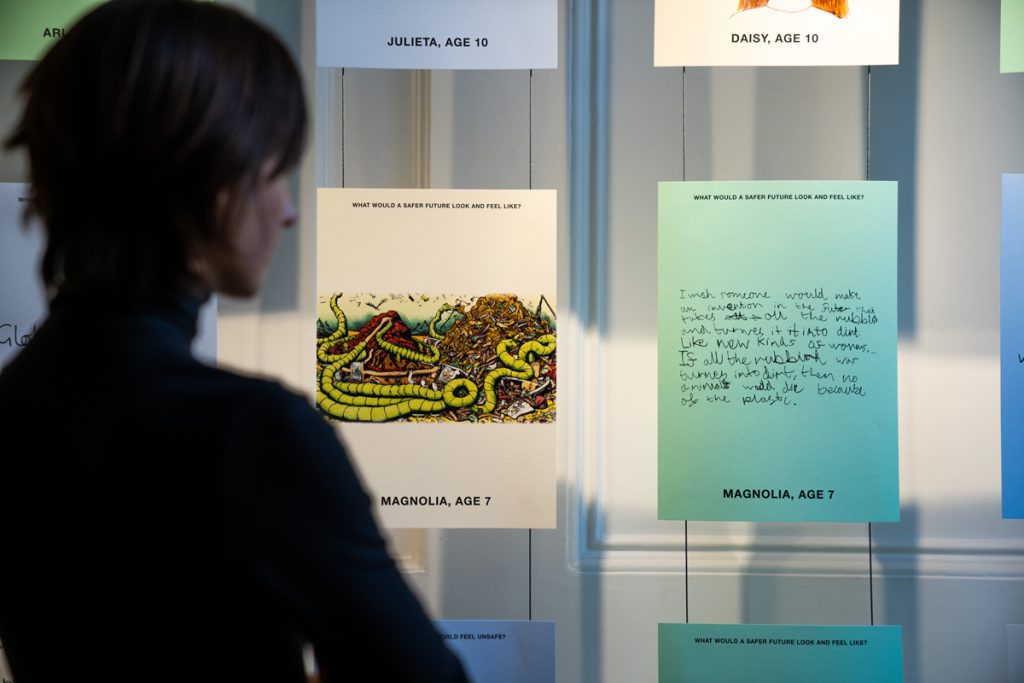 Produced in conversation with Gallup by Matthew Edgson, Nicola Ferrao, Anab Jain, Jon Ardern and Charlotte Hukin (Superflux) in collaboration with Anindita Basu Sempere
Materials: A3 Graphic Prints
Exhibition at Somerset House
SAFE was first exhibited at Somerset House in London, from 21st October to 1st November 2022.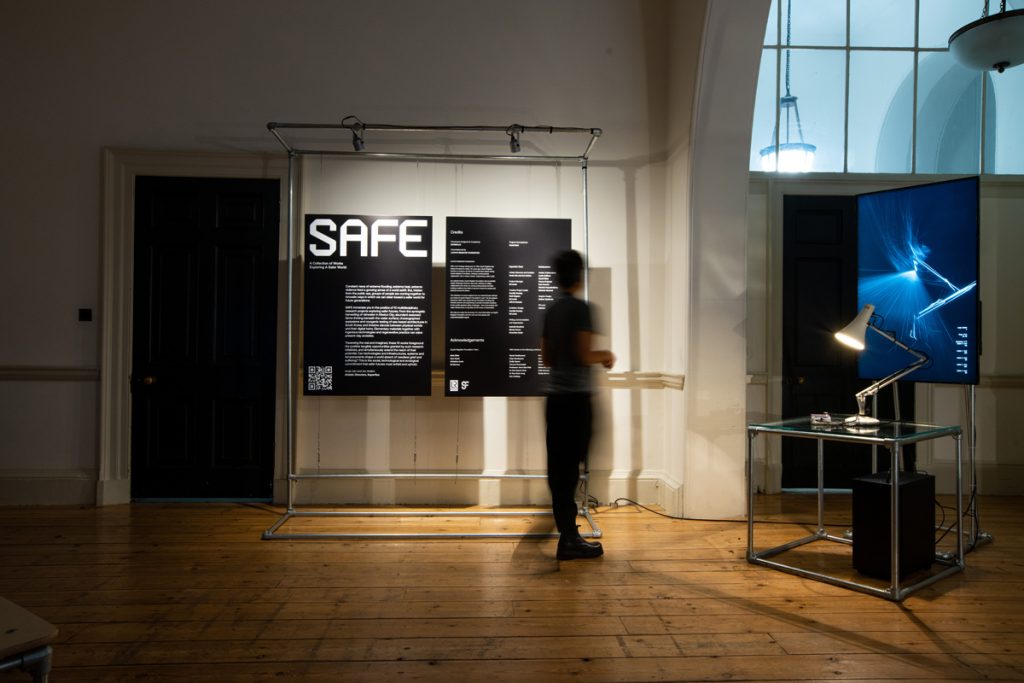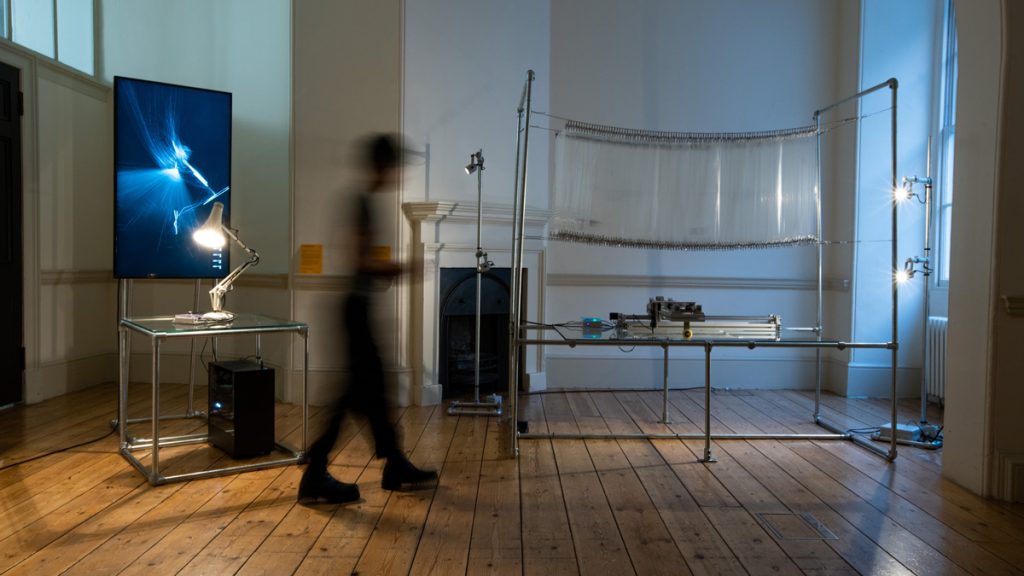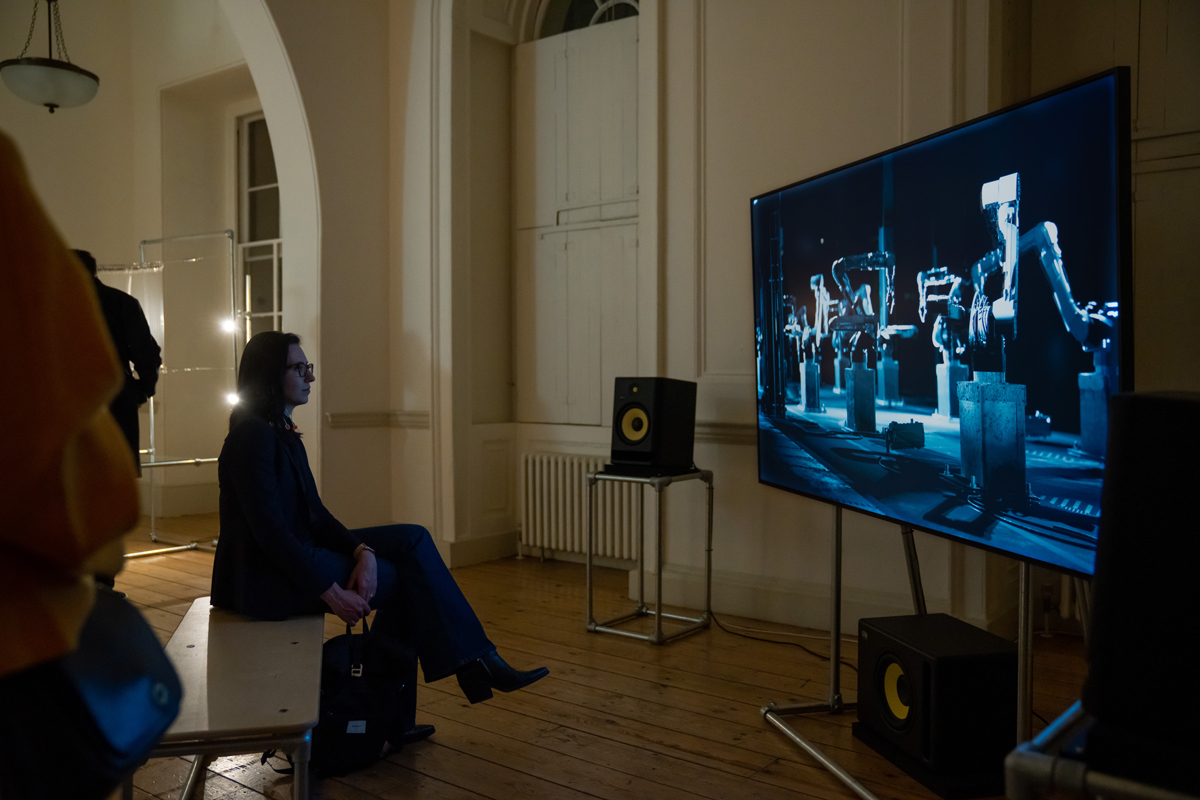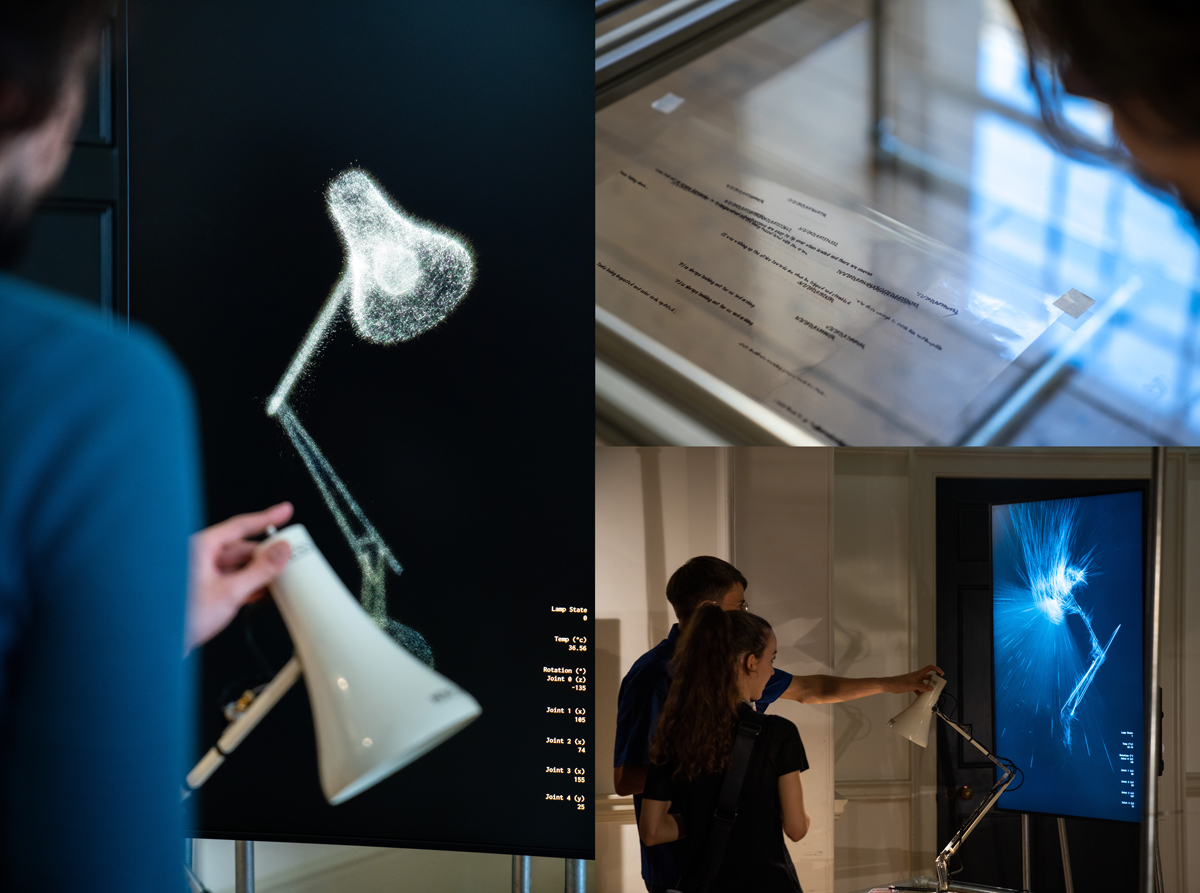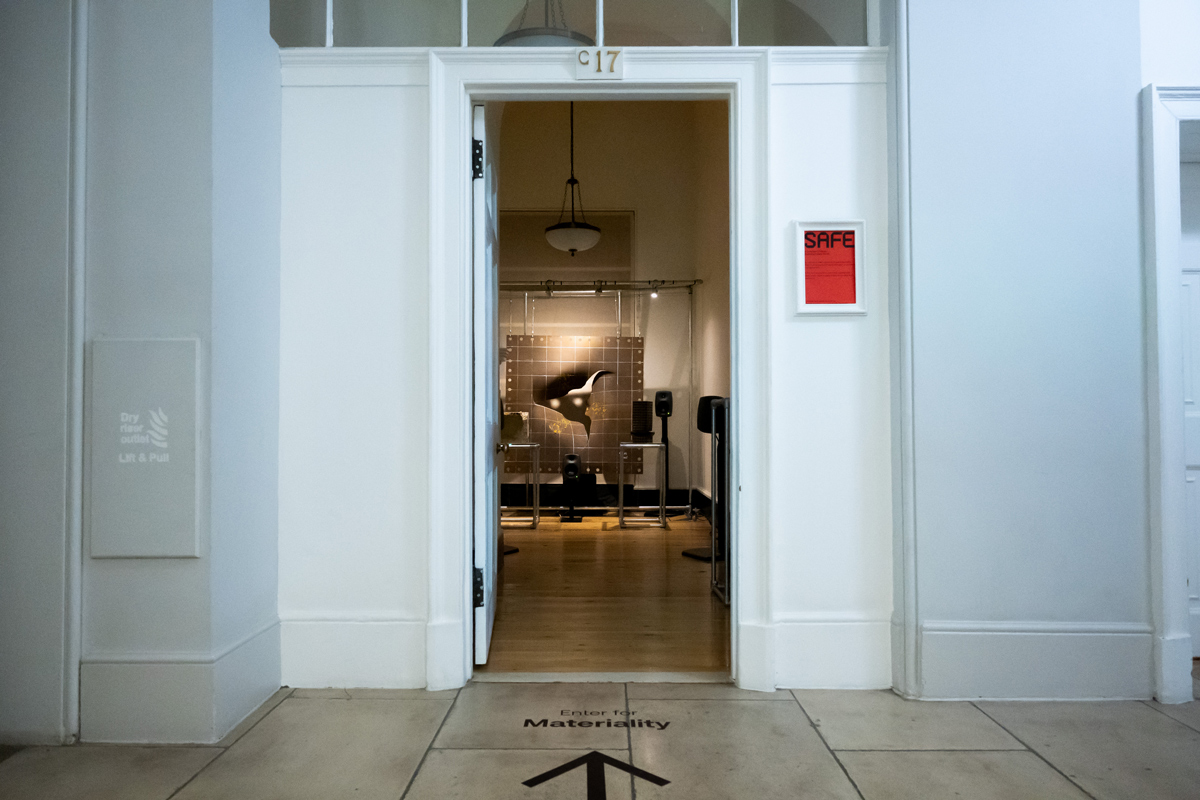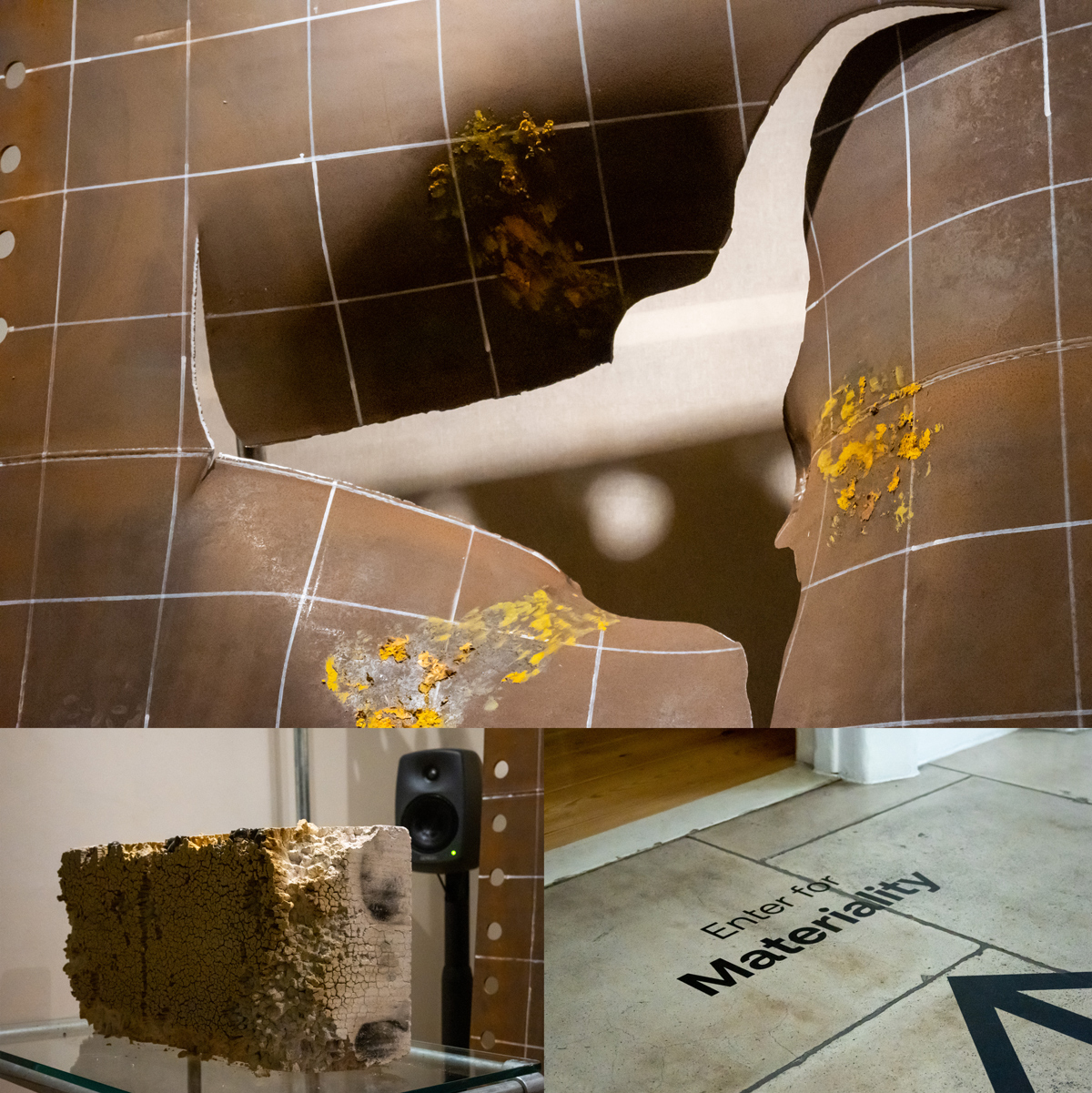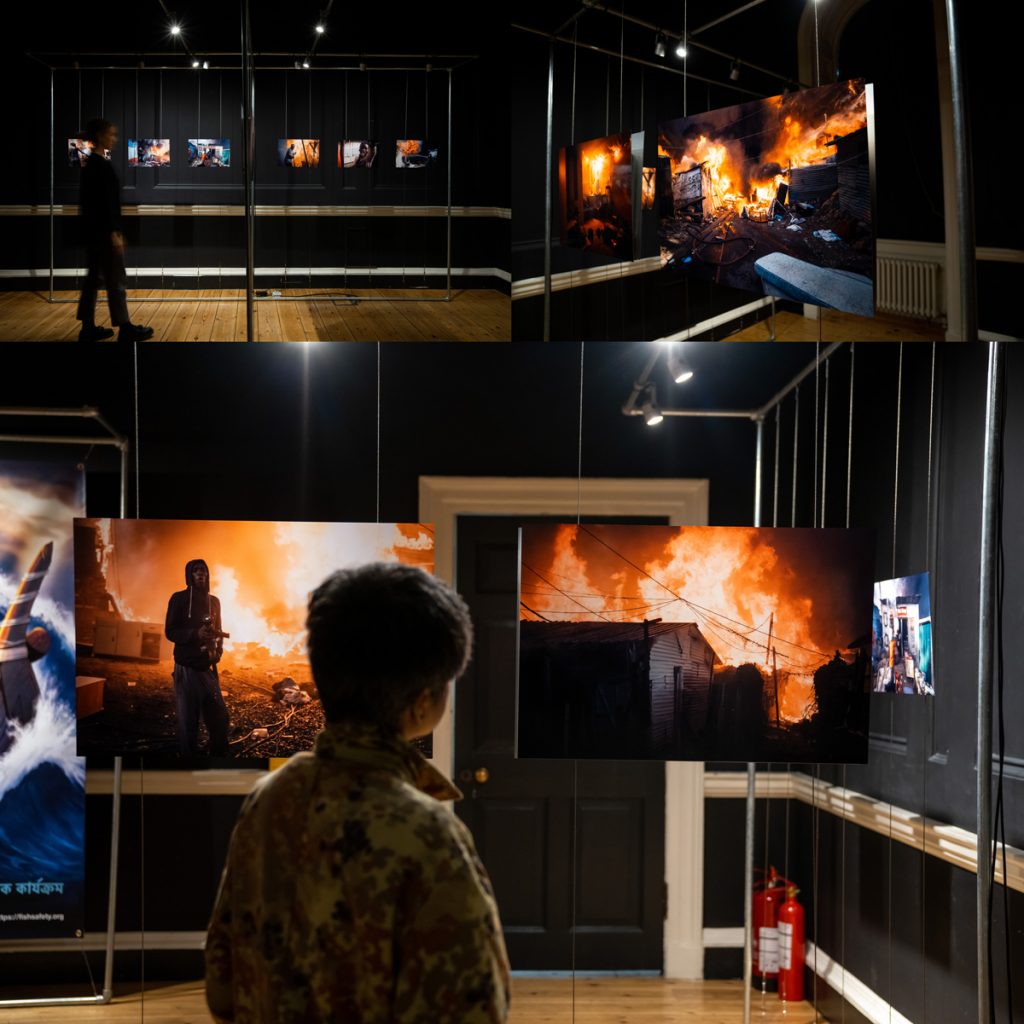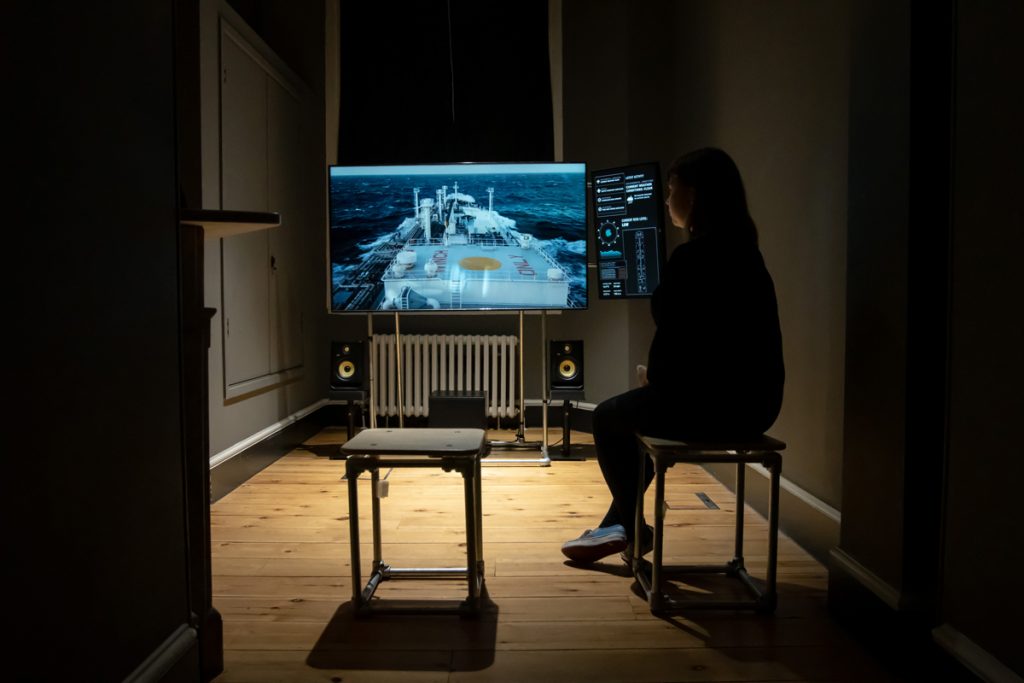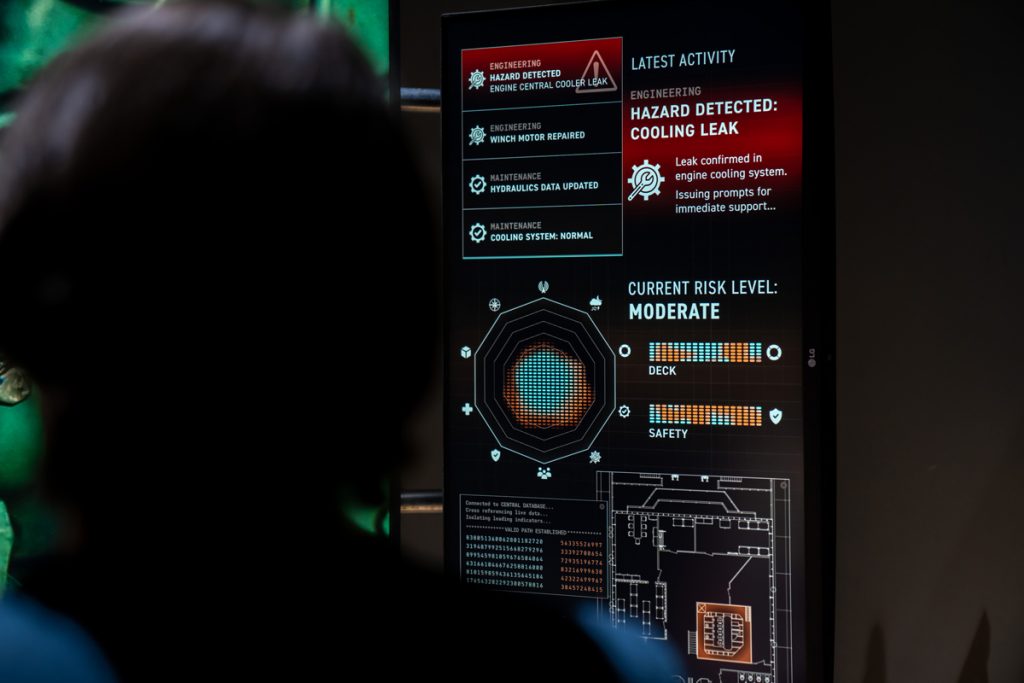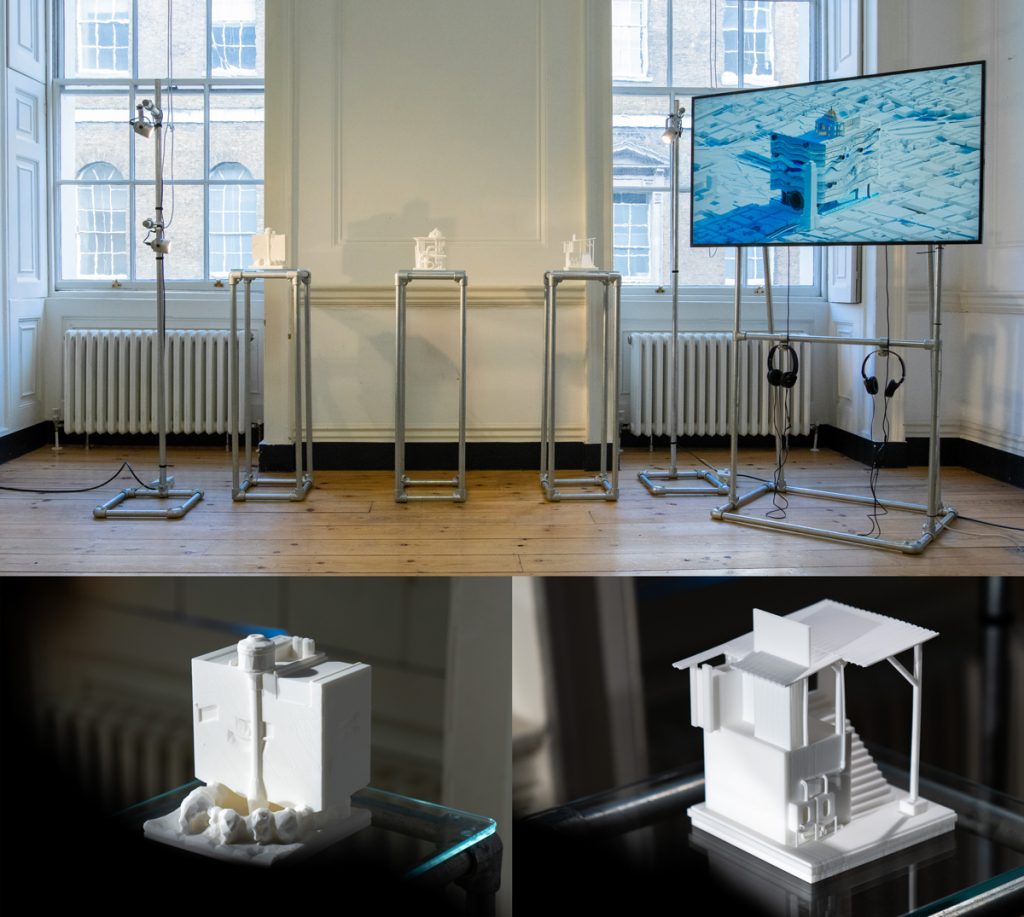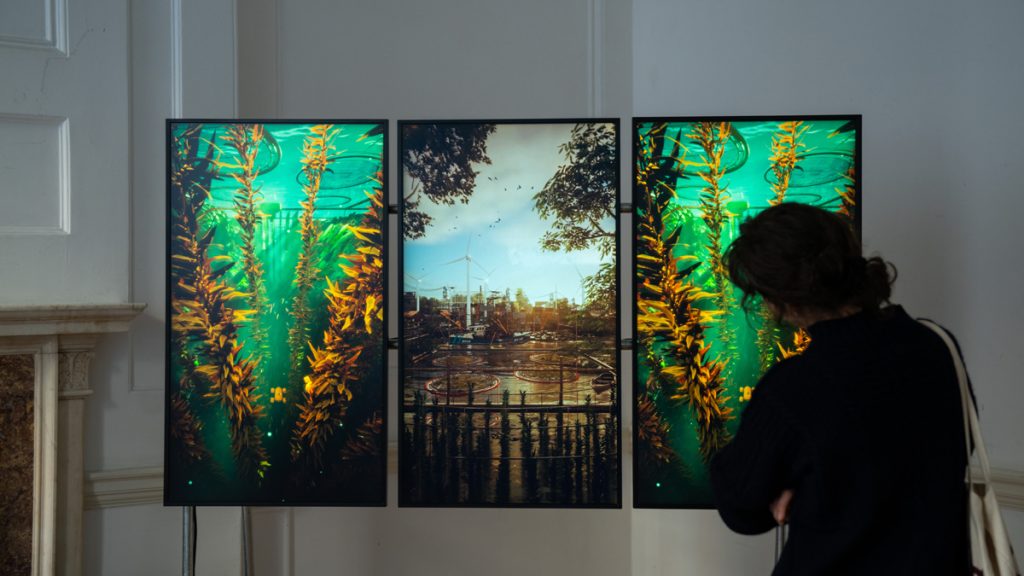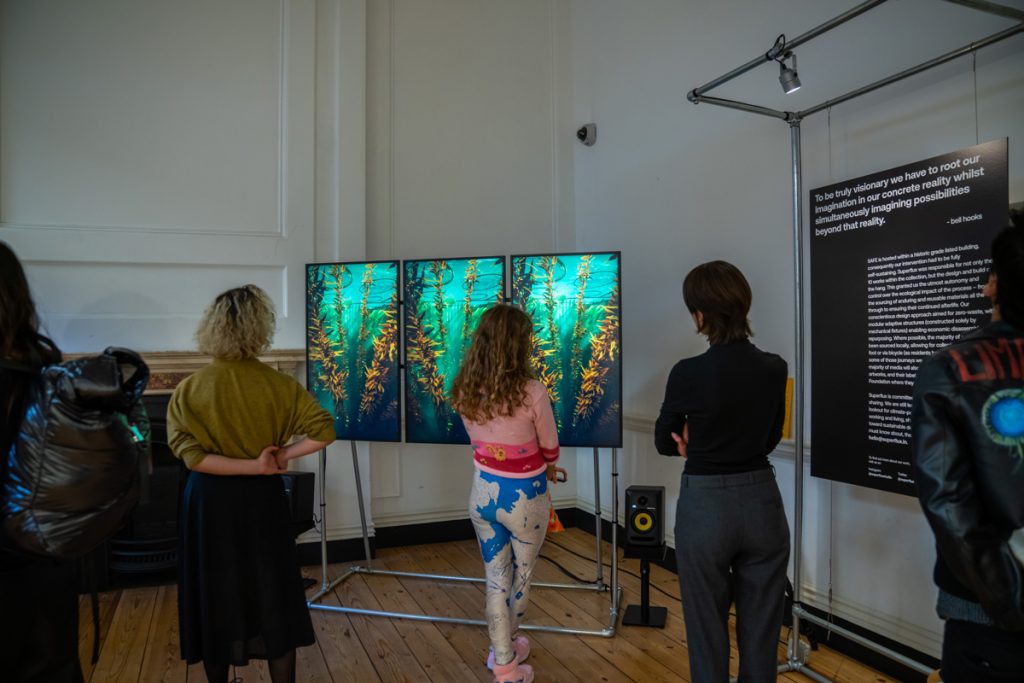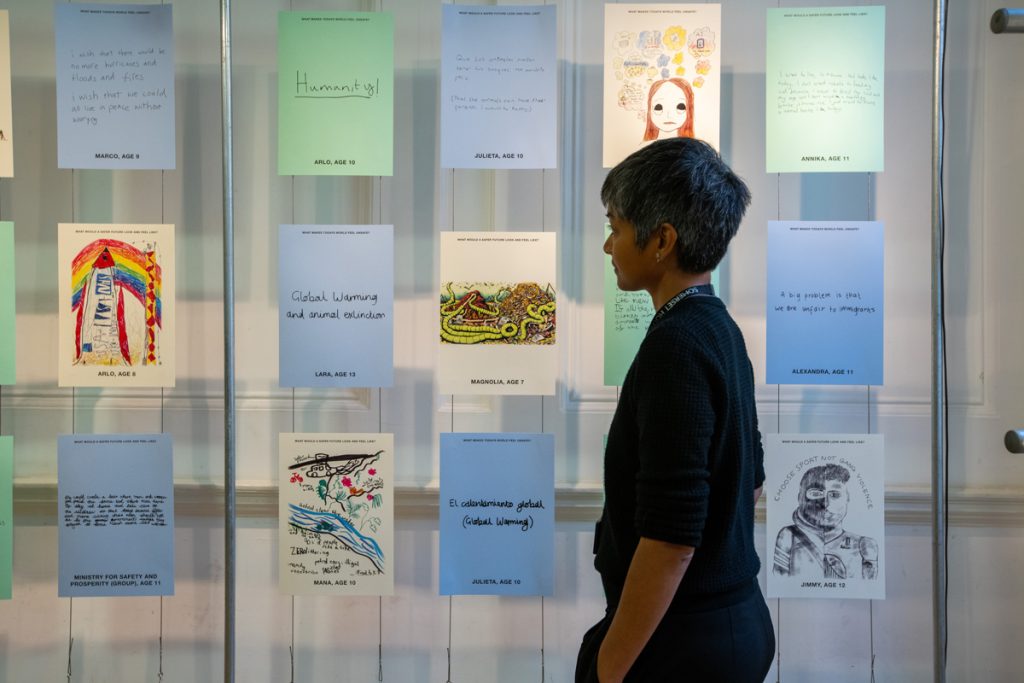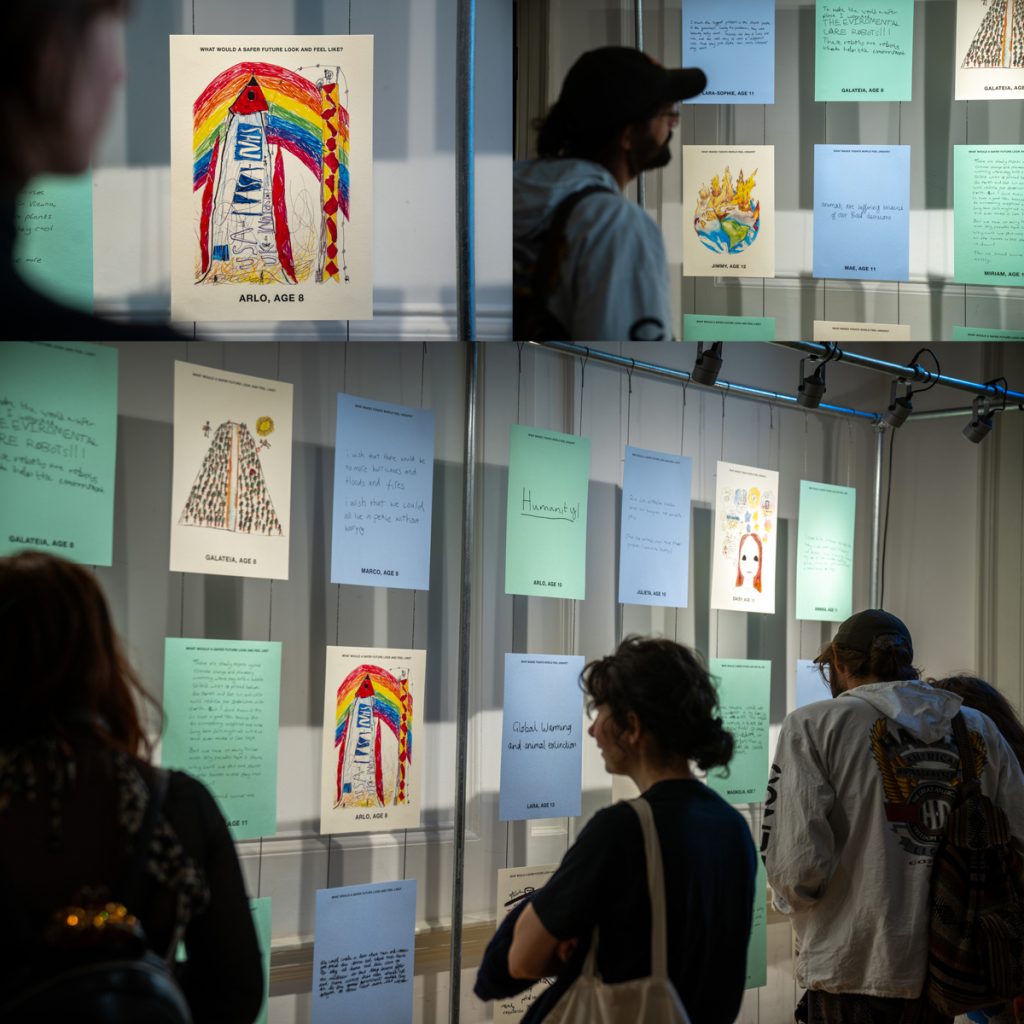 Credits
Conceived, Designed and Curated by SUPERFLUX
Commissioned by LLOYD'S REGISTER FOUNDATION
With a rich heritage dating back to 1760, Lloyd's Register has always had a strong focus on safety. Ten years ago, Lloyd's Register became a company owned by the independent global charity Lloyd's Register Foundation, creating a social purpose organisation with a unique mission: engineering a safer world.
As a global charity, Lloyd's Register Foundation aims to identify safety challenges wherever they exist, seeking out willing collaborators who share our strong social purpose and then building coalitions that deliver long-term impact for people and property across the planet.
The collection of works created for SAFE imagine how our shared futures will look as a result of Lloyd's Register Foundation's work. The ten projects featured in SAFE were supported by Foundation funding, and harness science and engineering to provide innovative solutions to the world's greatest safety challenges – from food scarcity and water infrastructure, to big data and the future of automation.
For more information on Lloyd's Register Foundation and the work we fund, please visit https://www.lrfoundation.org.uk/
Project Commissioner
David Reid
Lloyd's Register Foundation
Superflux Team
Artistic Directors and Curation
Anab Jain and Jon Ardern
Project Manager
Ed Lewis
Creative Project Leads
Camille Dunlop
Matt Edgson
Ed Lewis
Alfred Cassels
Exhibition Design
Camille Dunlop
Ed Lewis
Writing, Communication and Organisation
Isabelle Bucklow
Nicola Ferrao
Charlotte Hukin
Collaborators
Artistic Collaborators
Justin Sullivan
David Vélez
Cream Projects
Sam Conran
Dimitris Papadimitriou
Michele Vannoni
Graphic Design
Stelios Ypsilantis
PR Lead
Zetteler
Exhibition Photography
Sandra Ciampone
Acknowledgements
Lloyd's Register Foundation Team
Beth Elliot
Sam Dadd
Christine Cook
Ed Morrow
With thanks to the following contributors:
Sarah Heathwood
Katy Henderson
Emily Dyson
Vincent Doumeizel
Professor Jeom Kee Paik
Dr Dae Kyeom Park
Dr Hyo Seok Jung
Eric Holliday
Daryl Attwood
Prof Richard Walls
Gemma Turner
Steven Naylor
Dave Hall
Elaine Roberts
Seth Schultz
Emily Morris
SAFE opening evening, Somerset House, London, 2022. Image courtesy of Sandra Ciampone.