Blog
Future(s) of Power Launch Event
Recently we hosted the first event of our new series "Future(s) of Power" at Somerset House in collaboration with Somerset House Studios. We are doing this series because we want to explore the conditions under which various forms of power become defined, and we are specifically interested in exploring how we can move from feeling powerless, both individually and as transient groups, networks and communities, towards feeling like we have some forms of power. We hope to uncover this quite abstract idea of power through new methods of advocacy, but also discreet and alternate sets of tools, tactics, and strategies.
We were really lucky to have a great lineup of speakers: Aviah Day (Sisters Uncut), Dr Catherine Haddon (In house historian at the Institute for Government), Indy Johar (Project 00, Dark Matter Labs) and Jacques Peretti (Journalist and BBC Filmmaker). We brought together this inspiring range of speakers from organisations rooted grassroots political activism, the media, and people working in and with governments and Whitehall.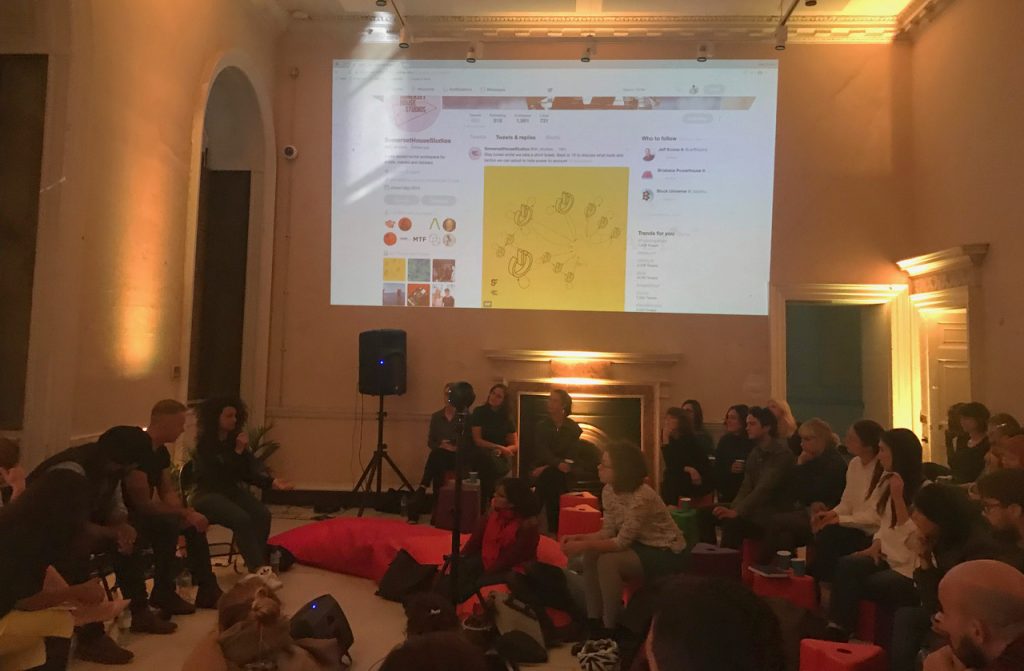 We kicked-off with personal experiences of power. Aviah recounted her challenging personal experiences of growing up in London, and how it became a motivator for her work, as she moved from feelings of powerlessness to feeling the power of collective action. Jacques explained his encounters with business and the secret deals that govern our lives, secretly exerting power on us from behind the scenes. Indy Johar peeled back the veneer on urban development and technological progress, imploring us to consider alternative systems, while Catherine explained how civil servants and government officials alike feel powerless to effect the change they desire.

We designed the structure of the discussion to avoid long speeches, or recursive panel conversations. We had a set of provocations which were presented to the panelists and opened up to the audience, bringing them in right in the beginning for a wide ranging conversation.
Our initial provocations were:
Is there a sense that people have stopped engaging with systems of power?

What tools and tactics have you adopted in your work to confront and engage with power?

Based on your learning, what can all of us here do to start holding politicians and corporate power to account?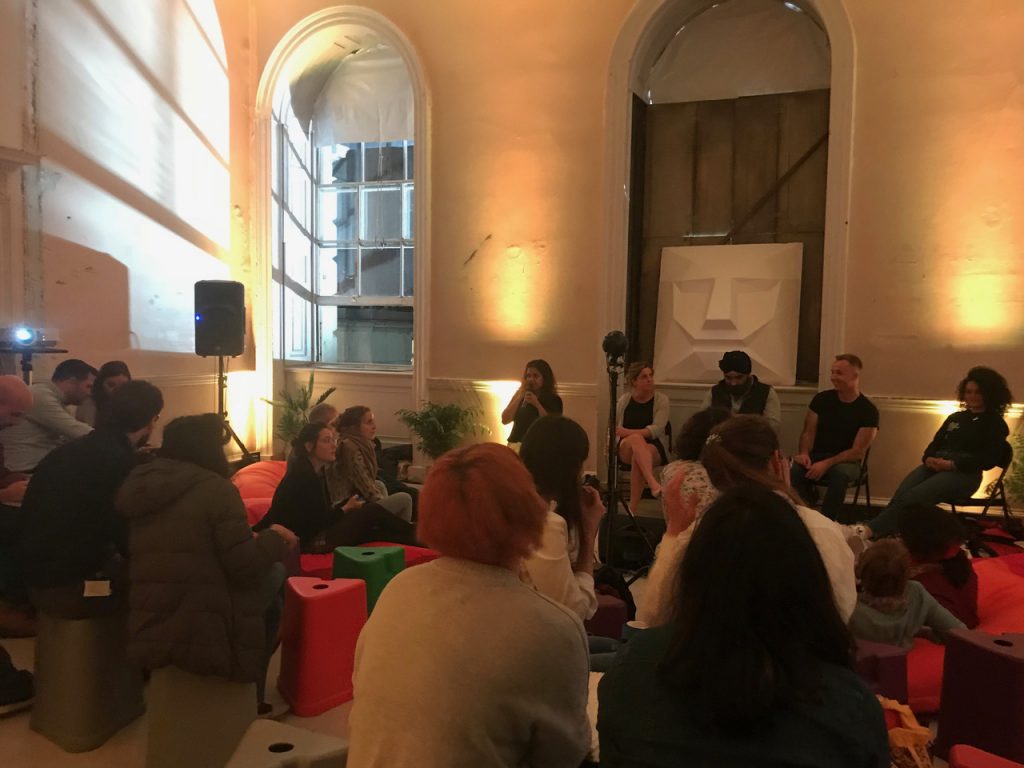 Some of the key ideas that emerged from the first session:
Aviah's perseverance around protests and also alternate forms of action and tactics such as occupancy and dissidence for her organisation Sisters Uncut. Whilst positions on the "power of protests" remain divided, with many in the audience voicing disillusionment, Aviah compellingly argued that consistency is key. According to her, a one-off protest is not as successful as meeting every two weeks and building a community of resistance committed to change. Aviah told a story of a young boy, who was inspired by the work of Sisters Uncut, and fought for his playground on his estate in front of the Mayor of London. Weeks later it was refurbished and children on the estate could use their playground.
Jacques argued that real power resides within the realm of business. That shocks such as Trump and Brexit were not about participation within a democratic system, but they were a response to the failure of prosperity. Jacques also picked up on the idea that in the media and political environments "people waterboard facts until they come out with the answer they want".  
Indy made the case for rephrasing the narratives and language that drive our lives, to create a new lexicon of resistance that can push forward a new politic. He also express the idea that we need to redirect our anger away from the idea that particular individuals are responsible for the status quo. He argued that we need to develop new codes through which power is written, and to work towards how to develop new forms of governance, rooted not in fear, but around wisdom and love.
Catherine discussed the broad ecosystems that make and deliver government policy, the frustrations officials express at their own powerlessness within the greater machinery of policy making and delivery, or what she terms "power problems". She pushed forward the idea that registering the complexity of our power structures helps us learn how to engage with them better, and can help us figure out how to force them into changing in the ways we want them to change.
We had a great evening of provocative debate and discussion, with some fantastic contributions and responses from the audience. Stay tuned for the next one in December. In the meantime, if you missed our first event you can watch the livestream below. 
You can also watch Jacques' new series "Billion Dollar Deals and How They Changed Your World" which is showing on Wednesday nights BBC2 at 8pm. You can watch the 360° livestream of first the event below.