Invocation For Hope at the Vienna Biennale 2021
Museum for Applied Arts, Vienna
Ed Lewis,
Florian Semlitsch,
Leanne Fischler,
Niccolo Fioritti,
Lizzie Crouch,
Eva Tausig,
Nicola Ferrao,
Matt Edgson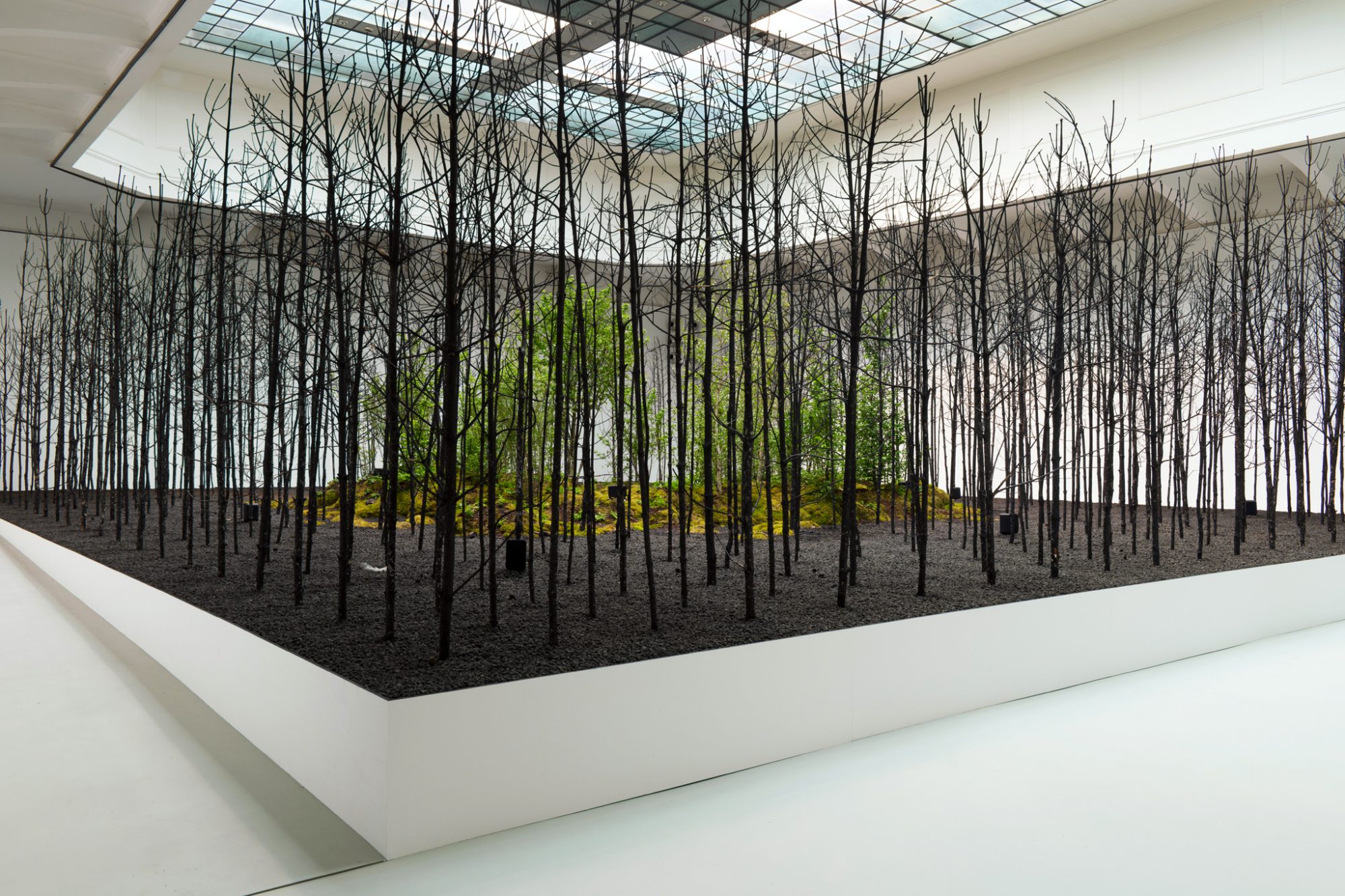 Invocation for Hope an immersive installation at the MAK, Vienna 2021. Image courtesy of Stephan Lux.
Invocation for Hope was an immersive installation in the central hall of the Museum of Applied Arts (MAK), Vienna from 28 May to 3 October 2021 for the Vienna Biennale 2021
Invocation for Hope invites humanity to reassess its place in the natural world. To emerge from the ashes of fire-blackened trees into resurgent greenery – and a glistening pool with a surprise below the surface. The vast, immersive installation examines the complex interconnected relationships throughout the natural world, and raises the possibility of a more-than-human future – a post-anthropocentric planet in which humanity is just one part of a dynamic and multifaceted ecosystem.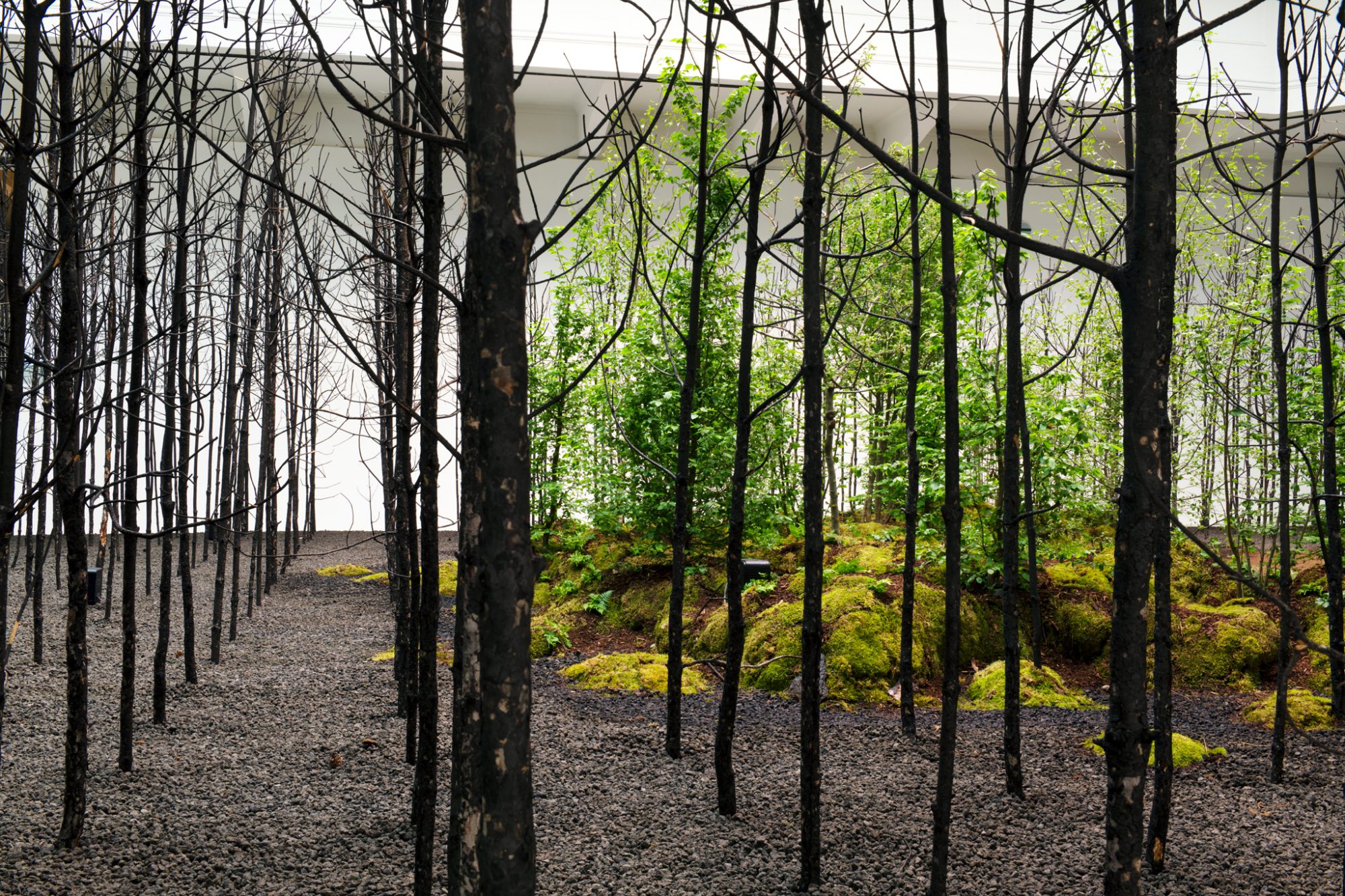 Image courtesy of Stephan Lux.
After travelling through a grid-like forest of burnt and blackened pines – the unexpectedly graceful skeletons of a former time – you find, at its heart, a resurgent living forest, where multiple species living in harmony with humanity offer a promise of a new way of living. In this cradle of biodiversity, you come to a freshwater pool, which reflects, not your own face, but another creature – a bison, an otter, a bird of prey – coming to the water to drink. Accompanied by a soundscape created by visionary musician Cosmo Sheldrake, the installation leads viewers one by one on a personal journey from the ravages of climate crisis to the possibility of renewal and a deeper connection with nature.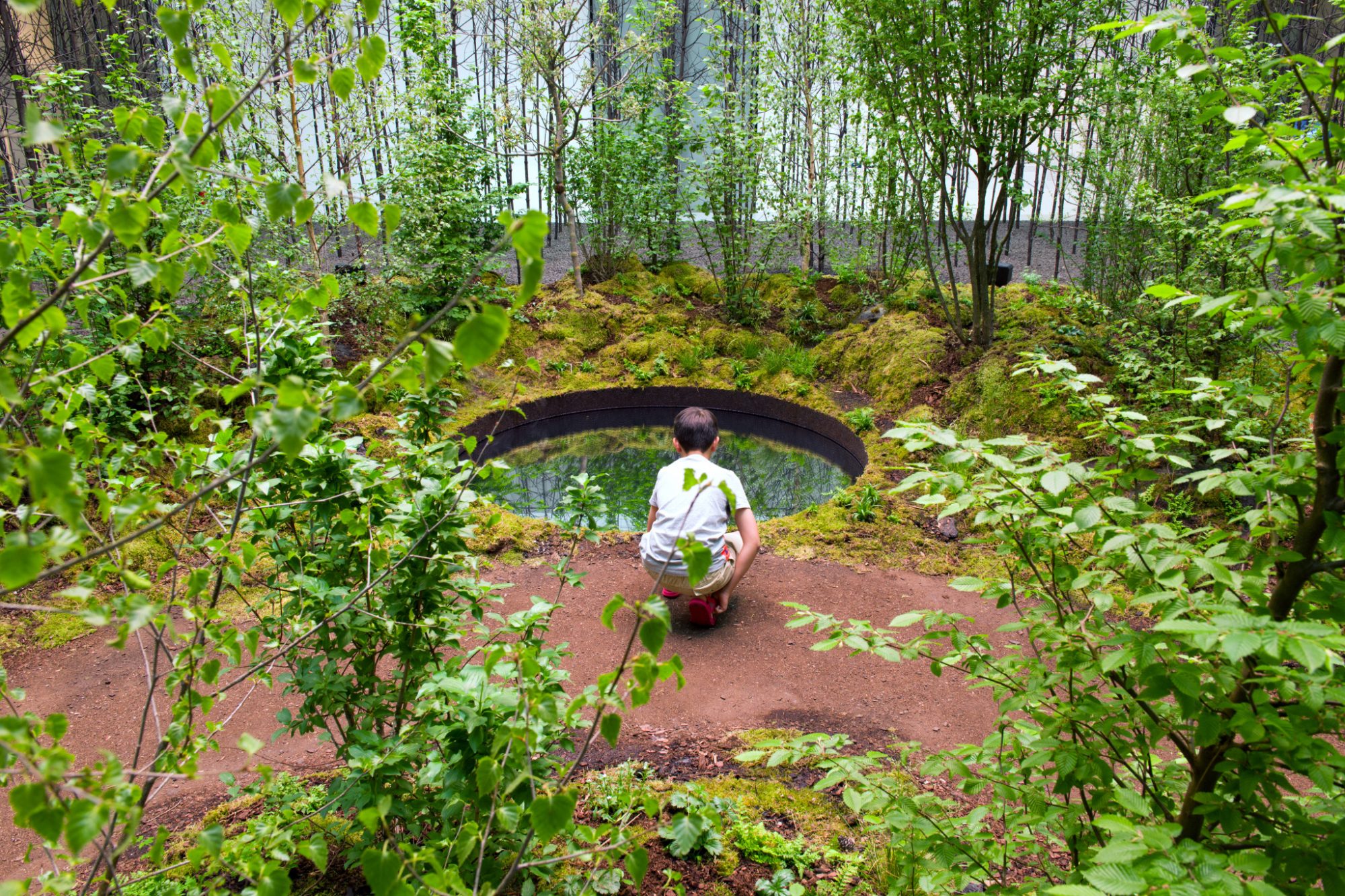 Image courtesy of Stephan Lux.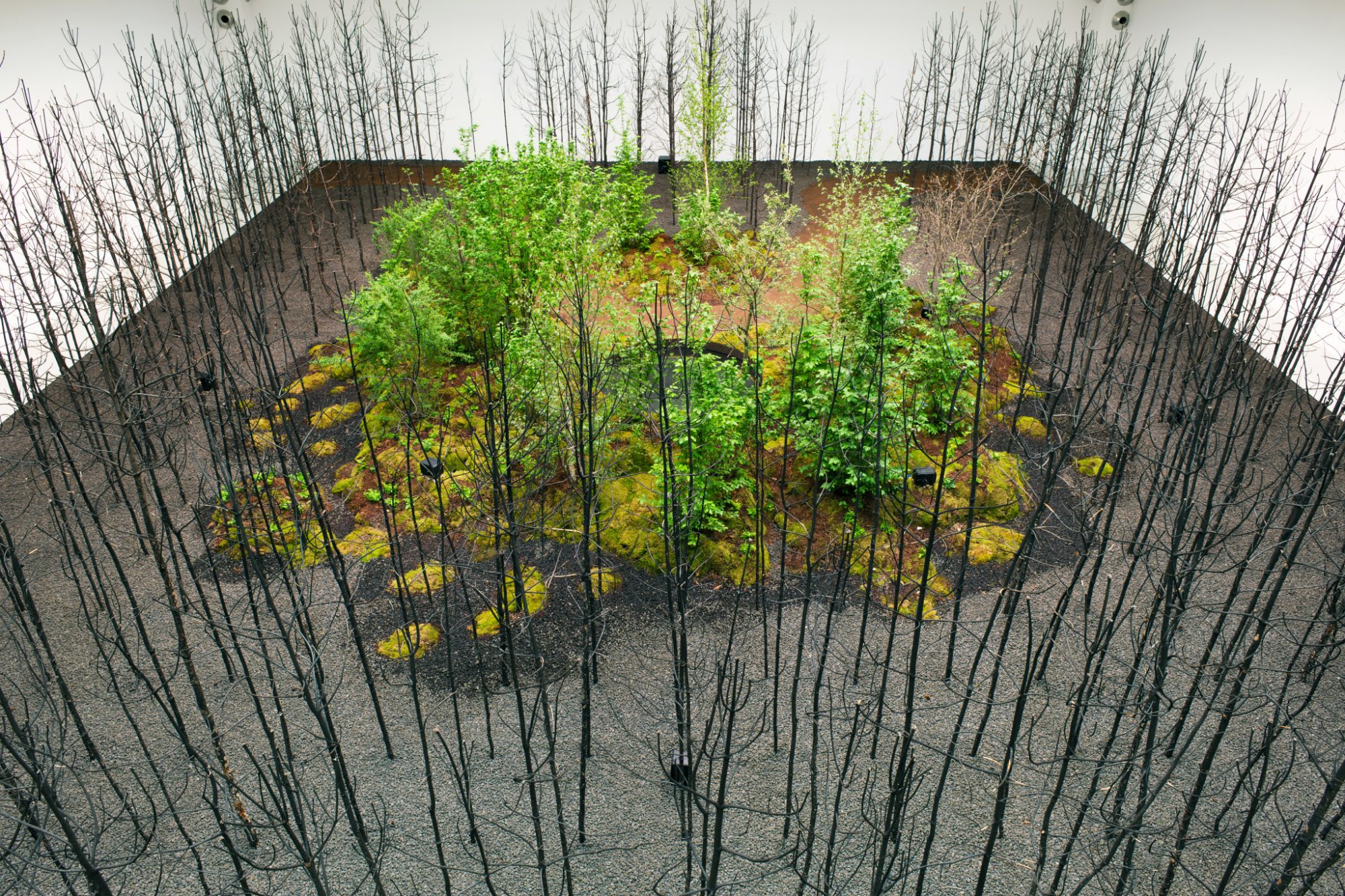 Image courtesy of Stephan Lux.
The planet, post-catastrophe
Invocation for Hope was commissioned by the Museum of Applied Arts (MAK) for the Vienna Biennale for Change 2021 in response to the event's theme 'Planet Love: Climate Care in the Digital Age'. Through a combination of art, design and architecture, the Biennale is calling for a new relationship between people and planet – not simply decarbonising our economies, but entirely reassessing our connections to the earth and how we view ourselves as part of it.
Our practice at Superflux amplifies this vision, as we explore new stories, myths and experiences that celebrate our planetary interconnectedness. Invocation of Hope explores the complexity of climate change as a hyperobject, making it resonant and meaningful and finding pathways of hope amid disaster.
"Climate change is not a problem we can 'solve' but rather a predicament we must navigate with responsibility and urgency."

Jon Ardern, co-founder Superflux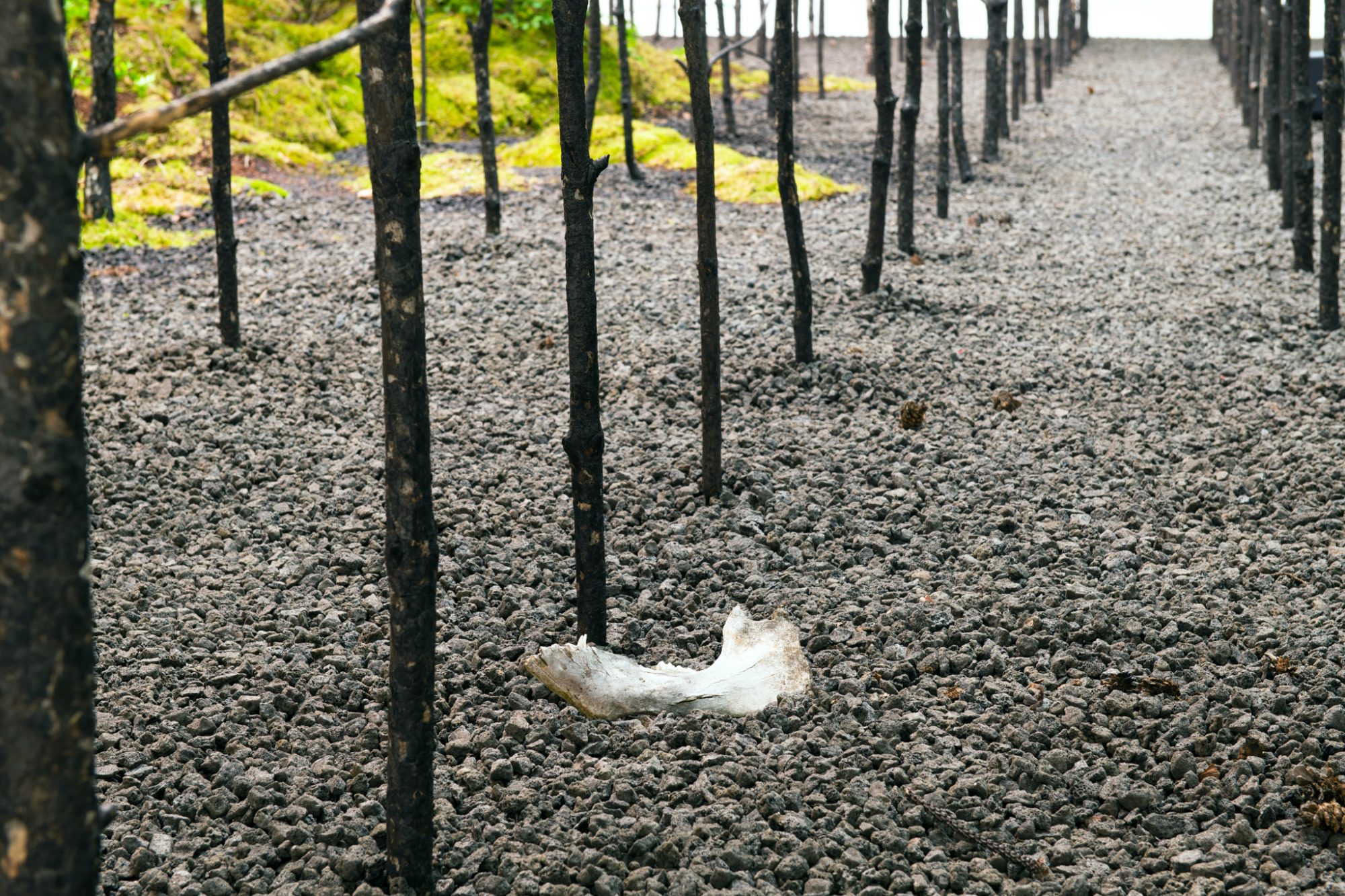 Image courtesy of Stephan Lux.
Invocation of Hope is a companion piece to our work at the La Biennale di Venezia 2021: Refuge for Resurgence ; both artworks experimenting with themes of our more-than-human futures. Refuge for Resurgence imagines how all forms of life on Earth might come together for a communal meal to celebrate ecological interdependence in a post-Anthropocene world. Both the works offer a vision of life flourishing amid ruin, a portrait of the possibility of global rebirth.
"Our proposal for a way out of this dilemma is to completely change the way we view ourselves and our relationship with nature. Instead of seeing humans as separate from nature, we need to understand that we are a part of it. By radically changing our attitude toward natural systems and the ecology of our planet, we have the best chance to reverse the damage we've done. How might we – humans and non-humans – truly engage in collaborative living?"

Anab Jain, co-founder Superflux
The indoor forest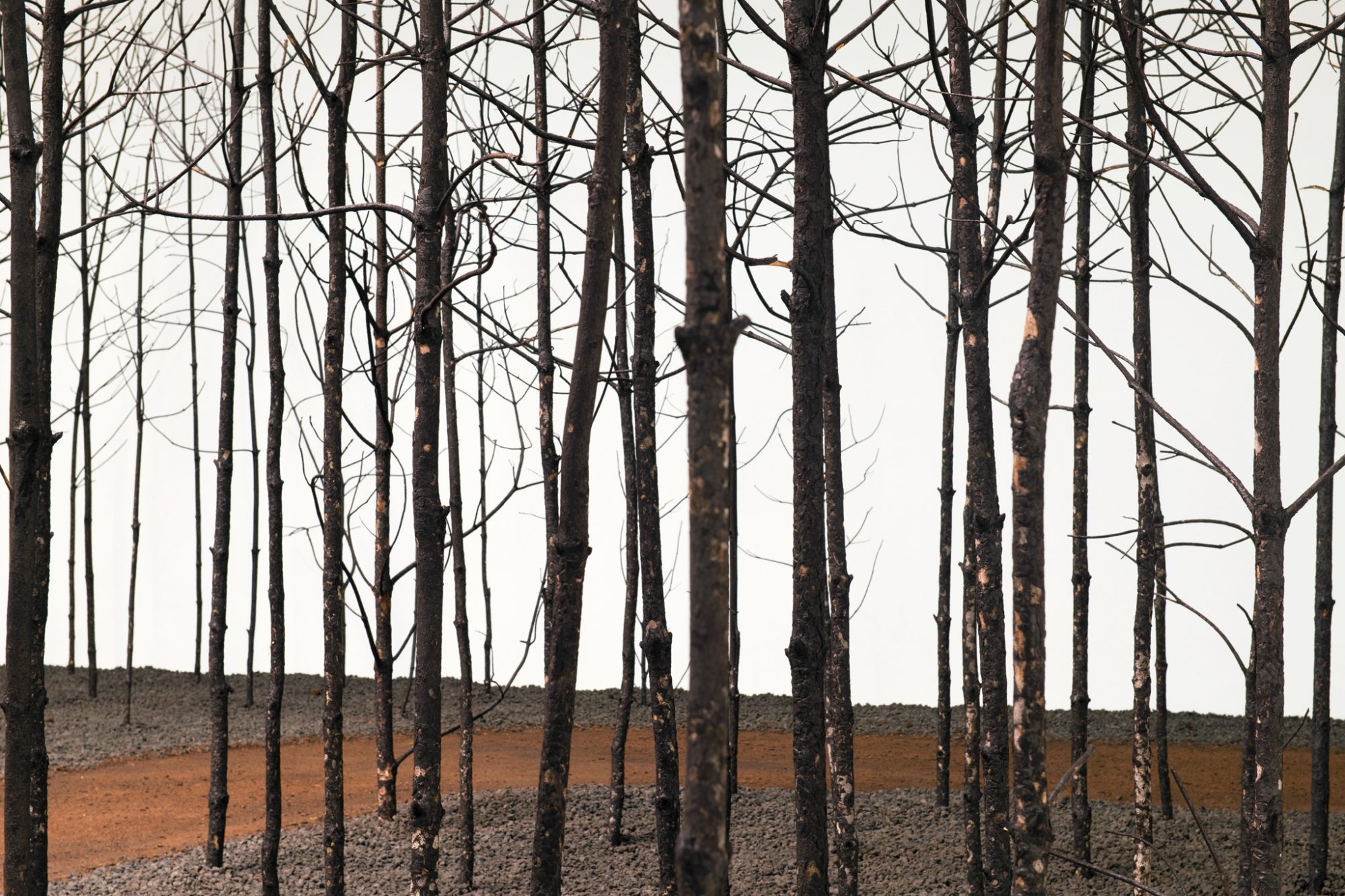 Image courtesy of Stephan Lux.
The creation of Invocation for Hope required the installation of more than 400 trees within the MAK. In collaboration with the forestry and fire departments of Austria's Neunkirchen region, trees that had been burned in a recent wildfire were salvaged and transported to the museum. One of the main contributors to the spread of wildfires is an approach to forestry that prioritises monoculture as a means of maximising yield – single-species forests burn faster. As the result of a human attempt to exert control over nature, the fire-blackened forest serves as synecdoche for anthropogenic climate change as a whole.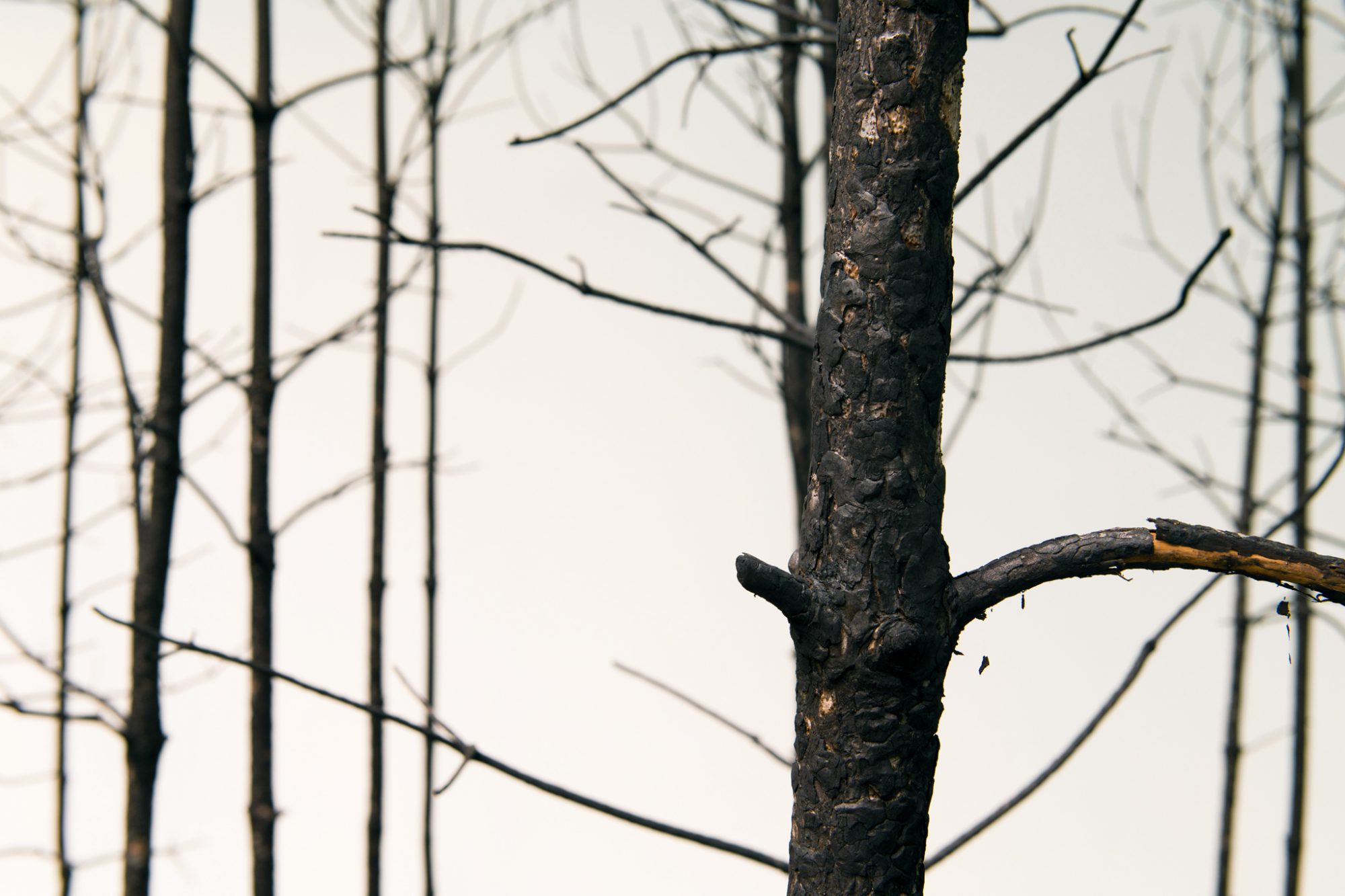 Image courtesy of Stephan Lux.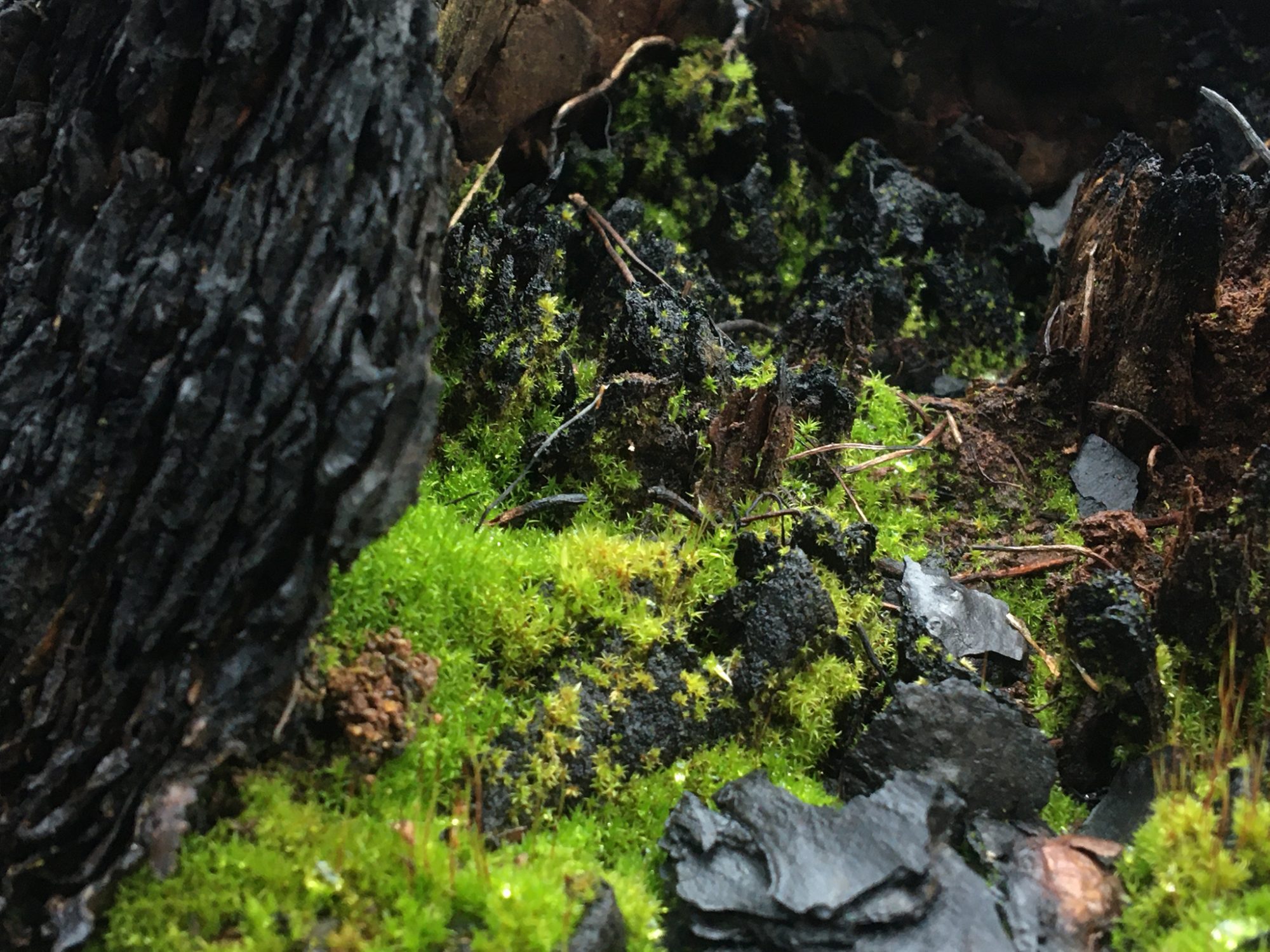 Detail of burnt trees from Austria's Neunkirchen region. Image courtesy of Superflux.
The trees are arranged in a symmetric grid so, as the viewer passes through them to the living oasis at the centre of the installation, they move from an imposed, rigid order to the organic exuberance of nature. The pool at the centre is surrounded by a cluster of nearly thirty different living trees, including oak, hornbeam, apple, silver birch, and mounds of biodiversity where mosses, grasses, lichens and shrubs will grow symbiotically together over the course of the installation. These living ecologies will be nourished by regular watering, grow lamps and natural light from the large skylight on the museum ceiling.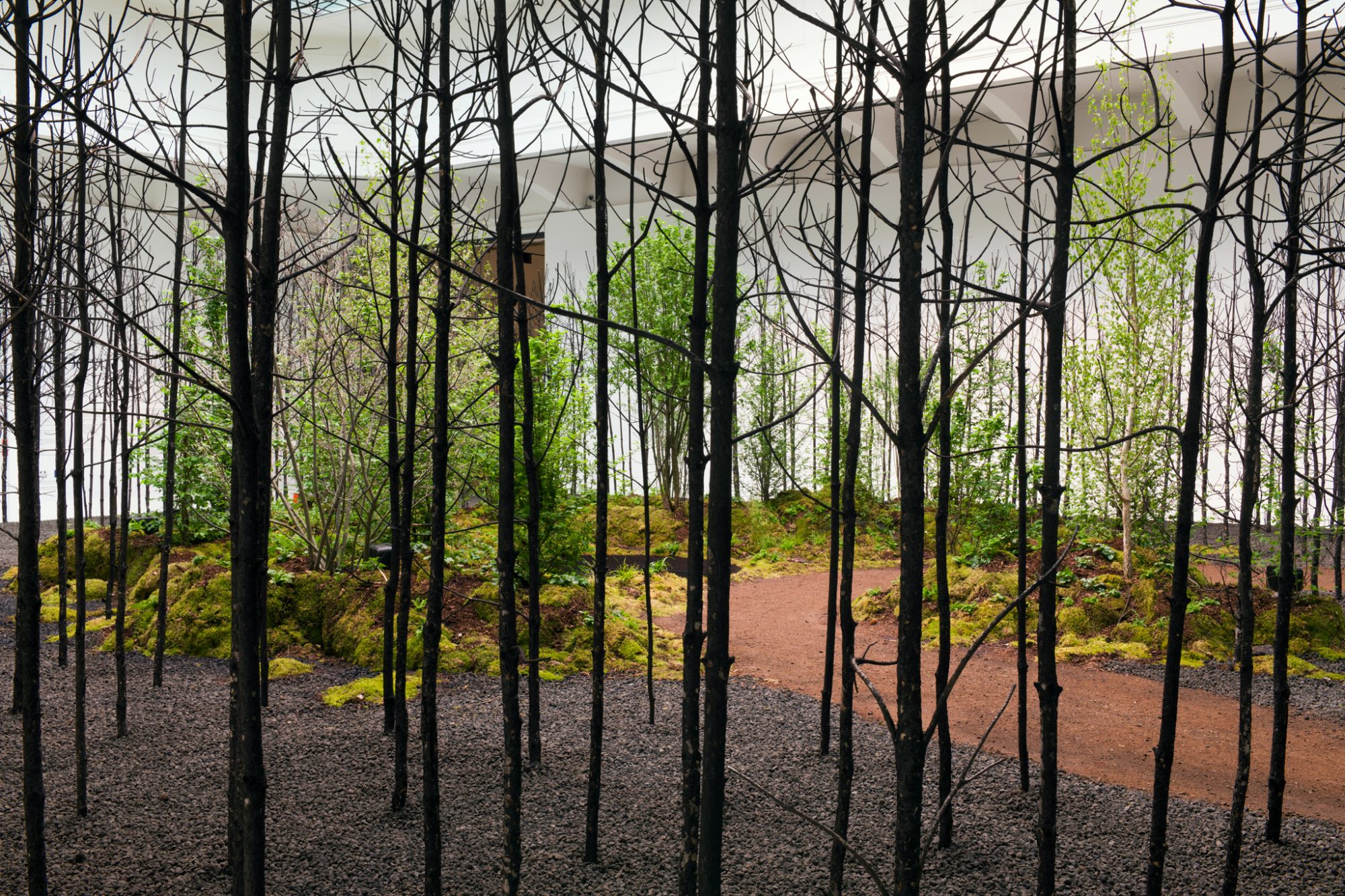 Image courtesy of Stephan Lux.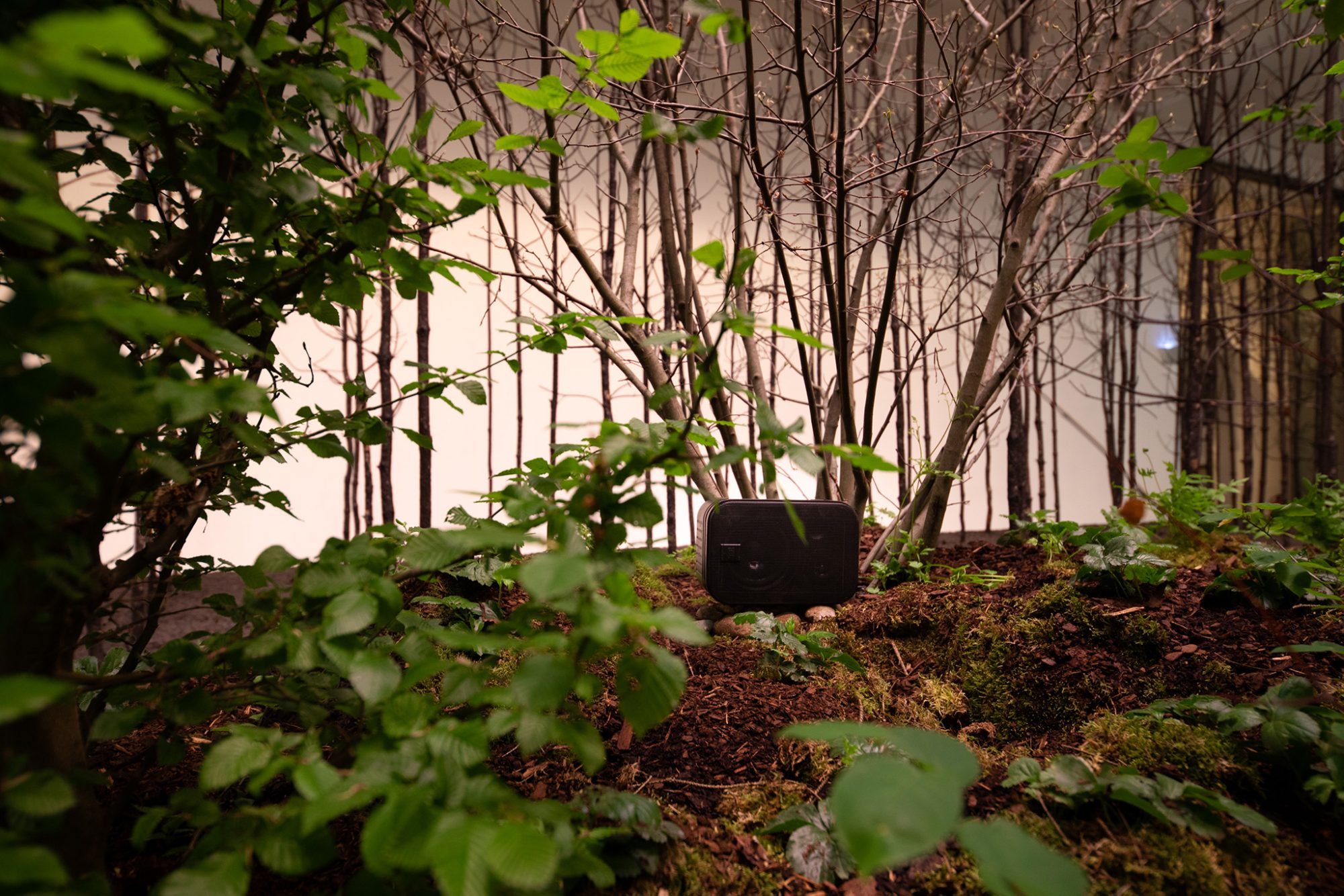 Image courtesy of Lorenz Seidler.
Accompanied by an original soundscape conceived by Cosmo Sheldrake, as visitors walk through the burnt and blackened forest they will begin to notice how the dying trees restore fertility to the land around them, making way for new life and the green shoots of hope. Wild maples, oaks, birches and larches spring up and around mosses, ferns, and lichens. Sounds of bird and animal orchestras begin to fill the forest. A pool at the heart of this resurgent forest gives visitors the chance to reflect on their place in this more-than-human world – a part of the planet, not masters of it.
The moment of revelation at the heart of the work is when the viewer, looking into the pool, is confronted with the sight of a living animal reflected back at them. A collaboration with Alpenzoo Innsbruck allowed us to achieve this. By installing underwater camera rigs in the water troughs of the zoo's native Austrian wildlife, the zoo were able to capture footage of various animals as they drank water. Motion designers Dimitris Papadimitriou and Michele Vannoni then turned this footage into a series of abstract clips which are projected onto a screen beneath a two-way mirror at the bottom of the pool. This enables the viewer to experience an unexpected and evocative moment of connection with an 'opposite number' in the animal kingdom.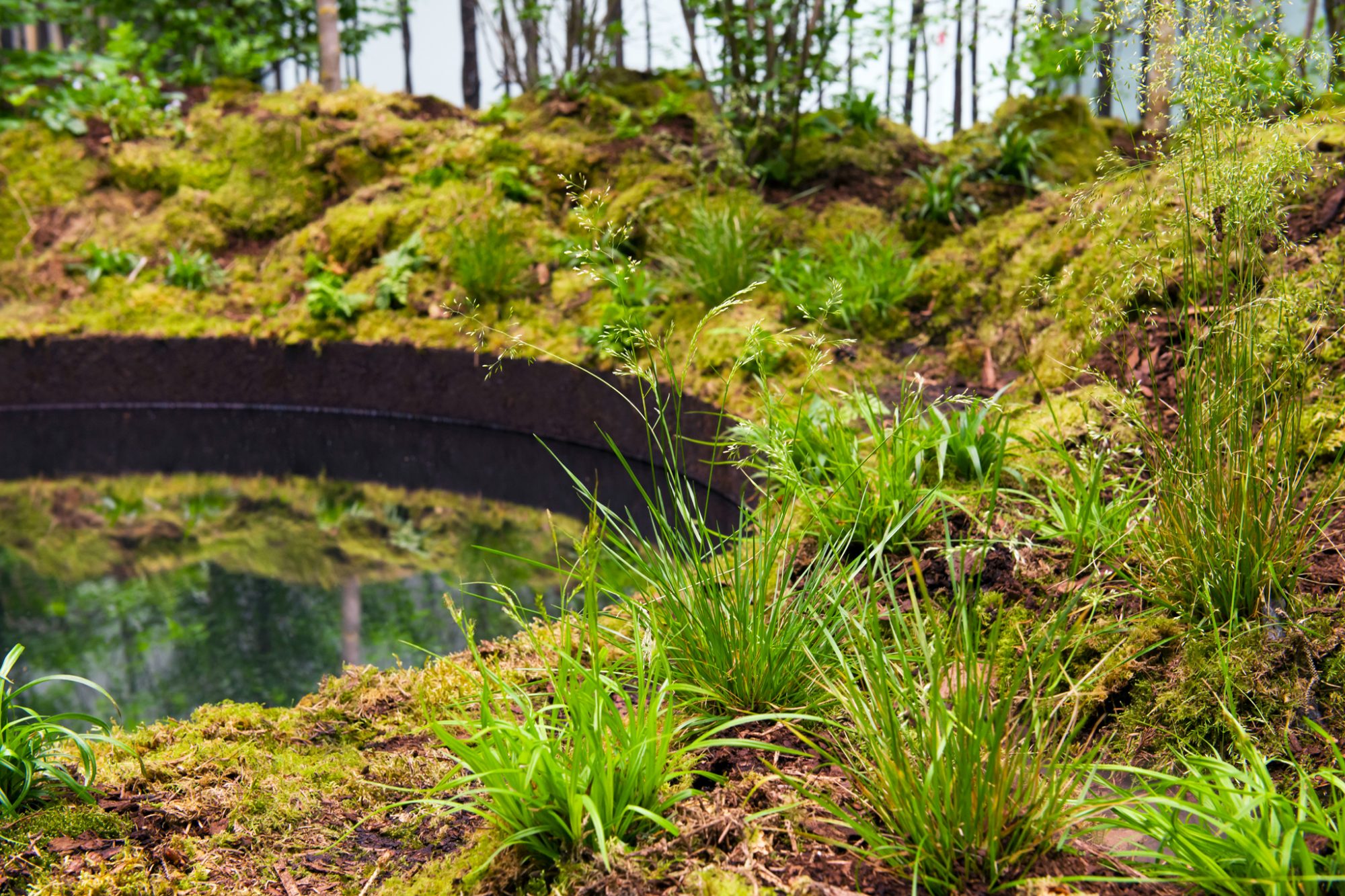 Image courtesy of Stephan Lux.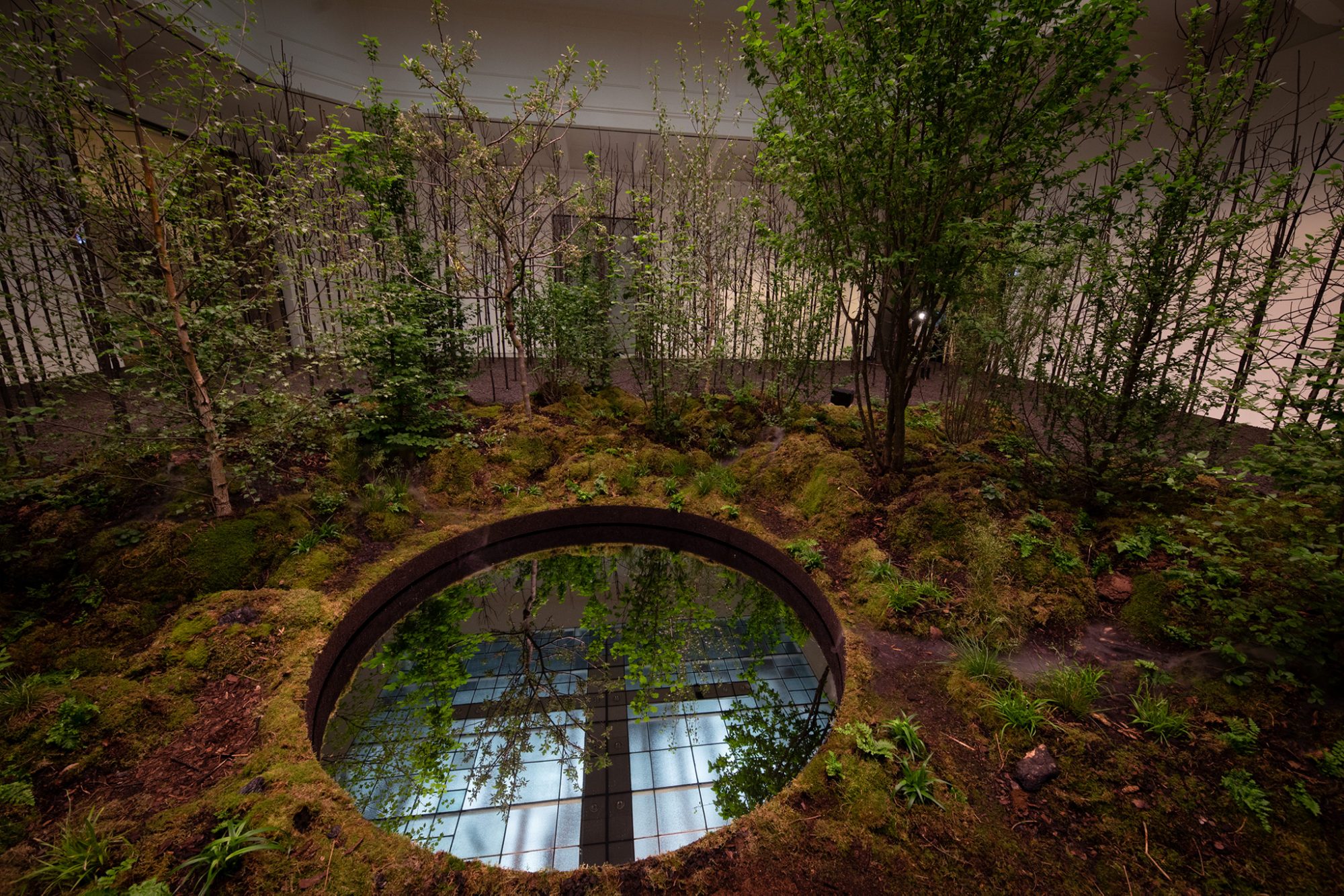 Image courtesy of Lorenz Seidler.
The afterlife
In keeping with the message of the work and the theme of the Biennale, every component of the installation is designed to live on after the event, with the aim of neutralising the carbon footprint made during development and implementation. Once the Biennale ends in October, the living trees will be donated to schools. The burnt trees will be used as compost for a garden of contemplation in Vienna, helping to enrich the biodiversity of the urban landscape – a lasting reminder of the web of interdependence that underpins all life on earth. Our hope is that this space continues, in the same way as the installation does, to be a place for people to reconsider and reflect on our relationship to nature.
"A more-than-human perspective allows us to see how we are ecologically, economically and emotionally entangled with all species on the planet. We want to foreground how we're a part of a larger ecology rather than the masters of nature. Within this complex ecosystem, we all play a part in mutual survival and evolution. Without it, we cease to exist."

Anab Jain, co-founder Superflux
Image courtesy of Stephan Lux.
Process
Both Invocation for Hope and Refuge for Resurgence represent an evolution of our 2017 installation, Mitigation of Shock.
At Superflux, we are ever-aware that human beings are responsible for a worsening Sixth Global Extinction. Much of our work up to this point has echoed cautionary tales of things to come and spoke to how we might avoid undesirable outcomes, however in the last three or four years we've felt the urgency to instead explore stories that can help us navigate this precarity. There is so much work around the climate crisis, real action oriented work, but we feel that alongside that, we also need to nurture the public imagination with alternative narratives. 
In 2017 we created Mitigation of Shock – a pre-creation of a London apartment in 2050, adapted for life in a world where climate change has had monumental consequences for global food security. People find it increasingly difficult to imagine a future, even twenty or thirty years from now. Mitigation of Shock was an exploration of the power of design to make tangible, or experiential, certain concepts that are otherwise difficult to imagine. By bringing future worlds to life, our work helps people to place themselves, to understand the potential conditions and conflicts associated with those futures, so they can make more embodied decisions, actions, and reflections from where we are today.
Invocation for Hope moves away from Mitigation of Shock's focus on speculative realism. Inspired by genres like mythology and fantasy we want to explore possible worlds that are not direct representations of our current world. Where Mitigation of Shock took a pragmatic perspective (for example, portraying a range of ingenious DIY tech solutions to food scarcity), Invocation for Hope is – as its title perhaps suggests – a more poetic and abstract experience, encouraging the viewer to reflect emotionally on their relationship with nature.
We are enthused about giving voice and form to the stories and the conditions that can generate active hope and nurture people's imaginations. Our own hope is that, in exploring new relationships with our environment and pathways forward, we can catalyse the potential for active hope in others. It is only when people, from within themselves, start to feel a sense of love and connection with the species around them, a love for the planet, that this action oriented work will really take off, because everyone will truly feel the same sense of urgency. If we believe other worlds are possible, we will want to do something about it. That's what our work relies on – it's a kind of slow form of activism, or critical activism. It's about nurturing public imagination.
Our work has begun to focus more on these conditions that we are generating in collaboration with other species. A more-than-human perspective allows us to see how we are ecologically, economically and emotionally entangled with all species on the planet. That gives us a certain kind of humility, to be able to see our role not as harvesting nature for what we call 'natural resources', but to take care of those who take care of us. With these installations, we aim to foreground how we're a part of a larger ecology rather than the masters of nature. Within this complex ecosystem we all play a part in mutual survival and evolution. Without it, we cease to exist.
"A mytho-poetic approach can give form to aspirations that are often present in the cultural ether, and allow people to experience and embody them. There is something powerful about engaging on a direct physical and emotional level that you don't always get from reading something. It stays with you.

We want to open up poetic aspects of other worlds that might feel enigmatic, exciting or magical. With Invocation for Hope we're reaching into a more archetypal space where there are less grounded ideas about the ways we might transform ourselves. We're tapping into a deep history and a more primal space in our exploration of the ways we relate to what we perceive as 'nature'."

Jon Ardern, co-founder Superflux

Image courtesy of Superflux.
Credits
First and foremost, we would like to thank the Director of MAK Christoph Thun-Hohenstein, and our curator Marlies Wirth (Curator, Digital Culture and MAK Design Collection) for their kind invitation, and in supporting Anab and Jon's audacious idea to bring a living forest to the MAK's central hall!
The project has received funding from the European Union's Horizon 2020 research and innovation programme under Grant Agreement No. 870759. This is part of the CreaTures (Creative Practices for Transformational Futures) project, which brings together a consortium of artists and academics to examine the transformational potential of creative practices in moving the world towards socio-ecological sustainability. Thank you to our CreaTures colleagues for the constant support, encouragement and inspiration.
Our sponsors and partners for Invocation for Hope include: SANLight Research GmbH; Anton Starkl, Gärtner Starkl GmbH; Doka Österreich GmbH; André Stadler and the wider team at Alpenzoo Innsbruck; and Thomas Krenn, Saubersdorf Fire Department and Georg Heinz, Neunkirchen District Forest Range.
We would like to thank Antje Prisker for the Curatorial Assistance at MAK, as well as Mario Kojetinsky, Philipp Krummel, and incredible team at the MAK. A huge thanks to our collaborators Dimitris Papadimitriou and Michele Vannoni for the motion design; Cosmo Sheldrake for the soundscape; and Stelios Ypsilantis for the graphic design.
This project has received funding from the European Union's Horizon 2020 research and innovation programme under grant agreement No 870759. The content presented represents the views of the authors, and the European Commission has no liability in respect of the content.