THE FUTURE STARTS HERE
Office of Political Innovation, Victoria & Albert Museum
Anab Jain, Jon Ardern, Sabrina Haas, Danielle Knight, Vytautas Jankauskas, Matthew Edgson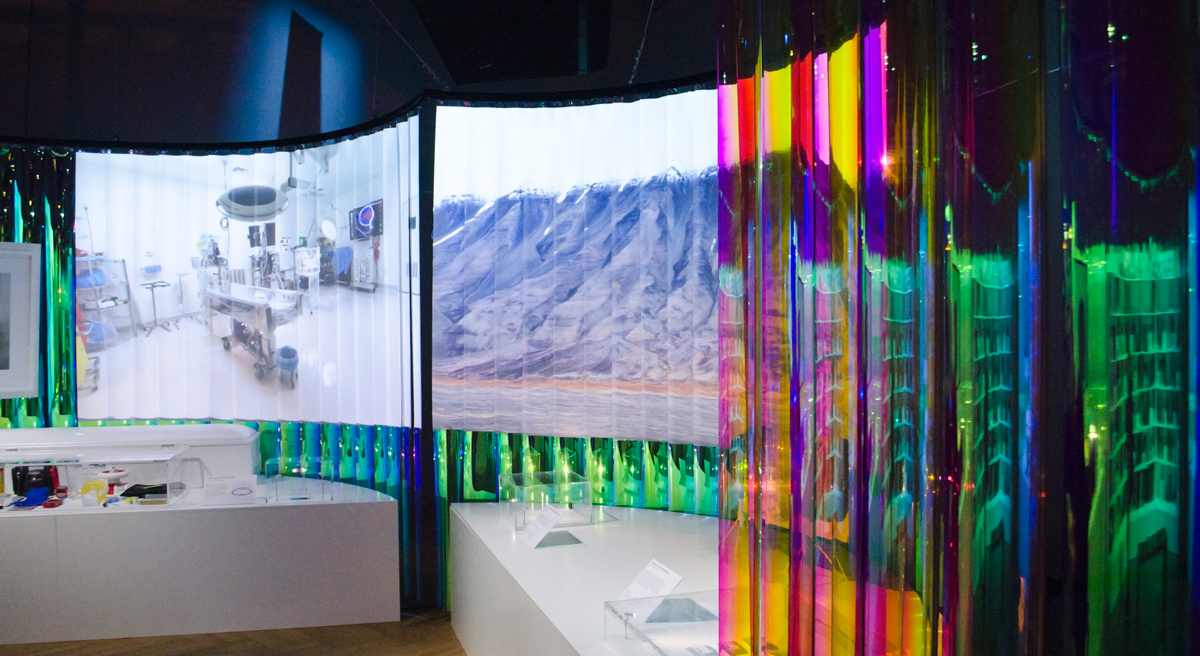 We were invited by the V&A Museum and Office for Political Innovation to conceive and produce films that would shape the experience of the museum's landmark show The Future Starts Here (open until November 4th 2018).
The Future Starts Here gathers over 100 objects to show the expanding role of emerging technologies within the present and their influence on our possible futures. Mapping technological advancement across four scales – Self, Public, Planet and Afterlife – the exhibition gives visitors a view of where we are now, to speculate on where we might be headed, and to question what our role is in defining the future.
We worked with the curatorial team Rory Hyde, Mariana Pestana and Zara Arshad, and the architectural team Andres Jacques, Laura Mora and others at OPI, to elicit deeper environmental, sociopolitical and cultural contexts and implications of the technologies and objects being displayed.
Through the juxtaposition of found documentary footage with footage filmed by Superflux, the future is given a near-ethnographic and anthropological quality, allowing people to easily place themselves within these futures and find a sense of 'everydayness' and intimacy alongside the 'extraordinary'.
For the sound design, we collaborated with Sam Conran and Emmett Glynn of Fourpin Sound.
The films on display at the V&A Museum
We designed the audiovisual experience around three objectives:
Comprehending Context and Consequences: One of the key objectives of our work was to comprehend the complex connections between the objects and technologies in the show, and their wider societal, cultural and environmental implications across multiple futures. We wanted to bring to life the new, emergent properties of some of the technologies in the exhibition.
Presenting future(s) as a journey rather than a destination: The future will be experienced in a variety of ways depending on who or what experiences it, and their geographic, social and economic place. We wanted visitors to consider the future not as a destination where technologies will suddenly empower them, but as a complex, messy and plural process, a space of diverse potential, and an encounter with otherness.
Illuminating Agency in shaping Future(s): By exposing the systems and processes beneath the surface of these technologies, we wanted to hand the audience the conceptual tools to form unique perspectives, engage with diverse futures, and understand that they have agency to influence the future(s).
We produced a total of 6 films which were projected across the different sections of the show, and also developed an interactive Bathroom Mirror, using software from Emotion Research Lab.
We Are All Connected But Do We Feel Lonely?
Does Democracy Still Work?
Are Cities Still For Everyone?
Everything Connects To Everything
Who Wants To Live Forever?
Engineering At Home
1. WE ARE ALL CONNECTED BUT DO WE FEEL LONELY?
An ever increasing number of 'smart' objects occupy our homes, designed with the intention to optimise our lives. But how are they affecting our relationships with each other? This fictional short film follows a day in the life of a family who cohabit with various smart devices. The film explores how the novelty and constant connectivity afforded by these technologies can affect emotions and relationships at home. With a light approach to modernism similar to Jacques Tati's Mon Oncle (1958), we have exaggerated the affordances of emerging technologies and challenged ideas of the anthropocentric narrative. The interactions between JIBO and the Alexa voice assistant in particular, presents the two devices as protagonists, far beyond the 'command and response' objects commonly advertised to us.
A series of clips taken from the 5 minute film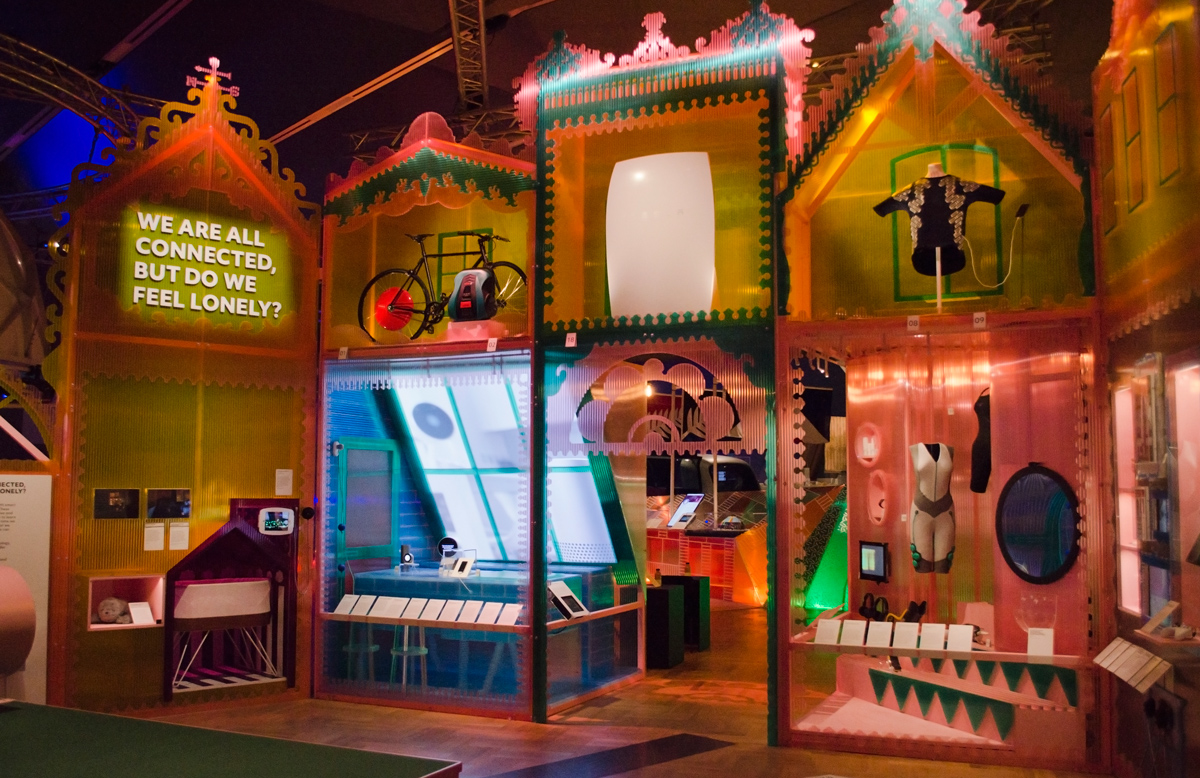 'We Are All Connected But Do We Feel Lonely?' on display at the V&A Museum
FACIAL RECOGNITION MIRROR
Across the hall, within the 'Home' is a bathroom equipped with a real-time facial recognition mirror, which we designed and built, in collaboration with Emotion Research Lab. An exaggeration of the connected devices we currently surround ourselves with, the mirror tracks a visitor's face and presents sponsored content and advertisements informed by the facial expressions it captures. Underneath, a red layer of information notifies visitors that their data is being shared with various external networks which – along with the previous film – exposes the implications of living with increasingly sentient devices.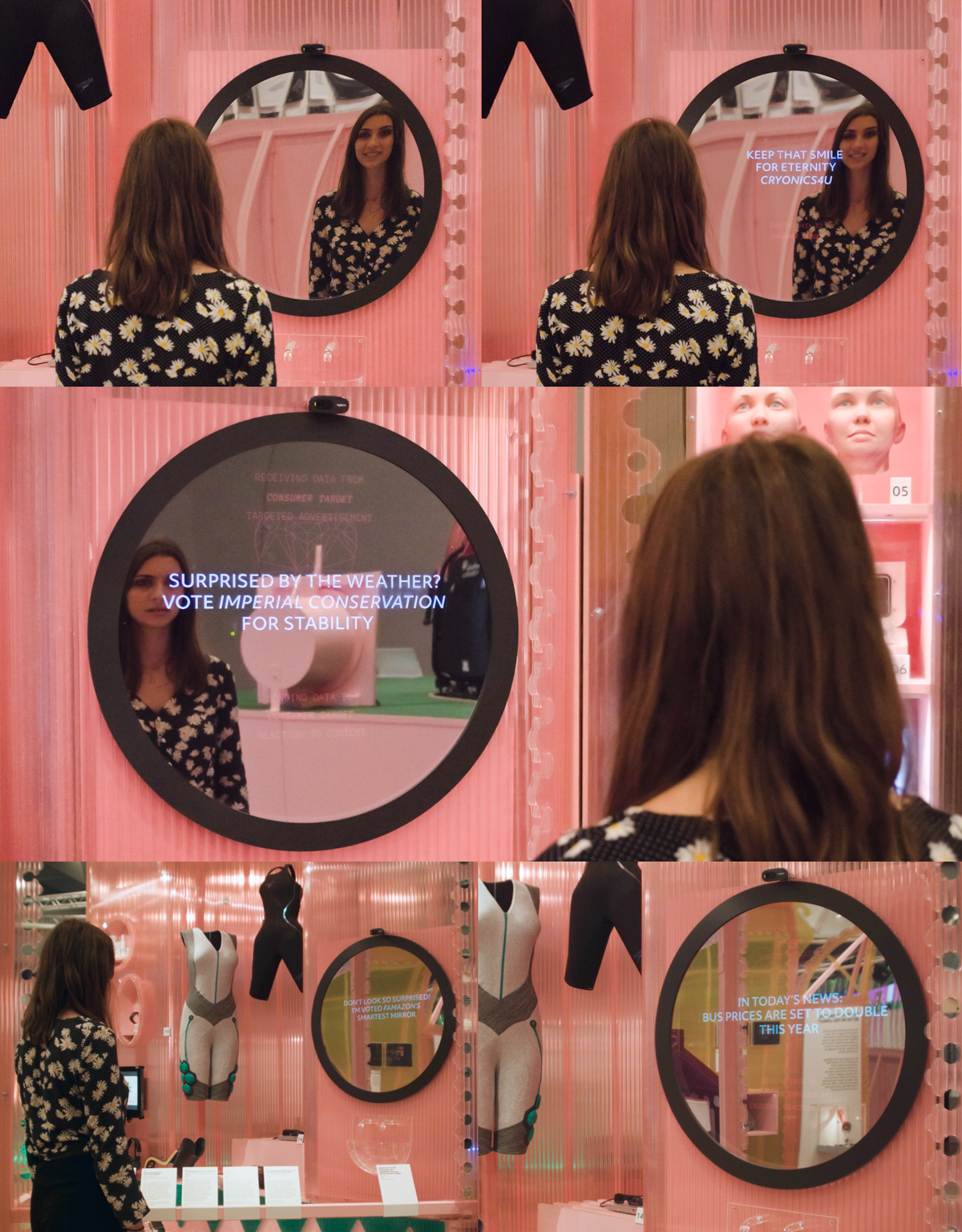 The Facial Recognition Mirror on display at the V&A Museum
2. DOES DEMOCRACY STILL WORK?
The current political climate is an increasingly messy and polarised space, with many citizens expressing disenfranchisement or disconnection from those who are meant to represent them. Cultural movements such as the Black Lives Matter protests and the #metoo movement reflect a desire to be heard, and camera phones and social media give people a way to share their perspective. This is how people testify today.
We produced this film, with footage from over thirty protests from eighteen countries around the world. It is constructed from video clips and livestreams captured on mobile phones by participants in those protests. We are grateful to the people who shared their stories and footage with us.
A clip taken from the 3:30 minute film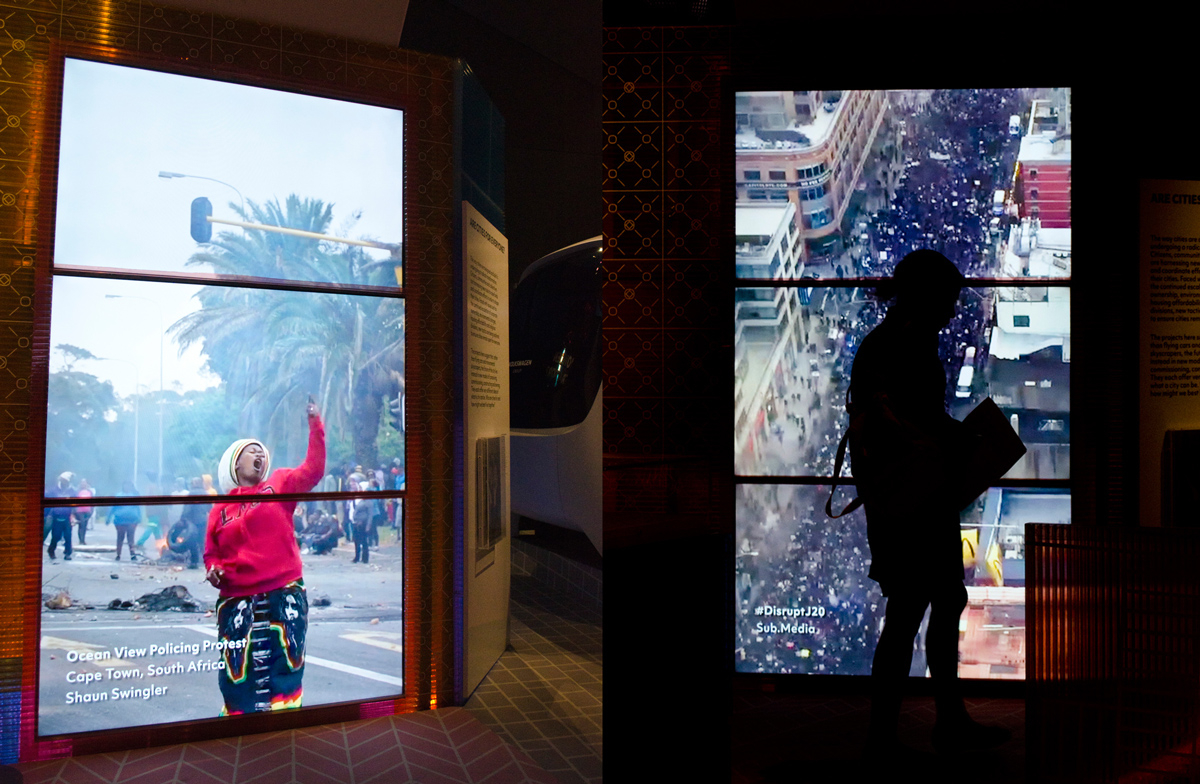 'Does Democracy Still Work?' on display at the V&A Museum
3. ARE CITIES STILL FOR EVERYONE?
Urban spaces are increasingly enabled with new technology in the pursuit of the 'smart city'. But how should our cities expand and evolve? And who should make those decisions?
In a three channel film, we surveyed three urban constructs which are challenging conventional ideas of ownership, privacy and consumption within the city; a pedestrian bridge in Rotterdam crowdfunded by citizens (The Luchtsingel Bridge), a co-living space in London redefining the archetype of domestic spaces (The Old Oak) and the world's first carbon neutral, zero waste city (Masdar City). This triptych is exhibited as a 'mirror' which tilts over scale models of each urban environment. Remote aerial footage slowly zooms in to reveal interior details and the rhythms of human movement which the models cannot show. A close look at the human activity across these sites and the surveillance aesthetic of the videography raises the question: how closely are we being monitored as our cities become more technological? (With thanks to Paul Swagerman at ZUS, Masdar Marketing, Falcon Eye Drones and Tempe Nakiska, The Collective for their help in the production of this film)
A clip taken from the 4 minute film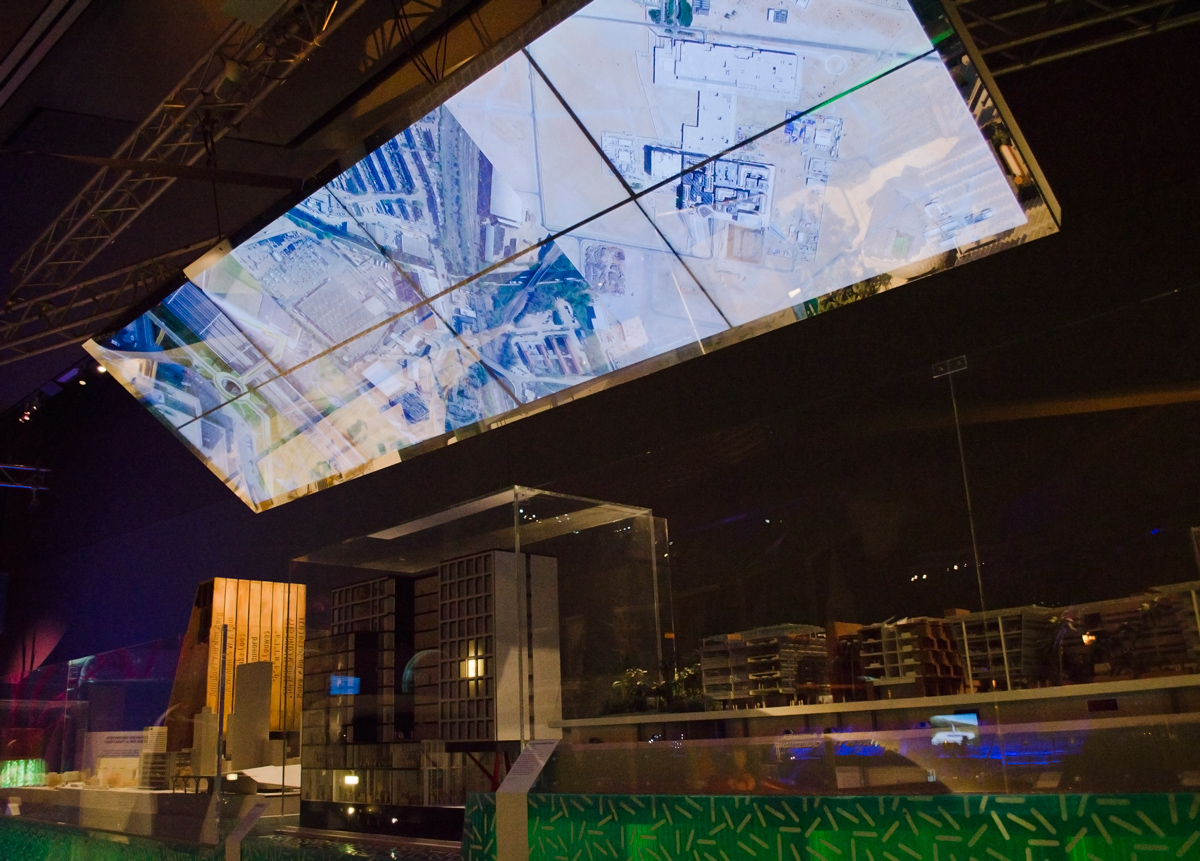 'Are Cities Still For Everyone?' on display at the V&A Museum
4. EVERYTHING CONNECTS TO EVERYTHING
On an ultra wide screen, suspended from the ceiling, is a standalone film exploring the commodification of data on our lives and the complexity of networked technologies. Making use of montage as an ideological technique as well as an aesthetic one; the film reveals complex connections between seemingly unrelated devices, interfaces and technologies across various scales. From people generating data in exchange for social connection, to autonomous systems and data mining farms, this piece explores how all of us are connected via our data through invisible systems which we don't always understand. Finally, we examined what these networks are built from (and who or what builds them). The film begins to give a sense that the tools we are creating to master the world, are re-mastering us.
The full list of credit information including links to the original footage can be found here.
Two clips taken from the 7 minute film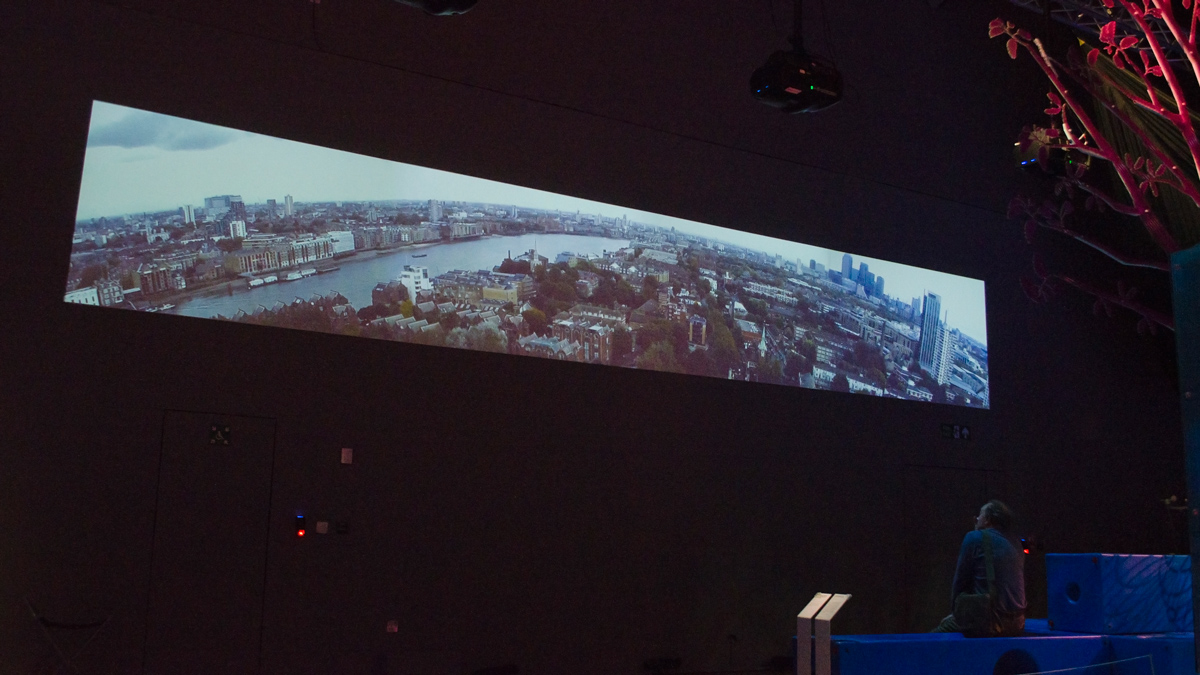 'Everything Connects To Everything' on display at the V&A Museum
5. WHO WANTS TO LIVE FOREVER?
Multiple objects on display in this section investigate ideas of the afterlife, and what we should preserve. We produced a two channel film giving a rare insight inside two preservation facilities. The first – the Alcor Cryonics facility in Phoenix, Arizona – uncovers the eerie and secretive space renowned for preserving the bodily self after death. Whilst the second – the Global Seed vault in Svalbard, Norway – reveals how various seed specimens from around the world are stored and the important work required to preserve the collective for future generations. These two themes are fuelled by different motivations, but using similar techniques, present a unique conversation of what 'afterlife' might hold.
A clip taken from the 6 minute film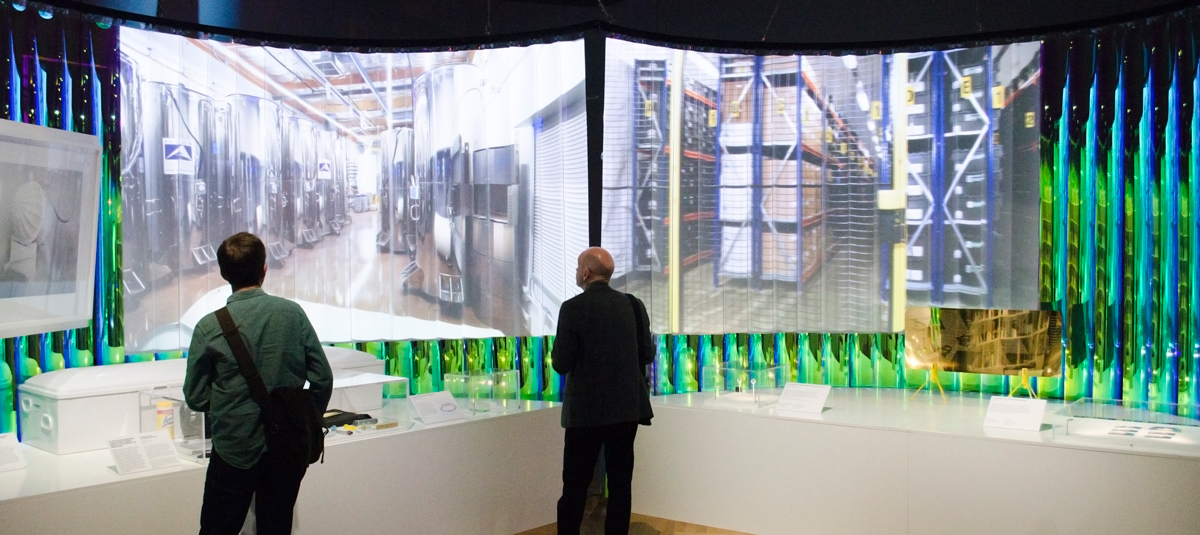 'Who Wants To Live Forever?' on display at the V&A Museum
6. ENGINEERING AT HOME
We worked with Sara Hendren and Caitrin Lynch – whose project Engineering At Home features in the exhibition – as well as Daniel Koff and Nick Vandenburg to produce a film showing Cindy using many of her DIY prostheses. Many of these adaptation objects avoid over-engineered solutions such as robotic arms in favour of deceptively simple constructions, made from silicone and rubber or building onto existing objects with cable ties and hooks. In the exhibition, this film is projected so it interacts with the exhibited objects; Cindy appears to pick each object up from the projection surface and demonstrate how they are used.
A clip taken from the 5 minute film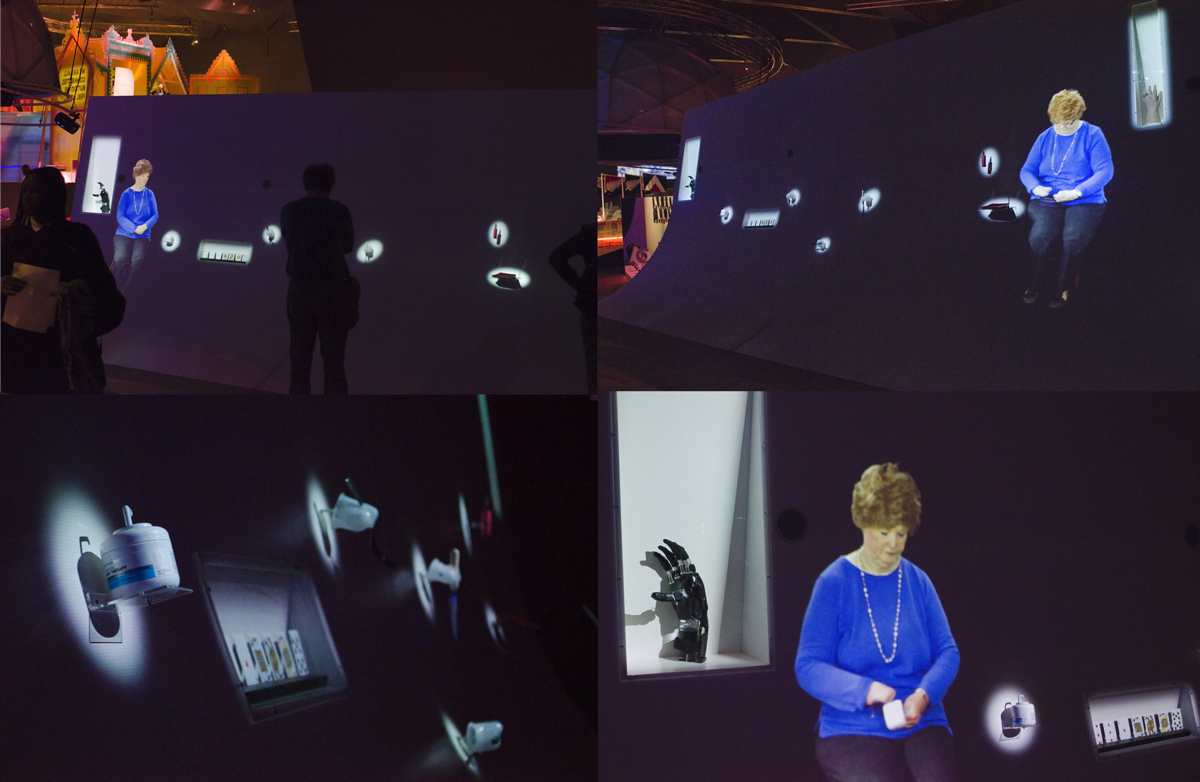 'Engineering At Home' on display at the V&A Museum
Thanks to the tremendous work of the curation and architectural teams, the journey through the exhibition is an immersion into a polychromatic, diverse and complex present which suggests a spectrum of potential futures. We hope our contributions to the show enhance visitors' immersion within the experience both sensory and philosophically, and they come away with the agency to challenge singular futures, and embrace diverse, plural futures.