The Vault of Life in Museum of the Future
Museum of the Future, Dubai Future Foundation
Creative Concept, Exhibit Design & Overall Content Development
Jon Ardern, Anab Jain, Louise Astley, Leanne Fischler, Matthew Edgson, Niccolò Fioritti, Nicola Ferrao
Design & Development Team
Arnaud Peron, Roland Ellis, Particle Studio
Science Research & Advisory
Dominique Vassie, Angela Matheickal, Romie Littrell
Environmental & Spatial Design, Production Supervision
Device Design & Interactivity
Production of Specimen Jars
MKTengineering GmbH & Co KG
Installation Sound Design

Step inside 'The Library' (Vault of Life), a vast ecological archive of our planet's natural abundance. Image © Sandra Ciampone 2022 All Rights Reserved.
Introduction
A vast interactive library of species tells the story of life on Earth, conceived and produced by Superflux for the Museum of the Future, Dubai.
Overview
It's 2071, and many of the world's ecosystems have suffered irreparable damage.
The Vault of Life is an enormous genetic archive. Two thousand four hundred crystal specimen jars hang suspended in a 375sqm space, each etched with an image of a unique existing or even extinct lifeform. The Library catalogues the majestic  diversity of our planet's living things, inviting visitors to forge a deeper connection with nature. Its immense scale and breath reveal the deeply interconnected nature of all life on earth and what we can do to restore our rich ecosystems.
Video footage © Sandra Ciampone 2022 All Rights Reserved.
Visitors to the Vault of Life will time travel to this Future Earth to learn how humanity collectively worked together to repair, restore and renew our planetary ecology – imagining an alternative hopeful future for all species on the planet. This captivating, immersive experience aims to inspire visitors to become active agents of change today.
The Museum of the Future is the first museum of its kind. Built to transform the perception of the future as we know it, the unique structure is home to several immersive future environments that actively situate visitors in an empowering version of the future.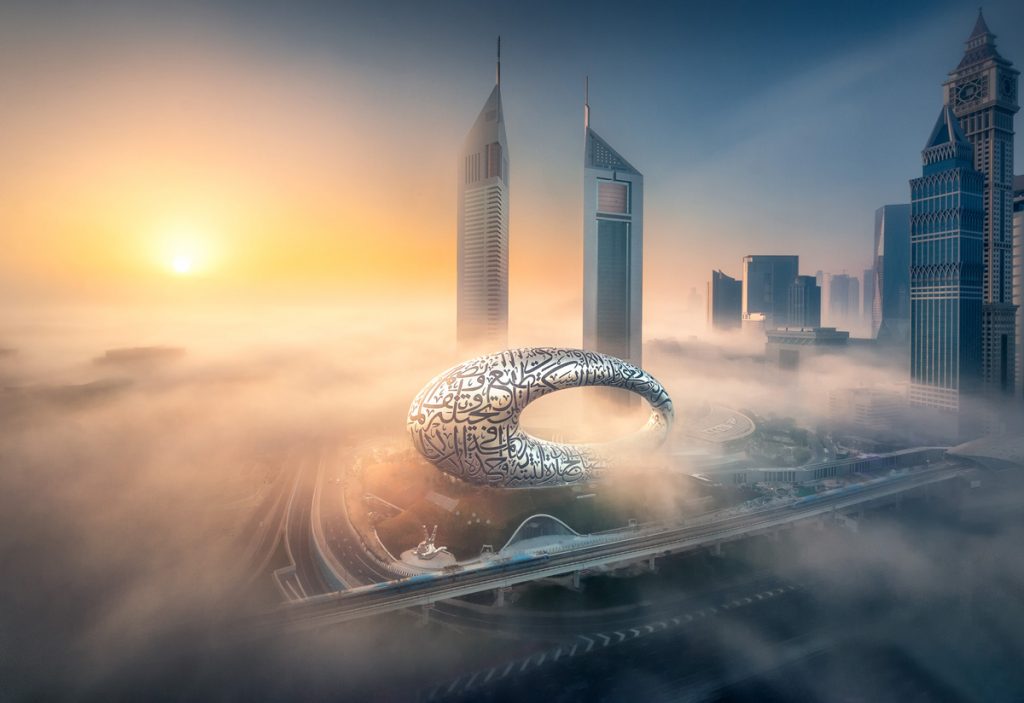 Museum of the Future in Dubai. Image courtesy of Dubai Future Foundation.
Level four of the unique 77m-tall Museum of the Future is the location for Superflux's enormous interactive installation. The central gallery of level four houses the Vault of Life, its 2,400 specimens filling the gallery from floor to ceiling.
The Vault of Life is not only a beautiful representation of the glorious sweep of life on Earth, but a continuously evolving laboratory. Visitors can use a handheld scanning device, designed and produced by UK-based experiential art collective Marshmallow Laser Feast, to learn more about each specimen, and how it connects with past and present ecologies. They can also undertake a series of challenges to 'design' new lifeforms which can repair or recreate a damaged ecosystem. This participation will encourage visitors to The Vault of Life to think about the sheer diversity of creatures within our complex and fragile ecosystem. It will enkindle a feeling of personal responsibility to keep and sustain a vibrant – and thriving – ecology.
"It is only when people, from within themselves, start to feel a sense of love, and connect with the species around them, a love for the planet, that action oriented work will really take off, because everyone will truly feel the same sense of urgency. If we believe other worlds are possible, we will want to do something about it. That's what our work relies on – it's a kind of slow form of activism, or critical activism. It's about nurturing public imagination."

Anab Jain, Superflux
Images


'The Library' (Vault of Life). Image © Sandra Ciampone 2022 All Rights Reserved.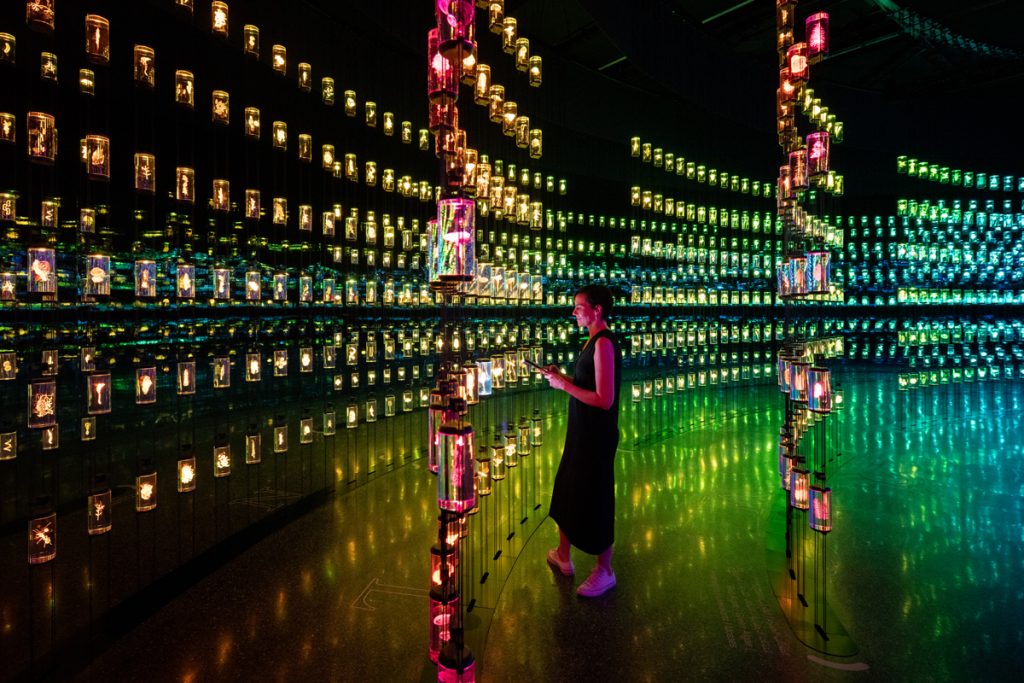 A visitor interacts with The Vault of Life. Image © Sandra Ciampone 2022 All Rights Reserved.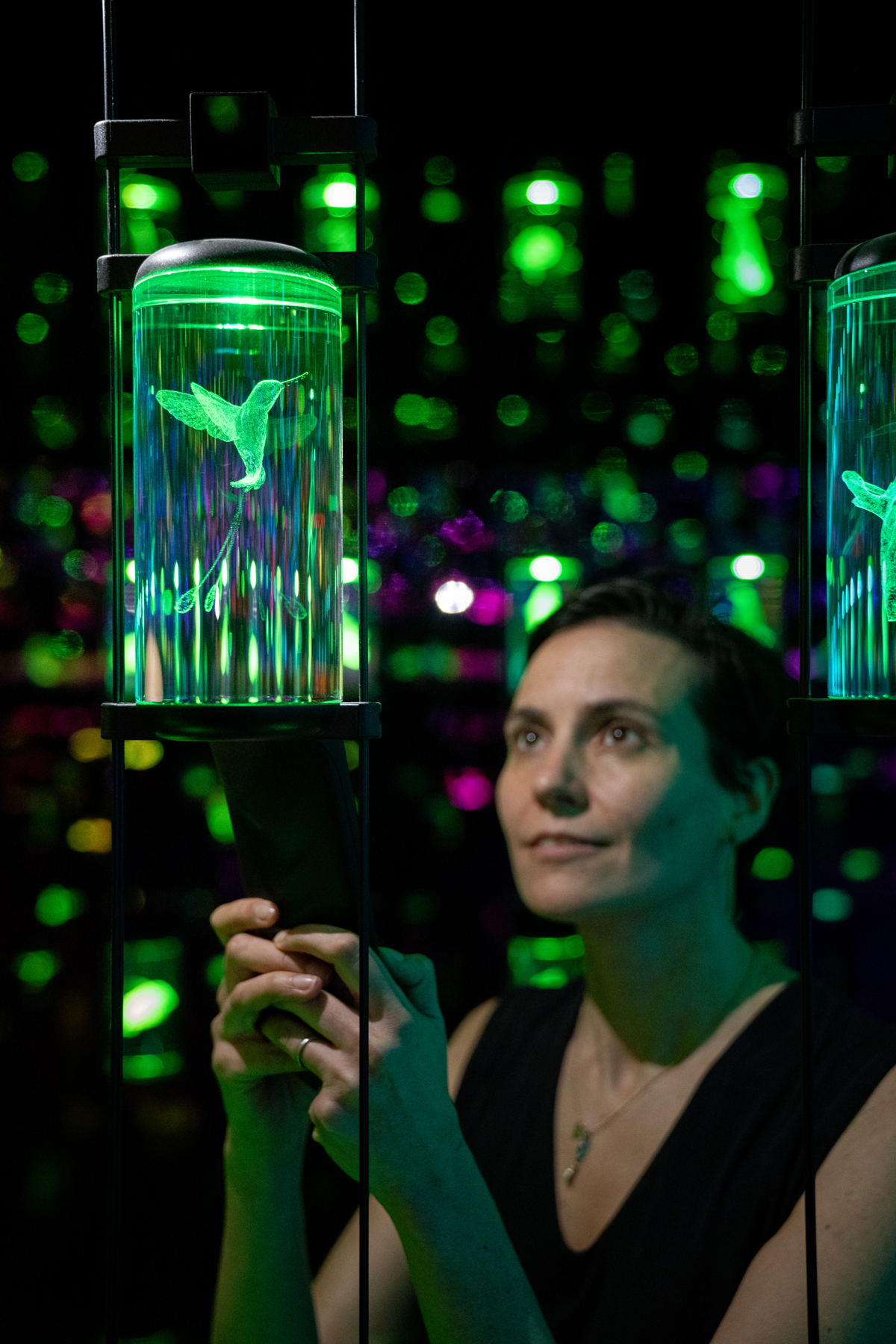 A visitor interacts with The Vault of Life. Image © Sandra Ciampone 2022 All Rights Reserved.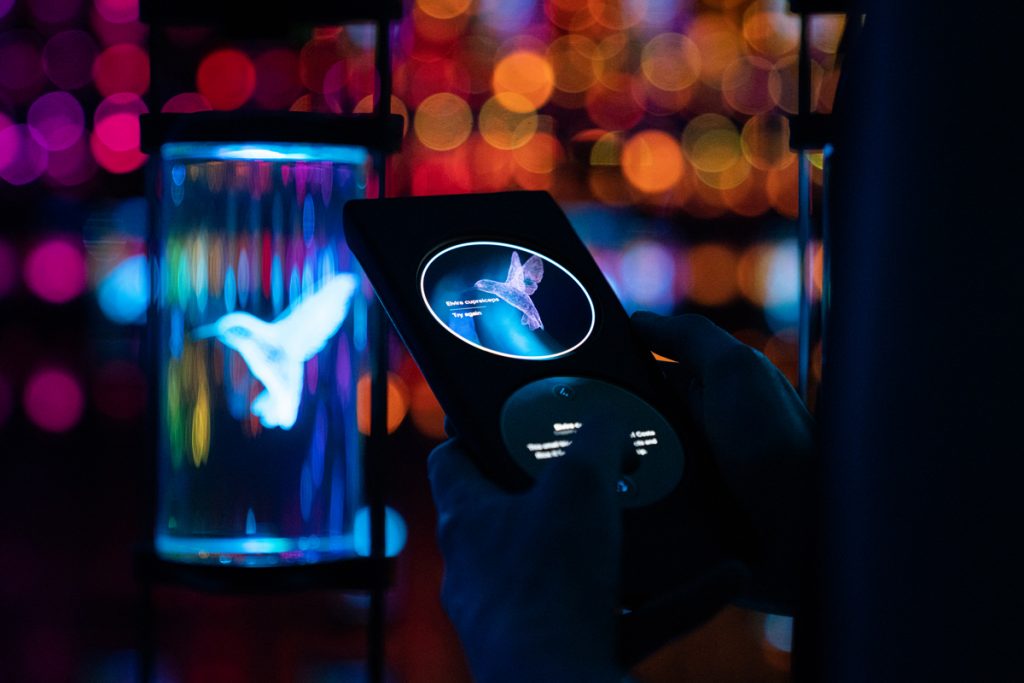 A visitor interacts with The Vault of Life. Image © Sandra Ciampone 2022 All Rights Reserved.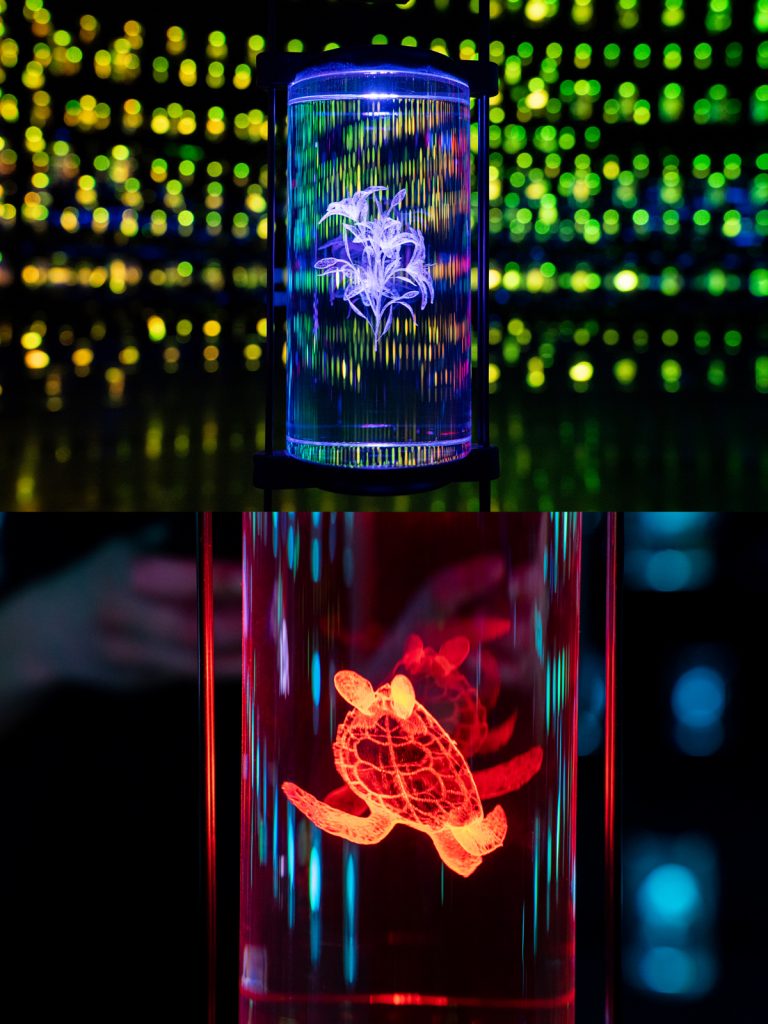 Close-ups of specimen jars. Image © Sandra Ciampone 2022 All Rights Reserved.
A Glimpse of Our Process
In June 2018, Superflux was invited by the Dubai Future Foundation to take part in a workshop kickstarting the creative submission process for experiences inside the Museum. The most ambitious of the three ideas we developed and submitted was the Species Commons. A vast, constantly evolving archive containing the digitised code and preserved biological material of all extinct, existing, and emerging species on Earth – libraries worldwide would host this spellbinding species commons. As the Dubai Future Foundation team selected the concept as the final direction for the floor, visitors to the new Museum of the Future will be the first to experience this utterly majestic collection of all species on the planet.
Concept


Early concept images for the Genetic Commons. Images courtesy of Superflux.
Exhibit Design, Engineering and Prototyping
Whilst ATELIER BRUCKNER led the overall exhibition production, we undertook an intensive period of 3D design and prototyping to develop the specimen jar. For this, we worked with designers Roland Ellis and Particle Studio to develop a product and column design that would safely hold the weight of the crystal jar, illuminate it, and provide the required interactivity. In addition, we worked with our friends at Marshmallow Laser Feast to integrate a custom designed interaction system into the product design and layout of each column of specimen jars.
As part of this process, we produced a fully functional, life-sized prototype of the exhibit design using 3D printing, CNC milling, custom laser etching and the production of a custom printed circuit board.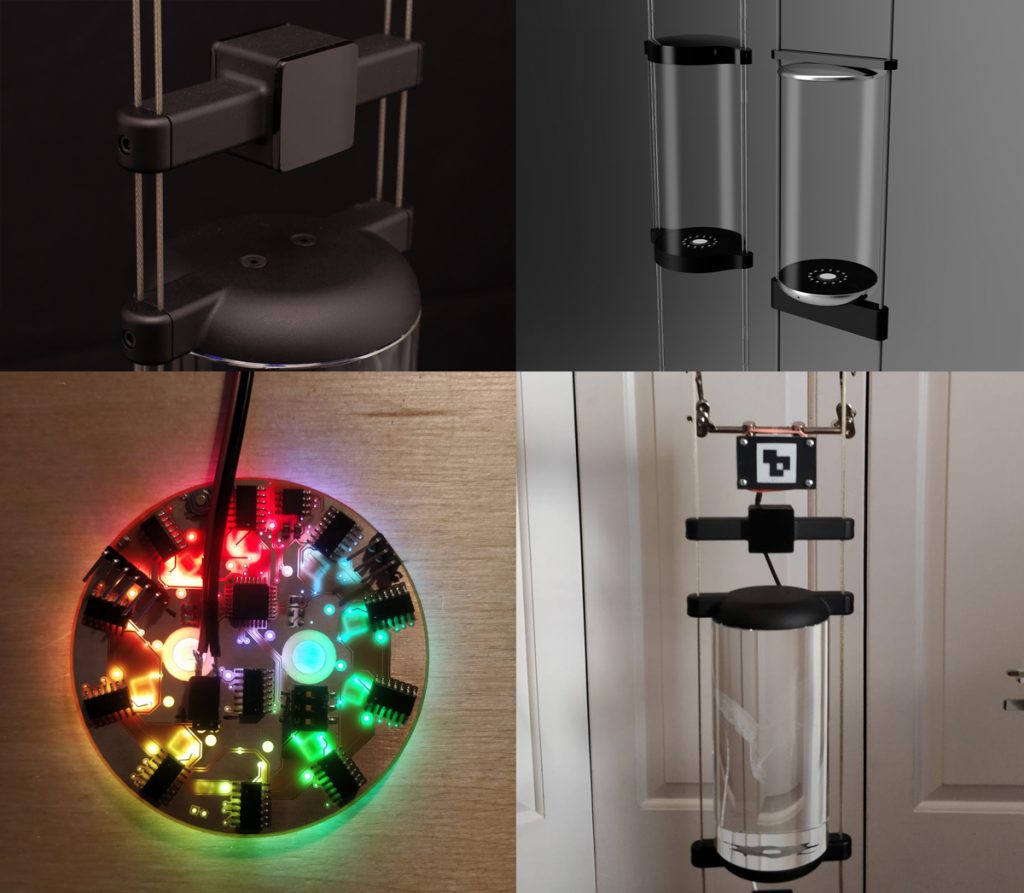 We developed the specimen jar design to house the crystal specimens and the electronics required to illuminate and interact with the specimens Images: Superflux, Roland Ellis, Particle Studio.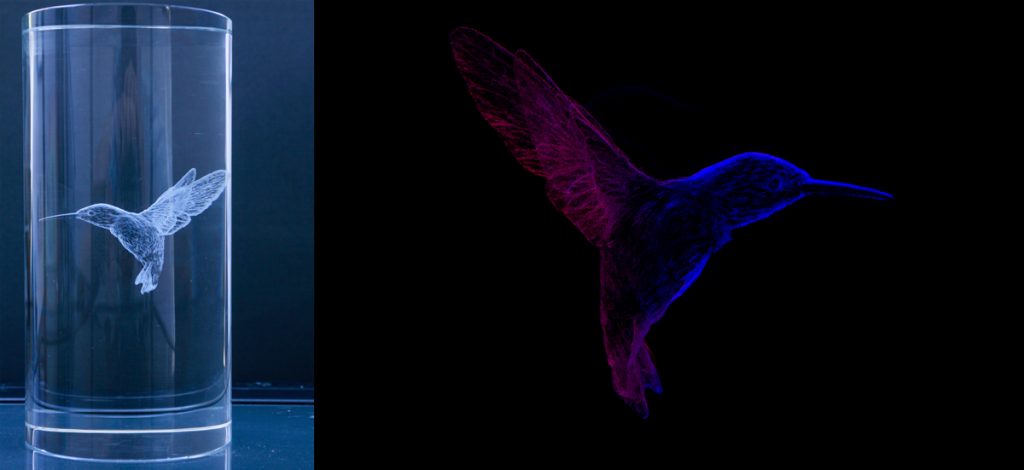 Hummingbird specimen within The Vault of Life. Image by Superflux.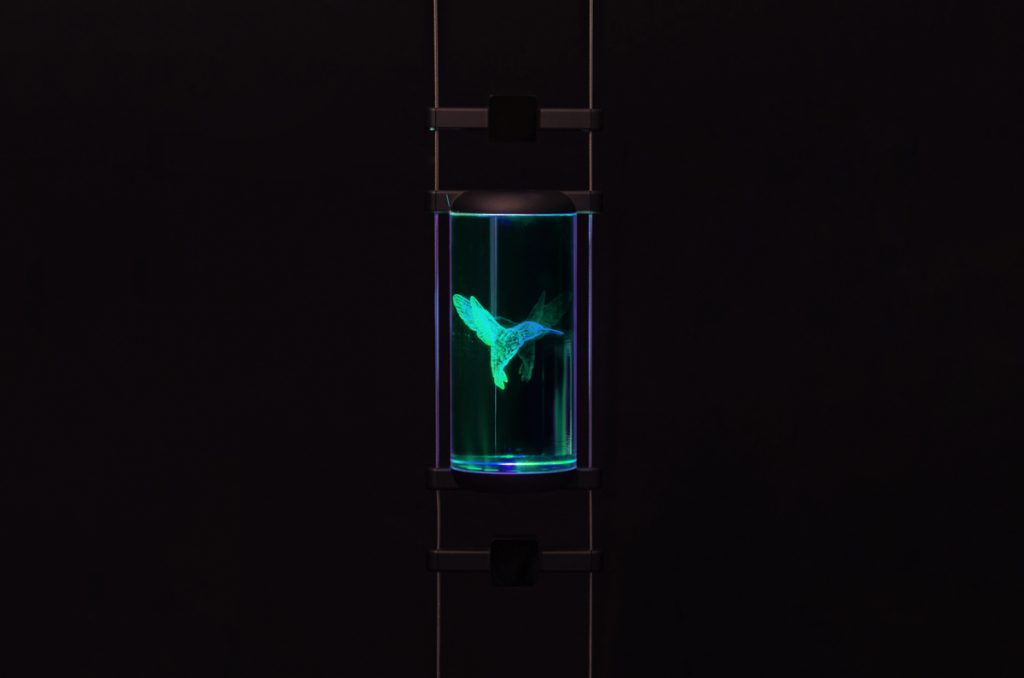 We produced a fully functional prototype, including a custom-designed PCB unit containing RGB LEDs with a lighting controller. Image courtesy of Superflux.
Species Database and Taxonomic Layout
Thinking from a more-than-human perspective is at the heart of our recent work. We want to foreground how we're a part of a larger ecology rather than the masters of nature. So we designed a visitor's experience exploring the Vault of Life to have a humbling effect.
Alongside the design and layout of specimen jars within the vast 375m2 vault, we were tasked with selecting and arranging the species within the space. The taxonomic arrangement of the Tree of Life inspired our selection and distribution of species. Visitors enter the space and immediately encounter the most evolved species: on one side, higher mammals (humans alongside other mammals, birds, reptiles, fish, insects and many more); and on the other side, highly evolved trees, plants, and fungi. As they walk through the Vault, the visitor travels back in time across the breadth of life to the earliest evolutionary species groups found on earth.
The species featured in the Vault of Life are a thoughtfully inclusive composition – representing as wide a range of evolutionary groups as possible. Our team of scientists developed the layout and species selection with accessibility in mind; as with all our work, we wanted visitors to build strong emotional connections. It was important for visitors to be able to find their favourite species.
Communicating the magnitude of the crises faced by our planetary systems is always challenging. To achieve this, we engaged with visitors' empathy for this precarity by relegating a percentage of species as extinct. Our scientific team composed this selection using two criteria: extinct species for whom we have genetic material, and species in critical danger, with a reasonable expectation to be extinct by 2071 under unmitigated circumstances.  Example species included plants with healing properties or cancer-treating properties that are currently facing extinction.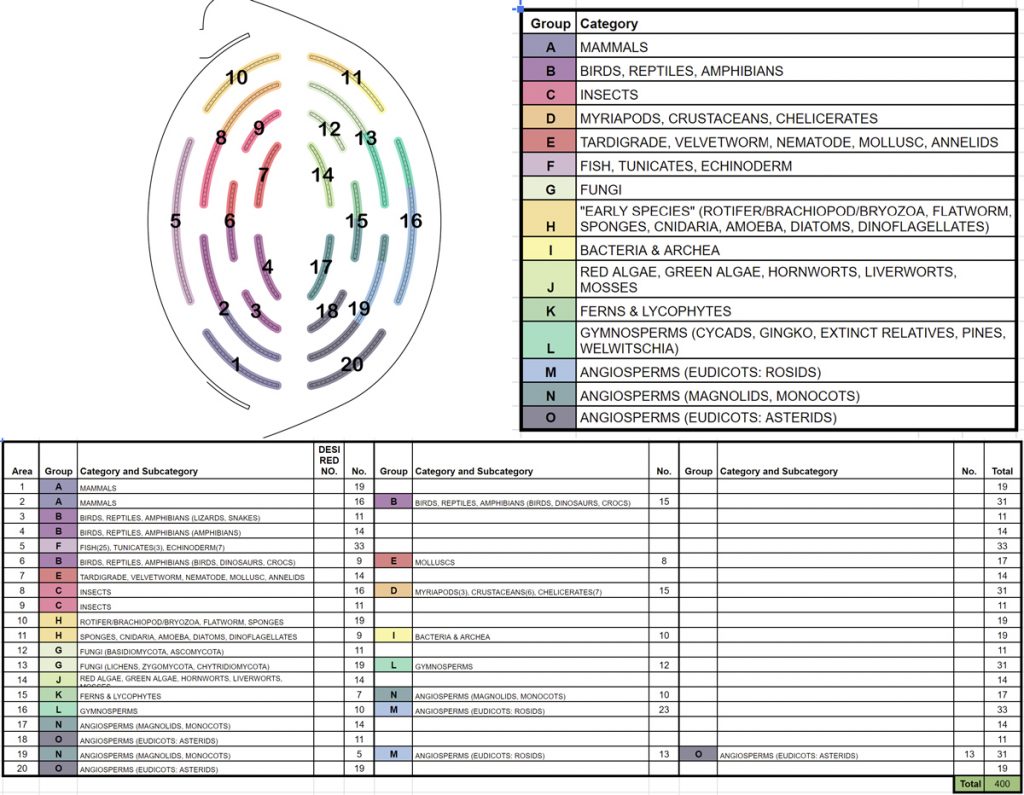 The species layout of the Vault of Life is detailed in this diagram and accompanying table. Graphics courtesy of Superflux.
When a specimen jar is "scanned", a description of its inhabitant appears on the handheld device. To tackle this feat, we enlisted copywriter Emma Hutton to write short, succinct descriptions for each of the 2400 selected species. The primary objective here was to use simple, relatable, scientifically accurate language that captivates and piques the interests of all visitors – adults and children.
Narrative Challenges
Within this complex planetary ecosystem, we all play a part in mutual survival and evolution. Without it, we cease to exist.
Visitors to the Vault of Life are encouraged to use their handheld device to complete challenges that take them to new corners of the phylogenetic tree they may never have encountered, contributing to a deeper curiosity about nature. By participating in the challenges, visitors learn that nature, too, is not just a beautiful "other" but a complex and fragile system that must be protected. Most importantly, the challenges provide visitors with a sense of agency: they too can make a difference to the future of this planet.
In developing the challenges, we worked with a team of scientists and scientific advisors who researched emerging themes in synthetic biotechnology and restorative technology. These deep dives led to the development of ten unique challenges featuring species as diverse as Kapok Trees, Pleurotus albidus funghi and Agouti.
We worked with copywriter Emma Hutton to ensure the complex terminology, themes and technologies were communicated to the public in an accessible and engaging way. In addition, we worked with the User Experience team at Marshmallow Laser Feast to design the full experience of the visitor interacting with the challenges.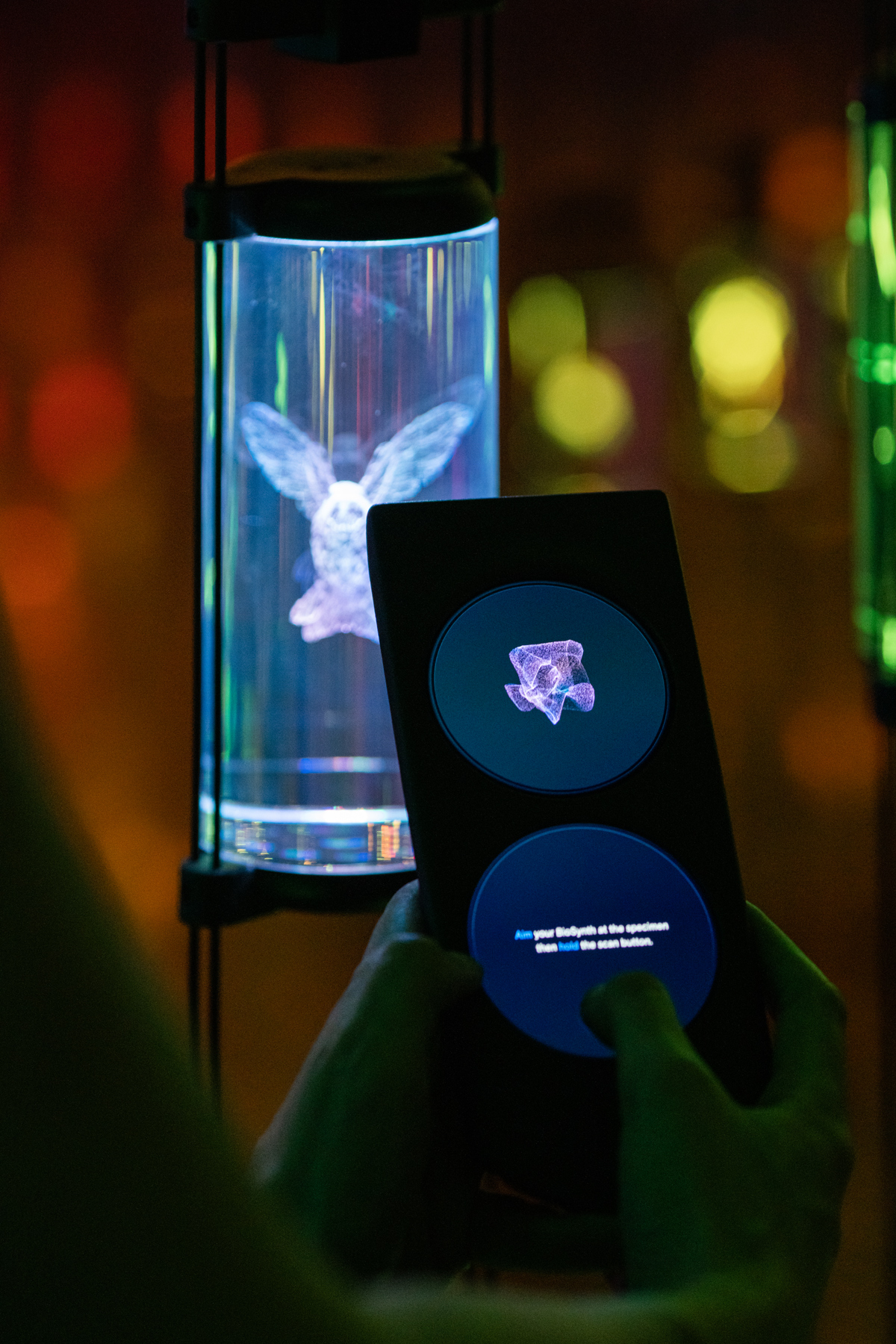 A visitor carries out a challenge on the handheld device. Image © Sandra Ciampone 2022 All Rights Reserved.

As they complete their challenge, visitors move around the space collecting specimens for a series of subtasks. Graphic courtesy of Superflux.
Specimen Design
We worked with visual designer Arnaud Peron to develop the aesthetic and technical production of the unique point cloud specimens featured in each specimen jar. Each specimen model was first vetted for scientific accuracy by our team of scientists before being carefully posed to fit within the frame of the specimen jar. We then developed a custom-designed procedural process to create point cloud models at the correct density for and parameters for sub-surface laser etching. All 2,400 crystal jars were then sub-surface laser etched with a unique specimen.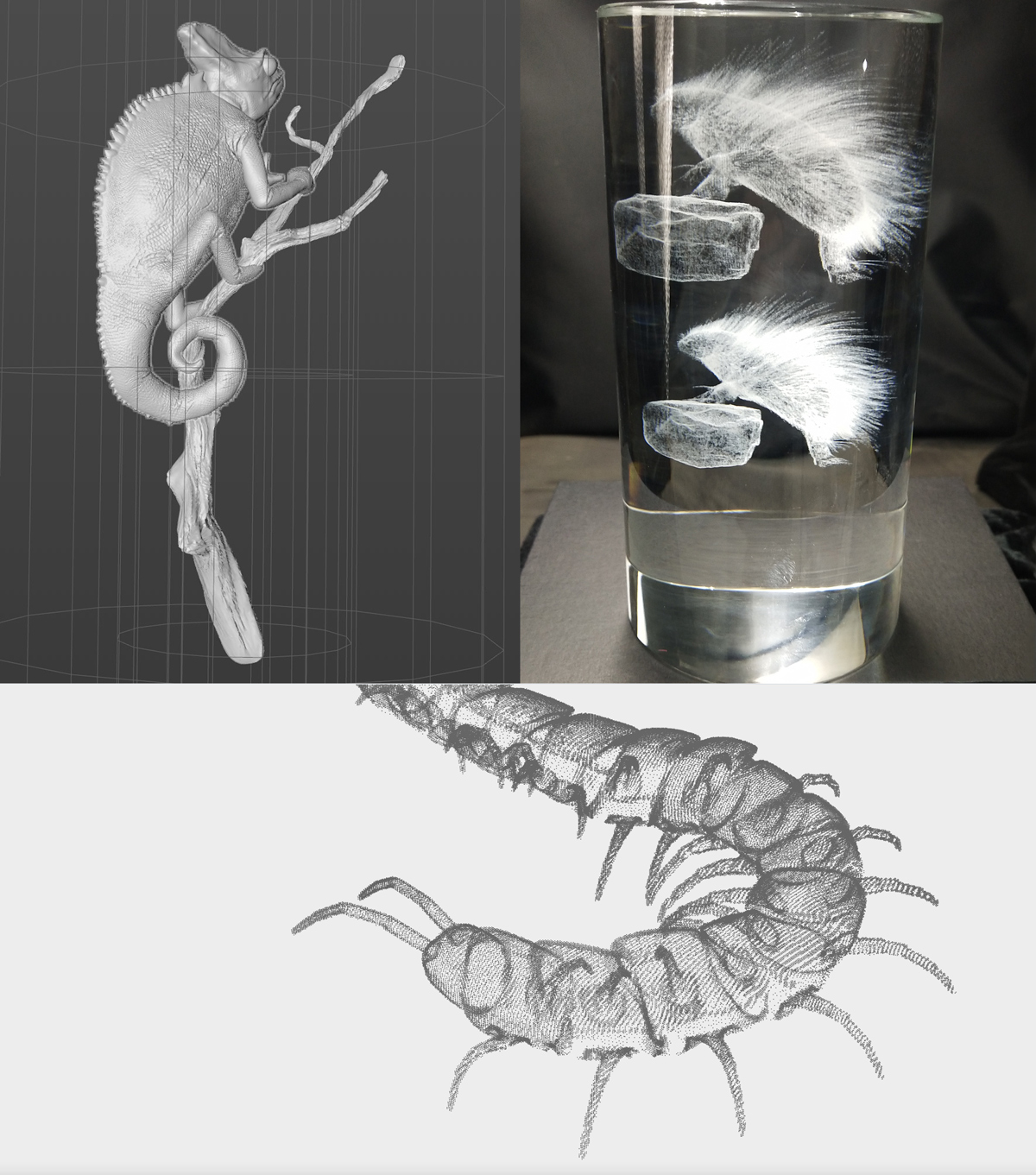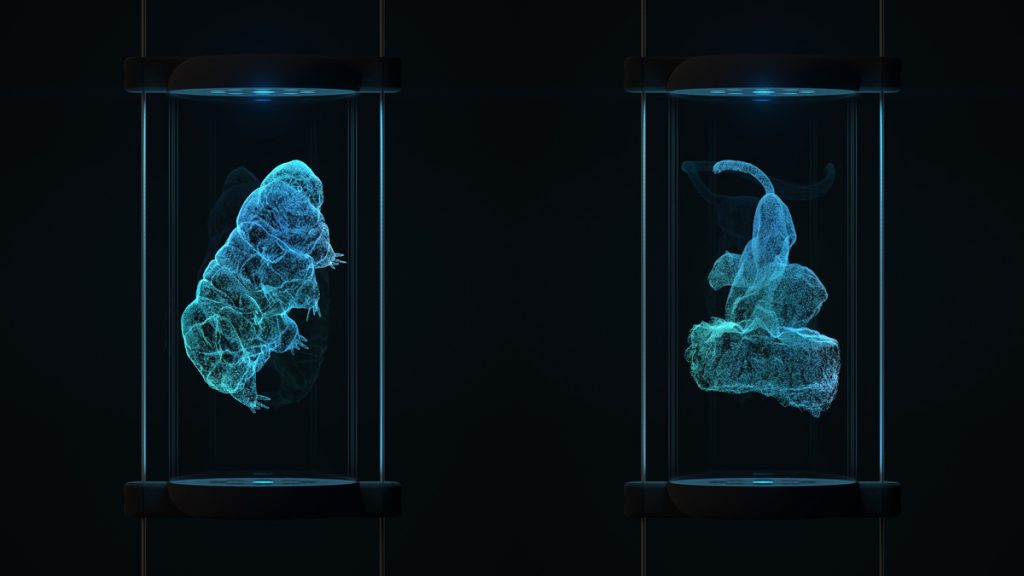 Images: Superflux, Arnaud Peron, Atelier Brückner.
Production and Install
Bringing the Vault of Life to life was a massive undertaking. We were pleased to work with so many incredible studios and individuals to produce such a stunning finished product. The production and development of the Vault — and the entire Museum of the future — was led by Stuttgart-based architecture and exhibition design firm ATELIER BRÜCKNER. After our in-depth involvement in the detailed design phase, we worked with the ATELIER BRÜCKNER team to tender the manufacturer of the specimen jars. Using our prototype as the reference, we assisted the manufacturers with key decisions about the production of the full complement of 2,400 specimen jars. In collaboration with Particle Studio, we also consulted on the lighting design of the Vault of Life and the technicalities of providing power and lighting control to the specimen jars.
The final production of the Vault of Life was carried out by MKTengineering GmbH & Co. KG with Al Tayer Stocks and managed by ATELIER BRÜCKNER. The lighting and lighting control package for the Vault of Life was delivered by Link Light and Belzner Holmes und Partner Light-Design.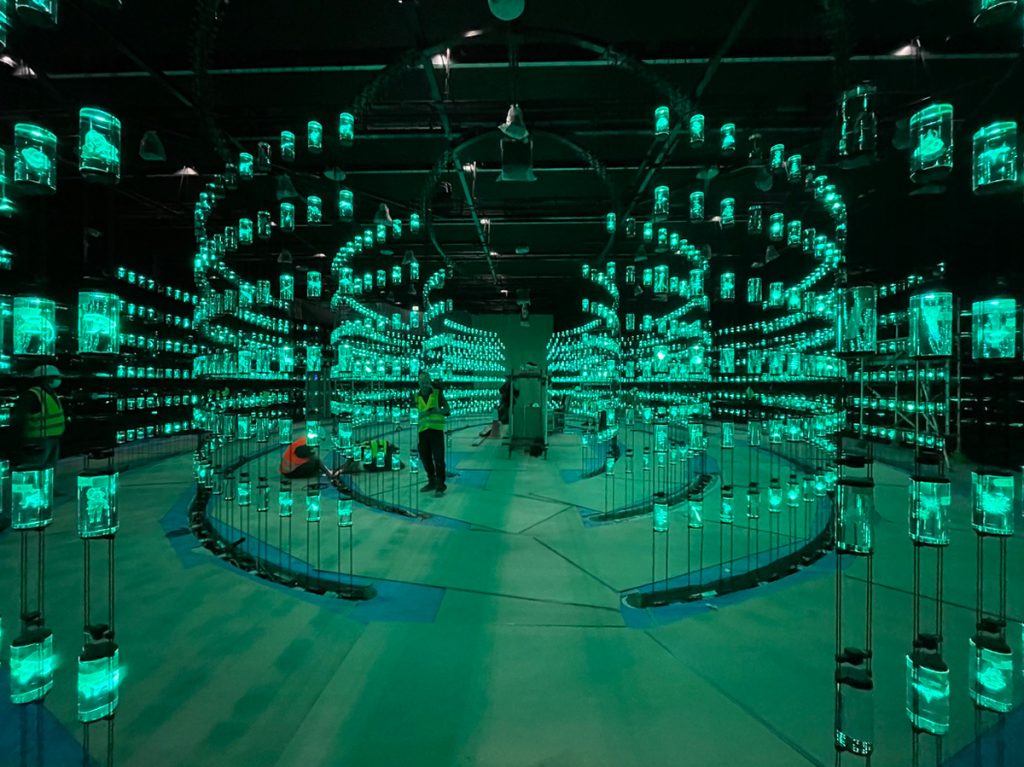 The construction of the Vault of Life was carried out by MKTE in collaboration with ALTayer Stocks and Light Link.
The Museum is part of Dubai Future Foundation, a government entity designed to drive the future of Dubai by enabling frameworks for a better future. The Museum of the Future is an embodiment of Dubai Future Foundation's vision and objectives and designed to inspire optimism in the future and was conceived in 2015 by HH Sheikh Mohammed bin Rashid Al Maktoum, UAE Vice President and Prime Minister, and Ruler of Dubai.
Reactions/Press
Superflux debuts 'The Library' at Dubai's Museum of the Future – Anmol Ahuja for STIRWorld
"A thing of rare beauty, encapsulating life itself in a spectrum of colours and well ordered perspectives, beholds a pining narrative."
Museum of the Future: Inside 'the world's most beautiful building'- Anugraha Sundaravelu for Metro
"The highlight of the museum"
Dubai's Museum of the Future Is Now Open – Aya Batrawy for Afar Magazine
"A stunning centerpiece of the museum"
Journey of the pioneers: an immersive exhibition opens at dubai's museum of the future – Designboom
Acknowledgements
Lead Curator: Brendan McGetrick
Creative Concept, Exhibit Design and Overall Content Development: Superflux
Superfux Team: Jon Ardern, Anab Jain, Louise Astley, Leanne Fischler, Matthew Edgson, Niccolò Fioritti, Nicola Ferrao

Design and Development Team: Arnaud Peron, Roland Ellis, Particle Studio (Doug Stokes, Freddy Billowes)

Science Research & Advisory: Dominique Vassie, Angela Matheickal, Romie Littrell

Copywriter: Emma Hutton
Environmental And Spatial Design, Coordination, Management And Production Supervision: ATELIER BRÜCKNER
Device Design And Interactivity: Marshmallow Laser Feast
Production of Specimen Jars and technical implementation: MKTengineering GmbH & Co KG
Installation Sound Design: James Bulley
With Thanks To
Lāth Carlson, Executive Director at Museum of the Future, Dubai Future Foundation
Noah Raford, Futurist in Chief & Chief of Global Affairs at the Dubai Future Foundation